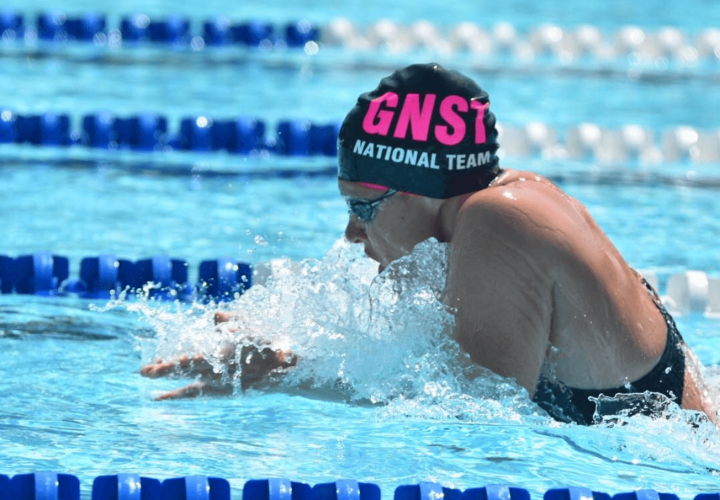 Photo Courtesy: The Bear Insider
Night two of finals of the 2017 Speedo Sectionals series stop in Lincoln, Nebraska featured the 400-meter IM, 100-meter butterfly, 200-meter freestyle, and the 400-meter freestyle relay. Cal-Berkeley incoming freshman Dannie Dilsaver put up a strong performance in the 400-meter IM and 200-meter freestyle, as well as leading her relay team to a silver medal with a quick lead-off split.
Greater Nebraska Swim Team's Dilsaver, silver medalist in the 100-meter freestyle and future Cal Golden Bear, added a gold to her meet roster with her performance in the women's 400-meter IM. One of only two women to go under 5:00.00, she did so decisively with a 4:56.05. Second was 14-year-old Kate McCarville of Springfield Aquatics in 4:58.35. 200-breaststroke champion Jordan Ehly of Club Huskers out of Nebraska University finished third in 5:01.08.
Empire KC Swim Club swept the men's event, with Samuel Drew taking the title for the men by over 4 seconds, finishing in 4:39.45. Teammate Thomas Huffman touched second in 4:43.81, while a third teammate William Bresette, who had been leading after the first 100, fell behind on the breaststroke leg and finished with the bronze in 4:44.18.
University of Missouri sprinter Erin Metzger-Seymour just out-touched Greater Nebraska Swim Team's Caroline Theil for the title in the women's 100-meter butterfly, Metzger-Seymour finishing in 1:01.72 to Theil's 1:01.80. Third place went to Dana Posthuma of Club Huskers with her time of 1:02.29. McCarville had a quick turnaround and finished fourth in 1:03.13.
Mizzou's Micah Slaton grabbed first place in the men's 100-meter butterfly easily with a dominant 54.07, just over a half-second off of the Region III record. Brogan Davis of River City Aquatics finished second in 56.73, and Garrett Cadotte of Swim Omaha splashed in at 57.03 for the bronze medal.
Lincoln Select Swimming notched another first-place finish in 100 champ Alana Palmer's second sprint freestyle win, this time in the 200-meter freestyle. She finished in 2:05.59, just edging out Dilsaver for the title with a strong first 100. Dilsaver took second place with her time of 2:05.68. Metzger-Seymour proved her versatility, sprinting to a 2:06.02 for third place.
100 gold medalist Jackson Allmon of Council Bluffs Swim Club swam to a similar repeat in the men's 200-meter freestyle, dropping two seconds from his seed time to touch in 1:54.38. Davis was second in 1:55.79, and the bronze went to 15-year-old Ryan Husband of Northwestern Arkansas Aquatic Association in 1:56.95.
Nebraska University's Club Huskers women took first place in the 400-meter freestyle relay event, with Carla Gonzalez, Lindsay Helferich, Katarina Sickle, and Kaylyn Flatt combining for a time of 3:54.57, helped by Helferich splitting a 57.69. Greater Nebraska Swim Team's Dilsaver led off for her team of Kaitlyn Witt, Theil, and Olivia Calegan in 59.07, with their team finishing second overall in 4:00.61. Third place went to Club Huskers' B-team of Victoria Beeler, Morgan McCafferty, Lindsey Staheim, and Posthuma in 4:01.13.
The Empire KC Swim Club and River City Aquatics men finished off the evening with a close race in the 400 free relay. Lance Godard, Caleb Musser, Reece Stikeleather, and Bresette of Empire KC put together the winning time of 3:36.95, while RCA's Reagan Ragsdale, Jacob Bening, Davis, and Daniel Seabaugh were less than a second behind in 3:37.81. Bresette put up the fastest split of the evening, a 52.06. Third place went to Noah Barr, Ethan Shih, Grayson Stanton, and Javier Quinones of Sarpy County Swim Club with their time of 3:40.74.
Competition resumes tomorrow at 9:00am in Lincoln with the 400-meter freestyle individual event, 100-meter breaststroke, 200-meter butterfly, 100-meter backstroke, and 800-meter freestyle relay.
All results can be found on Meet Mobile – 2017 Region VIII Summer Sectionals.