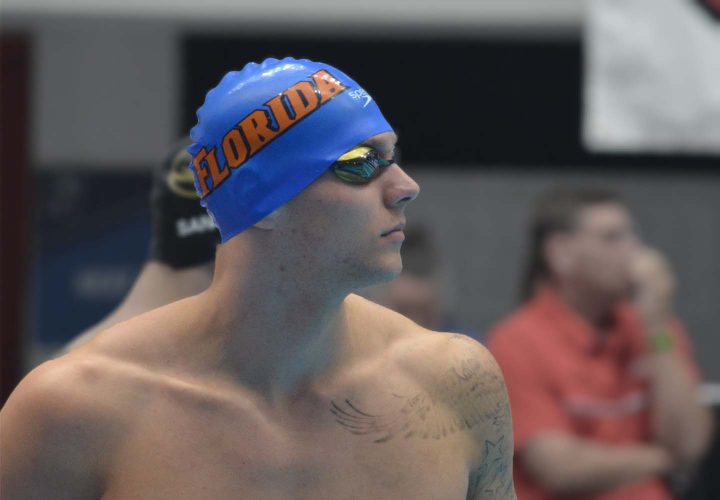 Photo Courtesy: Dan D'Addona
Editorial content for the 2018 NCAA DI Championship coverage is sponsored by TritonWear. Visit TritonWear.com for more information on our sponsor. For full Swimming World coverage, check event coverage page.
Morning Splash by David Rieder.
Before Caeleb Dressel mastered long course to the tune of seven World Championship gold medals, his short course abilities had already reached legend status.
During his sophomore and junior seasons at Florida, Dressel inched closer and closer to the 18-second barrier in the 50-yard free and hit the 40-second barrier dead on in the 100 free. As a junior, he won all three of his individual events at the NCAA championships, stunning Olympic gold medalist Joseph Schooling to win the 100 fly with as impressive a last 25 as you will ever see.
And yet, if you only judge Dressel's short course abilities by his NCAA results, you are underrating him.
Take that aforementioned 2017 championship meet, when Dressel was the unanimous pick for swimmer of the meet. That whole weekend, he did not swim a race longer than 100 yards and didn't take a stroke of anything other than freestyle or butterfly. He had no chance to show off his versatility.
Before the meet's first session, which featured only the 800 free relay, Dressel announced on his Twitter account that he would lead off that relay for Florida, giving fans a chance to see what he could do in the 200 free.
As it turned out, Dressel was only joking. Swimmers can only compete in four of the five NCAA relays, and Dressel could help the other four relays more than he could one already consisting of Jan Switkowski, Maxime Rooney, Mitch D'Arrigo and Mark Szaranek—a team which ended up finishing third.
So no chance to see the superstar sprinter try his hand at the 200 free, an event he'd probably be pretty good at. Dressel swam as fast as 1:47.45 in the long course version of the event over the summer, and sprint-based athletes typically have more 200 success in short course than long course.
As for some other events Dressel has never swum at NCAAs, how about the 200 IM? You know, the event in which he ranks ninth all-time after his impressive 1:40.61 at the Purdue Invite?
Dressel's time was six hundredths faster than the winning time from the NCAA championships last year. And then afterwards, when asked if he was expecting to see a 1:40 in the IM, Dressel replied, 'I don't know," before explaining that he has trained extensively with Florida's IM group during the fall.
A sprint specialist training with the IM group? Unusual, yes, but nothing new for Dressel. Florida head coach Gregg Troy is notorious for his high-volume workouts, and Dressel certainly puts in more training volume than a typical 21-year-old sprinter.
Dressel takes pride in his training program, even though he says he has been "scrutinized for what I do at Florida." He pointed to that high-volume workload the reason he could maintain his stamina race after race on the night he won three gold medals within the span of 90 minutes at the World Championships.
"I don't think there's any accidents in this sport," Dressel said in Budapest. "It wasn't an accident what happened tonight. I work well with Troy, and we were ready for it. It was very hard—it definitely wasn't easy—but I'm just glad Troy has a plan for me with everything we do."
That plan has obviously worked, transforming Dressel from a hyped-up high schooler to the best sprinter in the world, and it's also made him pretty good at some of those other events.
In addition to his free and his fly, Dressel has a heck of a breaststroke. At the Purdue meet, he split 51.35 on Florida's 400 medley relay. Yes, Dressel swam breaststroke on a Florida relay, and it's not unprecedented—he did the same thing back at the 2016 NCAA championships.
Back then, the idea of Dressel swimming—and potentially winning—the 100 breast at NCAAs didn't seem so far-fetched, especially after the graduation of the top five finishers in the event from the previous year's NCAAs, including Kevin Cordes and Nic Fink.
But Dressel and Troy chose the 100 fly instead of the 100 breast. Now that he has won a World title in the long course version of that event, it seems like an obvious choice, but his breaststroke looks strong enough that he could swim 100 yards in under 51 seconds.
Heck, he might even be pretty good at the short course 100 back. Dressel's underwaters are powerful enough that he could kick 15 meters underwater off each wall—like Tom Shields did during his college days, twice winning NCAA titles in the 100 back. With Ryan Murphy graduated, the competition this season would not be particularly strong.
In the 200 IM, Dressel certainly would be the favorite for an NCAA title this year. And while the 200 free is very competitive, with Townley Haas, Blake Pieroni and Dylan Carter all returning after swimming under 1:31 last year, you have to wonder if Dressel, too, could break into that range.
But in the end, all anyone can do is wonder—what could Caeleb Dressel do at an NCAA championships in the 200 free or 200 IM, in the 100 breast or even 100 back? Because we will all but certainly never find out.
Dressel is considered practically a lock to win titles this year, his senior season, in both the 50 and 100 free, and it would take a huge effort for Schooling to beat him in the 100 fly. No reason to give up any of those guaranteed 20-point wins for, say, the 200 IM, where Florida is already stacked with Switkowski and defending NCAA co-champion Szaranek on the roster.
And Dressel likely won't get to swim the 800 free relay, either, since Szaranek, Switkowski and Rooney all return, and Khader Baqlah can step in for the graduated D'Arrigo.
Maybe Troy lets Dressel swim some off-events at the SEC championships in February to see how quick he can swim, but come March, when the Gators will need every guaranteed point they can get in order to figure into the national championship equation, no way.
That's the right decision, but considering this is Dressel's last hurrah with college swimming, it's still a bummer.
And somehow, even in light of how Dressel has dominated the NCAA championships the past two years, the meet still minimizes his talent.