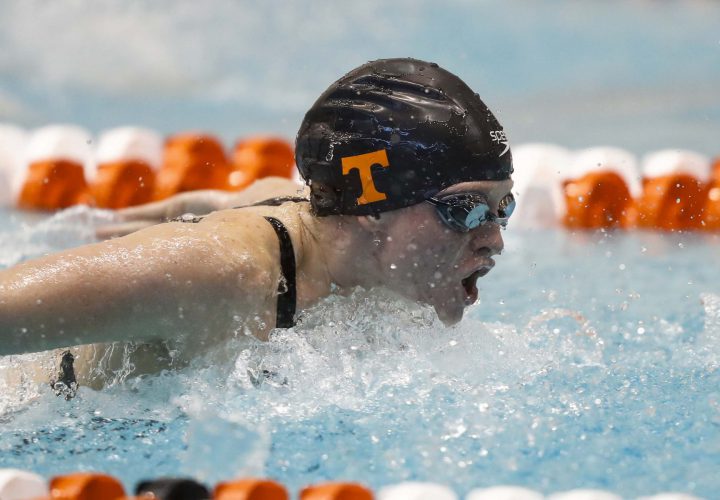 Photo Courtesy: John Golliher/Tennessee Athletics
By David Rieder.
For the first 18 years of her life, Erika Brown was accustomed to moving across the country and re-starting life someplace else. She grew up and started swimming in Kansas before relocating with her family to Northern California and then, as a junior in high school, heading east to Charlotte, N.C.
Change was constant, but starting college was a new challenge—and Brown, like so many teenagers, had to adapt on the fly. Her first year at the University of Tennessee was bumpy, and she thinks those issues stemmed from the mental stress of living away from her parents for the first time.
"Last year I was kind of homesick," she said. "I'm coming into a new school and I'm far from home, so it was a lot of big changes, and I had to get used to it."
Matt Kredich, head coach at Tennessee, saw Brown struggle with a seemingly-perpetual sinus infection throughout the year. "I think that affected her effectiveness in practice," he said. "If you're not feeling healthy, then it's difficult to really pay attention at a high level. It's difficult for your body to absorb all the stresses that we put on it and result in the right adaptations."
But looking back, Brown thinks the physical issues stemmed from "being kind of depressed." Starting college can be hard, regardless of one's athletic exploits, and for much of her freshman year, Brown often could not find the physical and mental stamina to put into her swimming.
At her first SEC championships, Brown finished 10th in the 50 free and 17th at the 200 free, and she was not invited to the NCAA championships.
Less than one year later, Brown is ranked among the top swimmers in the country, first in the 100 fly and among the top five in both sprint free events. The often-fatigued and dejected freshman had turned herself into a focused, confident sophomore.
The turnaround began just after the SEC meet, while Brown prepared to accompany Tennessee to the NCAA championships as a relay alternate. Kredich called the time between SECs and NCAAs her "healthiest month last year," and she ended up swimming on all five Tennessee relays at NCAAs.
The most revealing indicator of what was next was the 200 medley relay, when Brown was unexpectedly thrust into action on the butterfly leg in finals after teammate Maddy Banic suffered a severe asthma attack.
Brown split 23.0—after swimming almost exclusively freestyle as a freshman. Perhaps, Kredich realized, her butterfly had some potential.
Brown admitted that it was "frustrating" to sit around and watch the individual events at NCAAs that she couldn't swim, but the experience in Indianapolis proved worthwhile.
"Really, I think that was the turning point for me, learning about how important it is to invest in your teammates," Brown said. "Because it really is all about the team when you're at NCAAs—every point counts."
And so it became Brown's ambition to give everything she had for her team at Tennessee.
"I think at the end of the season last year I just sat down and said, 'This is not where I want to be,'" she said.
Over the summer, she went home—that is, to Ocean City, Md., where her parents had moved after Brown graduated high school. With no team to swim with, she swam mostly by herself in a small, three-lane pool. After that, she returned to Knoxville in August refreshed.
"It was hard, but I think it helped me to come back super motivated and be appreciative at all times because I don't want to be training by myself," Brown said.
As she entered her sophomore year, Kredich saw a huge change in how Brown performed at practice. Instead of fighting just to make it through the sets, "she's just really on top of practice and brings a very high, consistently elite level of focus to whatever the challenge is," Kredich said.
"It can be something that's long and aerobic, or it can be something that's race pace from 50 to 200, fly, free, back—she just takes whatever comes at her, and she's doing a great job of figuring out how to shape that challenge to help her get better."
And then, the weekend after Thanksgiving, Brown's breakout came. Tennessee hosted a mid-season invite, and Brown put up quick marks in both sprint free events, 21.50 in the 50 and 47.54 in the 100.
She came in just behind North Carolina senior Caroline Baldwin in both events, but the times still stack up: her 50 would have placed her in the A-final at last year's NCAA championships, and her 100 time would have just missed the championship heat.
But look where Brown had been just one year earlier: As a freshman, she swam best times of 22.33 in the 50 and 48.46 in the 100 free. In one year, she had annihilated those times.
Still, as impressive as were her sprints, Brown's 100 fly was the swim that was most stunning. In prelims, Brown recorded a time of 50.33, No. 1 in the country and quicker than anyone aside from graduated NCAA champion Farida Osman swam last year. Quite the improvement from someone who, before the season, had a best time of 55.12.
With that swim, Brown became the fifth-fastest performer in history, and broke the previous Tennessee school record of 50.70, set in 2008 by Christine Magnuson. Magnuson had posted that performance on her way to an NCAA championship before winning an Olympic silver medal in the 100-meter fly five months later.
Hours after her stunning prelims swim, Brown swam just a tick slower in the final, 50.77, and that did nothing to diminish her status among the country's elite sprint flyers.
"She's got tremendous springiness in her stroke," Kredich said. "She's also developed some pretty outstanding underwater speed. All those elements have come together, and I think one of the biggest pieces to her success is her open-mindedness and her willingness to pursue different ways to go fast.

"She's really been in charge of a lot of what she's done this season, and I think that has energized her."
After each of her stellar swims at the invitational, Kredich remembers Brown approaching the coaching staff looking for insight into what she could improve as she gears up for the spring championship meets.
Brown appreciates that she put in a remarkable performance, but she refuses to get caught up in that—or, as she puts it, "no rat poison."
Those are the same words that Alabama football coach Nick Saban uttered throughout this past season when his team was ranked No. 1 week after week. He didn't want the appearance of success going to his players' heads when they had yet to really accomplish anything.
Apparently, this Alabama mantra is perfectly acceptable in Volunteer country. For Brown, it fits—she refuses to be satisfied yet.
"It's exciting for the team, but that's not the end goal—we're looking for SECs and NCAAs," Brown said. "We're always thinking of every race as information, so we just get out and figure out what we can do better. It's exciting, but that's what I love about racing—there's always room for improvement."
But all that said, it won't take much improvement to put her in the hunt for big points at her focus meets this March. In year two at Tennessee, Erika Brown has figured things out.