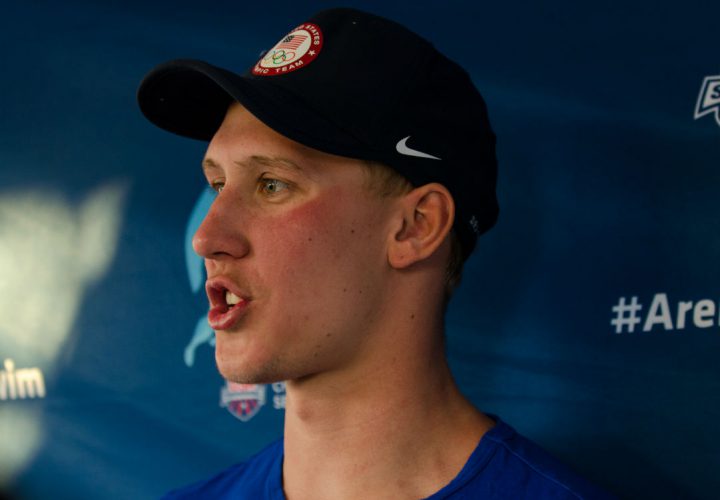 Photo Courtesy: Brooke Wright
By David Rieder.
He had just won an NCAA title in his best event, the 400 IM, crushing his own American record in the process. But already, Chase Kalisz was thinking about what he could accomplish in the Olympic-sized pool.
"I'm here now, I'm happy with my progress, and I'm looking forward to my career post-NCAAs and hopefully making a spot this summer," Kalisz said that night in Indianapolis.
He went on to explain why he thought the 3:33.42 he swam in the short course yards 400 IM at NCAAs didn't match up to the 4:06.75 he swam in the long course Olympic final. Short course records, he reasoned, "don't really make much sense to me."
But luckily for the 23-year-old, he has no reason to worry about racing yards again. After the NCAA championships, he said good-bye to collegiate swimming and entered into the world of professional swimming almost immediately—he was back in the pool less than 48 hours after the meet ended.
"I went back Monday," he said. "I was back in Monday afternoon after NCAAs. I did take that following weekend off from Friday until Sunday. I had two days there, but it really didn't take too much out of my training."
It sure didn't. Not based on the results from his first long course meet in eight months.
Just three weeks after the NCAA season wrapped up, Kalisz competed at the Arena Pro Swim Series meet in Mesa, Ariz. Why?
"I think I was anxious to race long course," he said. "Long course comes naturally a lot easier to me than short course. Short course has been the source of my frustration for a while. I just love racing long course."
He entered four events and won three of them. He posted lifetime bests in all except his signature 400 IM but was no slouch in that one, either, dominating fellow U.S. Olympian Josh Prenot on his way to a final time of 4:11.01, the fourth-best mark so far in the world this year.
But it's no secret that Kalisz is one of the premier 400 IMers in the world. In the Olympic final last summer, he trailed gold medalist Kosuke Hagino by almost three seconds at the halfway point but then made up most of that deficit with a stunning breaststroke leg and hung tough on the freestyle.
Hagino finished first, seven tenths of a second ahead of his American rival, but Kalisz became the fifth-fastest performer in history with his effort.
After that race in Rio—the very first final on the Olympic swimming program—Kalisz was done for the meet, and he spent the next seven days as a spectator. In the World Championships program, the men's 400 IM comes on the last day, but it's unlikely Kalisz will be spending a week in the cheering section this time around.
Need evidence? Look what happened on the final night in Mesa. Kalisz won the 200 fly in 1:55.81 and then came back less than an hour later to win the 200 IM in 1:57.71.
Kalisz has long considered the 200 fly his "fun" event, and he swam in the Olympic Trials final, where he finished fifth in 1:56.64. His time from Mesa would have placed him third in Omaha, just one hundredth behind runner-up Tom Shields.
He ended up scratching the 200 IM at Trials—as did Prenot and Will Licon, two other men who like Kalisz could have finished third. Yes, third. No one was getting by Michael Phelps or Ryan Lochte.
Now, Phelps is retired, Lochte is suspended, and Kalisz ranks fifth in the world in the 200 IM and tops among Americans.
"My 200 fly, that was pretty shocking," Kalisz said. "I didn't expect to be anywhere close to that. My 200 IM was pretty shocking too, but the 200 fly I really don't know how I went that fast. I didn't think I was going that fast at all. I'm happy with how I put together the 200 IM back-to-back with not really much time, so for me to go two best times right now, I couldn't ask for a better session."
Kalisz then insisted that his practices had been mediocre since college season ended and that he still needed to get in better shape over the next two months before U.S. Nationals at the end of June.
But after massively out-performing his own expectations in Mesa, Kalisz will head back to Indianapolis as at least a co-favorite in three different events, all events that were Phelps domains for so many years. Kalisz grew up idolizing Phelps and trained with him in both Baltimore and Arizona, and now, he could step into a larger role on Team USA following Phelps' retirement.
Of course, it's early in the season, too early for Kalisz to think about replacing a legend or anything of the sort, and even if the GOAT's absence allows Kalisz to swim a larger event lineup for the World Championships, it won't make him miss Phelps any less.
"I really miss having Michael around, and I know the sport does," he said. "It's very evident because you see how these swim meets are without Michael. It's not the same. Everyone wishes Michael were still around, but I got a text from him today, and that always means a lot to me."
Haven't had enough of the Phelps-Kalisz comparisons yet? Here's another one: Kalisz finished second in the 200 breast in Mesa behind Prenot, the Olympic silver medalist in the event. His time was 2:11.29—one hundredth faster than Phelps ever swam in the event.
Not that the world didn't already that Kalisz had a pretty good breaststroke. Just ask Hagino about that.