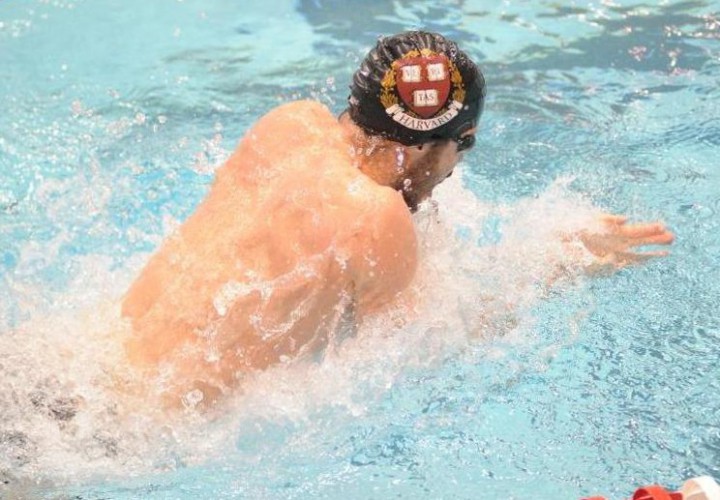 Photo Courtesy: Harvard Athletics
By Dan D'Addona.
The Harvard men's swimming and diving team earned the Ivy League regular season championship after defeating Yale, 225-128 in a two-day dual meet. The Crimson finish the year 6-0 in Ivy League competition and 10-0 overall. This marks the third time in the last four years that Harvard has finished undefeated in the Ivy League.
Harvard won six of the 10 events Saturday after cruising to a big lead on Friday.
The Crimson posted the top times in the 200 free and 400 medley events. Dean Farris, Sebastian Lutz, Steven Tan and Ed Kim joined forces to win the 200 free relay in a time of 1:19.74, the fastest time in that event in the Ivy League this season. Koya Osada, Shane McNamara, Max Yakubovich and Farris won the 400 medley relay in 3:13.06.
Farris won the 200 free by 1.76 seconds with a time of 1:34.01. Harvard continued to rack up the wins Saturday evening, taking the top two spots in the 100 backstroke and breaststroke. Osada and Jack Manchester led the charge in the 100 backstroke, with Osada touching the wall in 49.11. McNamara followed suit with a victory in the 100 breast with a mark of 54.73. Daniel Chang claimed runner-up accolades.
Sava Turcanu won the 200 butterfly with a 1:45.55.
On the 3-meter board, Bobby Ross took top honors with a score of 337.35. Teammate David Pfeifer placed second at 328.42.
Osada and Manchester teamed up again to take the top two spots in the 200 back. Osada clocked in at 1:45.79 for the victory. Yakubovich led a trio of Harvard swimmers to the finishing wall in the 100 butterfly, posting a time of 46.99.
Ross and Pfeifer were similarly successful on the 1-meter board Sunday, finishing 1-2. Ross won the event with a 355.20.
Harvard will host the Ivy League Championship meet Feb. 22-25.