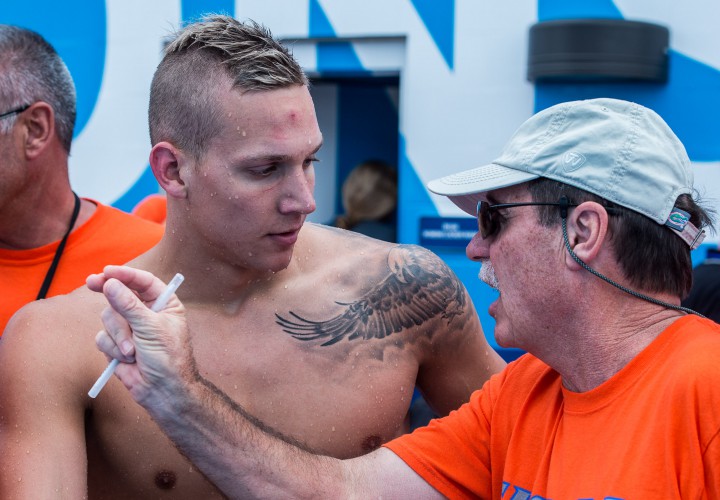 Photo Courtesy: Peter H. Bick
By Guerby Ruuska, Swimming Wolrd College Intern.
Last time the University of Florida men won an NCAA team championship was was back in 1984. The UF women have had more recent success with their NCAA title in 2010. But despite the lack of frequent team titles, the Gators routinely have standout individuals at the NCAAs.
Mark Szaranek had a great showing at the 2017 NCAA Championships when he tied Texas swimmer Will Licon for the 200 IM title, then Caeleb Dressel took the meet by storm when he dethroned the Olympic champion, Joseph Schooling, in the 100-yard butterfly and then dominated the sprint freestyle events. Head men's and women's coach Gregg Troy explains that a lot of team success comes from constant challenges at practice.
"Mark was an NCAA champion in the 200 IM, so we have a good surrounding cast," Troy said. "It's not just Caeleb taking over, we have a whole group of guys with a good focus on what's going on."
The Gators' consistent training guides them to consistently high finishes at the NCAA Championships.
"Our men have been in the top 10 every year," Troy commented. " I want to say the last five to six years, we've been in the top 5. Cal and Texas, tremendous programs, NC State and Indiana are really good and deep, our problem has been getting the points we need from the bottom end of the lineup at the NCAA meet. Our top end has always been really good, we've been really solid in relays, so we need to get some improvement on our bottom end and get some diving points."
While Florida's men's squads have seen a lot of recent success in the past years, the women, are in more of a rebuilding process.
"Our women have 18 years of really sustained success," Troy said. "Then we weren't really good the last 10 (and there were some reasons for that), but really happy with the improvement last year – how much we improved from the beginning of the year and right now."
Before coming to the University of Florida, Troy spent most of his time coaching at the prestigious Bolles School, but after two decades, it was time for a change.
In 1998, Troy became head coach of the UF women's team. In 1999, he took charge of the combined program. Troy has turned Florida swimming into a world-class-talent-producing dynasty, training the likes of Ryan Lochte, Elizabeth Beisel, Conor Dwyer and most recently, Caeleb Dressel.
"He doesn't let you cheat yourself of what you are capable of," Dressel said of his coach. "He's old-fashioned but at the same time never fails to plan for the future. He's like an old man whose mind lives in the future for the sake of his swimmers, always thinking, always learning, and always sharing."
Troy believes that depending on one's goals, it is important to put the focus passed college swimming and look towards the biggest stage, the Olympics.
"Elizabeth Beisel is a good example," Troy reflect on Beisel's collegiate career. "I think she may have given up an NCAA championship here or there to do as well as she did at the Olympic level. The year she was second in the 400 IM and third in the 200 backstroke in the Olympics, the year she did that, she was successful at the NCAA meet but still, everything was focused towards the Olympic meet."
"In some ways, it might even be what has hurt us a little in the NCAA championship, just from the standpoint that so many times, some guys weren't scoring," Tray said. "We had a big focus on Olympic Trials or making the Olympic team for foreign countries, or just improving what they're doing, so we tend to be a little bit better long course than short."
It's clear that one of Troy's end goals is to produce that national-level talent, but he's the coach of an NCAA powerhouse program, so the NCAA season is always priority in between Olympic years.
"We try to judge our first half of the season not by how fast we went, but whether we've done a good job of making a base of training from the spring and summer, Troy said. "And we feel very comfortable that it was a great fall training– we had some good competitions, a lot of opportunities to race people, and we are impressed with the results with little or no preparation. Everything we do in the fall is about setting up for the spring."
Dressel is the obvious leader on the men's side. The lightning fast sprinter's talent seems to know no bounds.
"He's improved every year for three years. Obviously, he has a good skill set, he has a lot of great natural speed. Tremendous focus on desire and what he wants to do. So he's easy to work with and very coachable," Troy said of Dressel.
"I was surprised with some of my times but I think Troy knew the plan before I did," Dressel reflected on his outstanding performances from 2017 World Championships. "There are no givens in this sport, so the moment I get complacent is the moment I cheat myself. I just trusted my teammates, my work, and the coaches."
Dressel has helped lead Florida to become, not only one of the best collegiate programs in the nation, but also help continue the program success on a national level as well.
"The thing that really sets him apart, is that every time he's had success, instead of coming back and doing the same thing, we've taken things to a whole new level," Troy commented. "Looking for new challenges, new ways to approach things but not necessarily the easy way. I think that's what set him apart. It's a continuum of improvement."
Dressel never foresaw his golden summer of '17, but he definitely dreamt of it.
"I think every kid has dreams and goals that sound crazy to even themselves," Dressel said. "I'm not sure if I saw myself getting to this level– I think there should be a fine line between laughter and goal setting."
"When your best athlete on the team is a sprinter, especially a sprinter that likes to challenge everything and doesn't train like a sprinter, I think that brings everyone's level of expectations on a day-to-day basis," Troy said of Dressel's influence.
But the Florida senior has always endeavored to be a well-rounded swimmer.
"I do not want to limit myself in the pool. My senior quote in high school shortened and summed up was 'I want to use up all the talent God has given me.' I want to challenge myself and not pigeonhole myself into one or two events," Dressel said. "I want to be a great swimmer, and more importantly, a great athlete."
Dressel has never second-guessed his decision to become a Florida Gator.
"There's a lot of pride that comes with representing this program in all sports," Dressel said. "Swimming especially. Nobody else does what we do in this program and we take a lot of pride in that. We are tough, we don't look for shortcuts, and we hold each other accountable. I love this program. I have had many goods and many bad times within my time here but I wouldn't trade them for anything. I will always be a Florida Gator."
All commentaries are the opinion of the author and do not necessarily reflect the views of Swimming World Magazine nor its staff.