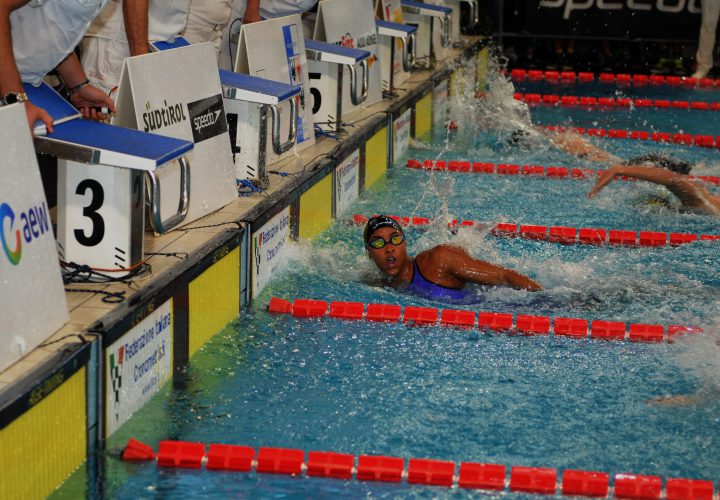 Photo Courtesy: Irsara Daniele/Bolzano Swim Meet
By Alan Karickhoff, Swimming World College Intern
Speedo Sectional Series action continued in Greensboro tonight. A number of swimmers were racing again, less than two weeks after Olympic Trials. Arianna Vanderpool-Wallace highlighted the evening's action, less than a month out from the Rio Olympics, where she will swim for the Bahamas.
Girls 50 Freestyle:
Vanderpool-Wallace from SwimMAC Carolina was the clear winner in the 50 with a time of 24.68. Second place was a fight between Alexia Zevnik from North Carolina Swimming and Brooke Bauer from Lakeside with Zevnik snagging the spot in 26.08. Bauer finished less than a tenth of a second behind Alexia in 26.15. 
Girls 800 Freestyle:
Kendal Casey from Kentucky Aquatics secured first place, despite a gaining Bryn Handley from Lakeside. Casey finished in 8:52.39 and Handley finished second in 8:54.55. Paige Kelly from Kentucky Aquatics placed third in 8:59.09.
Boys 800 Freestyle:
The boys 800 freestyle saw a clear winner right from the start. Adam Linker, Unattached, finished in 8:06.09, more than 13 seconds faster than the following swimmers. Jarod Kehl from Kentucky Aquatics also finished with seconds to spare with a time of 8:19.26. His teammate James Stevenson finished in 8:27.61.
Girls 200 IM:
Ahead the whole race, Brooke Forde from Lakeside finished in first with a time of 2:14.58. Tanja Kylliainen from Cardinal Aquatics followed behind her in 2:18.02. Holding off a fast final freestyle leg from Madison Homovich, Caroline Hauder from SwimMAC Carolina secured third place in a 2:19.18.
Boys 200 IM:
After placing second in prelims, Marko Blazevski from SwimMAC Carolina touched first in finals with a time of 2:02.98. Mohamed Hussein from North Baltimore Aquatic Club finished comfortably in second with a 2:04.27. After the breaststroke leg, Clayton Forde from Lakeside ranked eighth, but with a 28.32 split in the freestyle leg he climbed to third. 
Boys 50 Freestyle:
Once again, the 50 saw a clear winner and a fight for the next few places. Simonas Billis from North Carolina Swimming won in 22.64. Sean Gunn from Kentucky Aquatics snuck into second place in 23.30 while his teammate Cobe Garcia placed third in 23.35.
Girls 200 Butterfly:
In the 200 butterfly, Hannah Kukurugya, Unattached, led the way the whole race and won in 2:14.51. In second and third, Kentucky Aquatics swimmers touched the wall. Haley McInerny placed second in 2:15.58 and Kathryn Painter placed third in 2:17.92. 
Boys 200 Butterfly:
To finish the first night of finals there was a contested race for first in the 200 fly. Justin Ress, Unattached, finished first in 2:03.31 holding off Andrew Aviotti from Kentucky Aquatics who had a steaming last 50. Andrew finished in 2:03.71 with a final 50 nearly two seconds faster than Ress final 50. Thomas Bilden from North Carolina Aquatic Club secured third in 2:04.14.
Live results are available here.