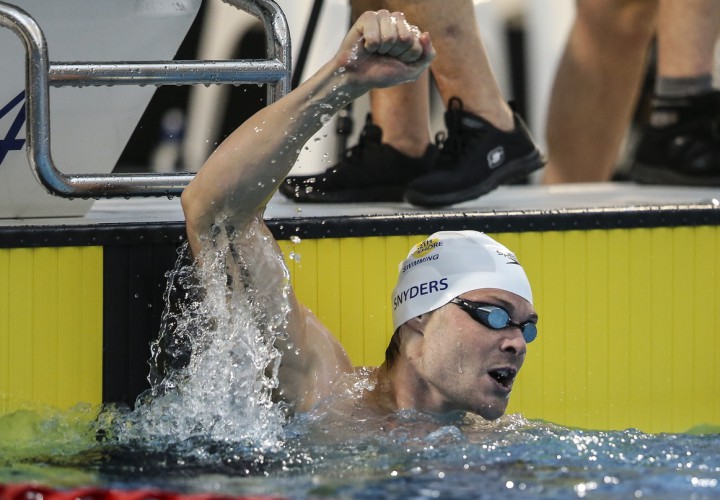 By Dave Crampton
Glenn Snyders is set to become just the fourth New Zealand swimmer to attend three Olympics after going under the Rio standard in the 100m breaststroke in a night that also produced a world record in Auckland.
Sophie Pascoe slashed more than a second off her own S10 100m butterfly world record, clocking 1:02.60 – a clear statement to her competitors approaching trials in coming weeks.  She also swam under the nomination standard in three other events this week.
She said she was surprised at her time.
"I was hoping for a 1:03 low. When I saw 1:02.60 I was pleasantly surprised but I wanted a strong nationals to show all the others beginning their nationals that I am on form for Rio."
The Los Angeles-based Snyders produced his best 100m breaststroke effort since the Glasgow Commonwealth Games, stopping the clock at 1:00.08 after clocking 1:00.36 in the morning's heat.
"I am really happy with that," he told Swimming World.  "I wanted to back it up, but I think it would have been better to go under a minute. I`m aiming for a 59 low at Rio.
The 28-year-old is confident he can do that, and knows he has to do a four-year personal best to get a good finals slot at Rio. His New Zealand record is 59.7, set at London.
"Breaststroke is probably the most competitive stroke. I've always had the speed, I just have to work on my back end fitness," he said.
Matthew Stanley became the second New Zealander –other than the para-swimmers –  to add a further qualifying time when he won the 400m freestyle in a classy 3:49.01, nearly 1.5 seconds under the  Rio mark,  after earlier meeting the standard in the 200m freestyle.
Ewan Jackson, part of Swimming New Zealand's high performance squad, set the pace, pushing through the 200m on schedule in 1:52 and still led at the 300m in 2:50. As he faded, Stanley came home strongly, with Jackson second in 3:51.08, just over half a second outside the Olympic standard.
Stanley knows he can go lower. "Once I can improve the efficiency over the first 200 then the time will come down further," he said.
"I've always been able to step up better at night. Over the last year I've been working hard on improving my heat swims and while I am yet to put both together, but it will happen."
"I swim the 400 backend and Ewan swims it front end. He swam a really gutsy race and it made for a really good race."
New Zealand now has six swimmers who have swam under the Rio standard – with half them going faster in the evening swim.
The trials conclude tomorrow.