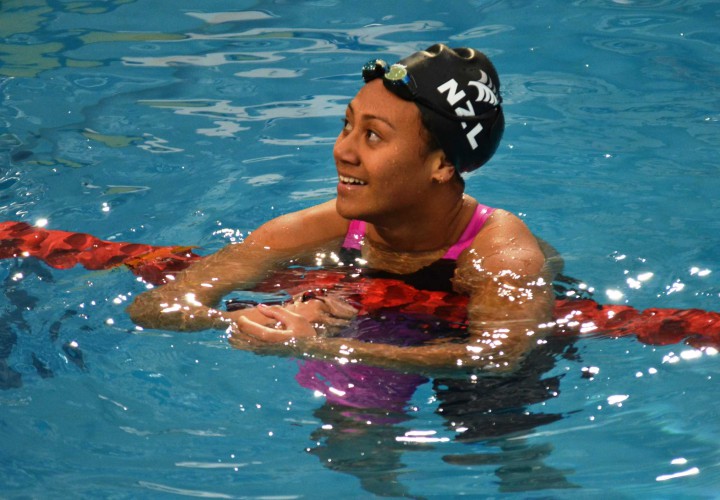 Photo Courtesy: Geoff Siburn
By Dave Crampton
Fifteen-year-old Gabrielle Fa'amausili secured her fourth open title in New Zealand record time on the final night of the 2015 New Zealand Short Course Championships in Auckland.
The new Sir Owen G Glenn National Aquatic Centre at the AUT Millennium has been a good venue for these championships with Fa'amausili's open record one of two broken during the evening.
Fa'amausili clocked 27.27 to take .10s off the 50m backstroke mark, to go with her World Junior title which she is defending in Singapore later this month. She said she was surprised, but elated at securing her first national open record.
"It's crazy. I`m so happy.  I couldn't believe it, but I came in with high expectations. I probably achieved more than I expected to achieve."
Fa'amausili also broke her fourth NAG record of the week, clocking 55.22 for the 100m freestyle, a time also under the 16 and 17 year old record. She recently switched to United Swimming Club under head coach Igor Polianski, which appears to have paid dividends.
"I feel grateful for my new coach, he' so wise and he gives me more confidence to do better," she said.
Fa'amausili heads off to the World Junior Championships in Singapore on Thursday to defend her backstroke title, before competing at the Youth Commonwealth Games in Samoa in September.
These nationals have been the perfect preparation for Fa'amausili, with her four titles equalling the individual standings with Helena Gasson, who just missed picking up her fifth title of the week in the 200m butterfly. That win went to Commonwealth Games swimmer Samantha Lee, who came from behind, clocking 2.10.05, out touching Gasson by just 0.09s.
Daniel Hunter, who recently returned from the World University Games, had an outstanding swim in the 100m freestyle, touching in 47.61 to also defend his title and break the New Zealand record. While he expected the win, the record was something else.
"I was just focusing on keeping the same processes going into the race and just making sure that I stick to my routines," said Hunter. "I wasn't quite expecting to go as quick as I did but it was an awesome surprise.
"I was absolutely stoked, I couldn't ask for anything more, it was a personal best first of all and to break the New Zealand record was just a bonus on top of that."
Hunter is now looking forward to a short break before getting into his build up for the Olympic trials next year starting with three FINA World Cup meets through October and November.