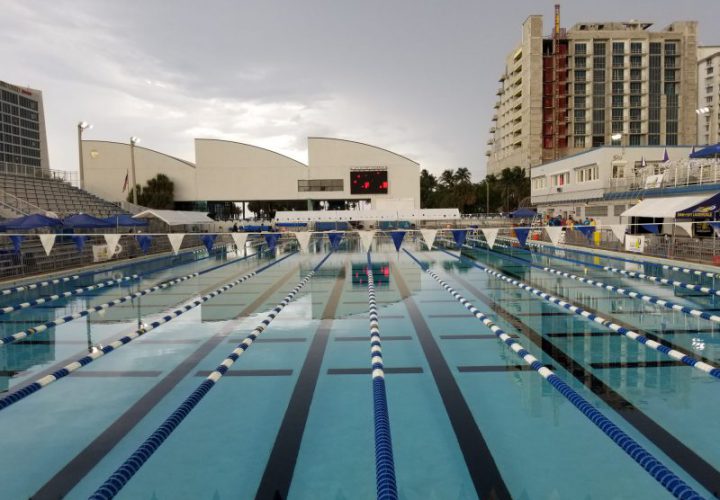 Photo Courtesy: Andy Ross
Fort Lauderdale's aquatic complex, also known as the International Swimming Hall of Fame pool, will undergo a $27 million renovation, as voted on by city commissioners on Tuesday.
The city of Fort Lauderdale has been planning for over a decade to modernize the swimming and diving complex that was first opened in August 1965. The $27 million bid is $7 million higher than the city originally intended, but city officials felt it would be best for the future of the facility.
"This is a special day for the City of Fort Lauderdale and the entire aquatic community, both nationally and internationally. They have been working hard to make this happen for years.  All the aquatic sports think of Fort Lauderdale as their second home. Beginning in late 2020, there will be a resurgence of events and activities as this venue returns to its world-class status.

"This milestone, along with ISHOF's commitment to sign a 30-year lease to remain in Fort Lauderdale, accomplishes two important goals that ISHOF's Board and the community set out late last year.  Hat's off to Commissioner Steven Glassman of District II who was instrumental in the vote along with Mayor Dean Trantalis, City Manager Lee Feldman, Aquatic Complex Manager Laura Voet, and the rest of the city commissioners," said Brent Rutemiller – CEO for the International Swimming Hall of Fame.
Ten world records have been set in the facility from nine different swimmers, including ones from swimming legends Mary T. Meagher, Natalie Coughlin and Michael Phelps. Coughlin became the first woman swimmer to break a minute in the 100 back long course at the 2002 Nationals and Phelps broke his first 400 IM world record at the same Nationals.
Swimming legends Mike Barrowman, Martin Zubero, Kim Linehan, Andy Coan, Pam Kruse and Catie Ball each set world records in the Hall of Fame pool as well.
There was possible talk of the International Swimming Hall of Fame moving to Santa Clara, California but that proposal never passed.
The aging facility has been in desperate need of a makeover; city leaders and swimmers and divers who use the pools agree.
Read More Form Local Media: Click Here