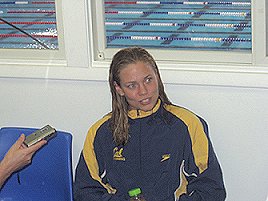 By Phillip Whitten
FT. LAUDERDALE, Florida, Aug. 13. NATALIE Coughlin destroyed the world record in the 100 meter backstroke at the USA Swimming Nationals tonight. In the process she became the first woman ever to swim the distance under one minute.
Coughlin's time of 59.58 seconds erased the old mark of 1:00.16, set by China's He Cihong at the 1994 World Championships in Rome.
It was the first time an American woman has set the 100m backstroke world record in nearly 34 years. The last American to do so was Kaye Hall, who swam 1:06.2 on October 23, 1968!
When Coughlin hit the turn in 28.86 seconds, she brought the capacity crowd to its feet. They stayed on their feet, cheering loudly, as the 19 year-old University of California freshman powered home.
He's record was universally regarded with suspicion. Three weeks after the Rome World Championships, seven members of the Chinese National Team tested positive for steroids.
He, herself, swam 1:05.98 at the 1996 Olympics.
Na na na na, na na na na, He He He, Goodbye!
Evolution of the Women's 100m backstroke World Record
1:11.9 Judith Grinham (Britain) 23-07-58
1:11.7 Ria van Velson (Holland) 26-07-59
1:11.4 Carin Cone (USA) 06-11-59
1:11.0 Ria van Velson (Holland) 12-06-60
1:10.9 Ria van Velson (Holland) 10-07-60
1:10.1 Lynn Burke (USA) 17-07-60
1:10.0 Lynn Burke (USA) 04-08-60
1:09.2 Lynn Burke (USA) 05-08-60
1:09.0 Lynn Burke (USA) 02-09-60
1:08.9 Donna de Varona (USA) 28-07-63
1:08.6 Christine Caron (France) 14-06-64
1:08.3 Ginny Duenkel (USA) 28-09-64
1:07.7 Cathy Ferguson (USA) 14-10-64
1:07.4 Ann Fairlie (South Africa) 23-07-66
1:07.3 Elaine Tanner (Canada) 27-07-67
1:07.1 Elaine Tanner (Canada) 30-07-67
1:06.7 Karen Muir (South Africa) 30-01-68
1:06.4 Karen Muir (South Africa) 06-04-68
1:06.2 Kaye Hall (USA) 23-10-68
1:05.6 Karen Muir (South Africa) 06-07-69
1:05.39 Ulrike Richter (East Germany) 18-08-73
1:04.99 Ulrike Richter (East Germany) 04-09-73
1:04.78 Gwendolyn Cook (Canada) 31-01-74
1:04.43 Ulrike Richter (East Germany) 08-07-74
1:04.09 Ulrike Richter (East Germany) 22-08-74
1:03.30 Ulrike Richter (East Germany) 23-08-74
1:02.98 Ulrike Richter (East Germany) 01-09-74
1:02.60 Ulrike Richter (East Germany) 14-03-76
1:01.62 Kornelia Ender (East Germany) 03-06-76
1:01.51 Ulrike Richter (East Germany) 05-06-76
1:01.51 Rica Reinisch (East Germany) 20-07-80
1:01.50 Rica Reinisch (East Germany) 22-07-80
1:00.86 Rica Reinisch (East Germany) 23-07-80
1:00.59 Ina Kleber (East Germany) 24-08-84
1:00.31 Kristina Egerszegi (Hungary) 22-08-91
1:00.16 He Cihong (China) 10-09-94
0:59.58 Natalie Coughlin (USA) 13-08-02