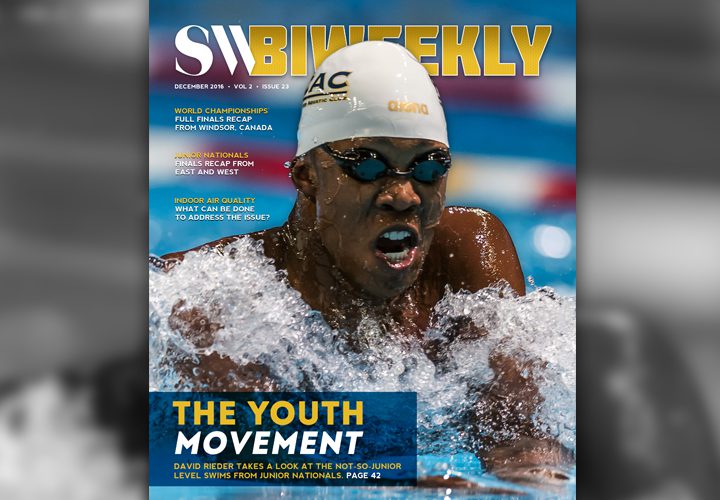 Revisit the top stories from the last two weeks with the latest edition of the Swimming World Biweekly. Current subscribers can visit the Swimming World Vault to download the current issue now! Non-Subscribers can download for FREE by Clicking HERE.   Also available in this edition of the Biweekly is the 2016 Holiday Gift Guide!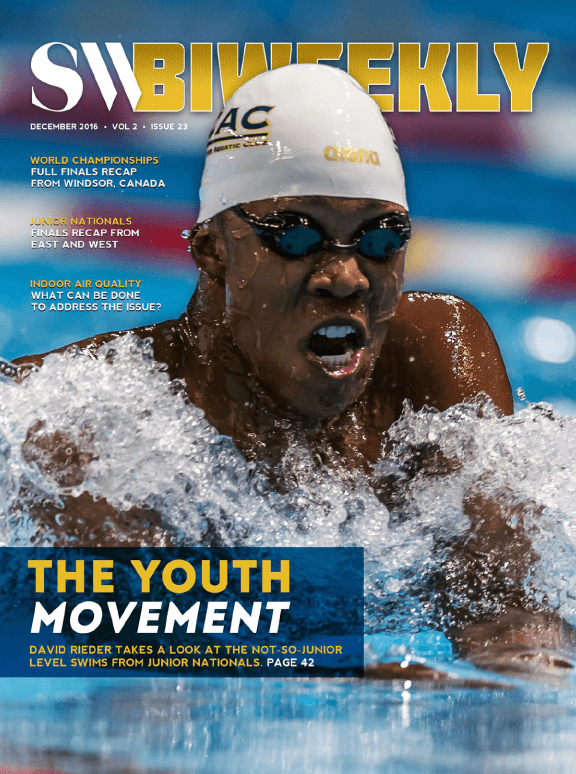 Be sure and download your FREE copy of Swimming World Biweekly today!
Save 25% on a 1 year subscription and download more issues from the Swimming World Vault and get the following:
Use Coupon Code: realnews and save 25%
A monthly print copy of Swimming World Magazine in the mail for 1 year!
Free download of the next 12 issues and the past 12 issues of Swimming World Magazine!
Free download of next 24 issues and the past 24 issues of Swimming World Biweekly!
Free download of next 4 issues and the past 4 issues of Swimming Technique Magazine!
Click Here For This Special Offer with coupon code "

realnews

"
Swimming World Biweekly: Youth Movement, SC World Championships, Speedo USA Jr Nats, and More
FEATURES
006 FINA SHORT COURSE WORLD CHAMPIONSHIPS: FINALS RECAP
by Taylor Brien, David Rieder & Dan D'addona
All the action from Windsor, Canada as we bring you the five nights of finals.
022 7 STORYLINES FROM SHORT COURSE WORLD CHAMPIONSHIPS YOU MAY HAVE MISSED
by David Rieder
You probably heard that Chad le Clos swept the butterfly events for the second-straight Short Course World Championships. It was hard to miss Katinka Hosszu winning seven gold medals…So right here, let's catch up on the stories you might have missed during a busy six days of competition in Windsor.
026 INDOOR POOL AIR QUALITY: ADDRESSING ONE OF THE NATION'S MOST UNDERRATED ISSUES
by Caitlin Daday
Although poor air quality in indoor pools affects nearly all swimmers at some point in their careers, little effort has been made to seriously address the problem…
028 2016 SPEEDO WINTER JUNIOR CHAMPIONSHIPS WEST: FINALS RECAP
by David Rieder, Taylor Brien & Katie Wingert
The 2016 Speedo Winter Junior Nationals – West took place in College Station, TX. We bring the finals to you from all four nights.
036 2016 SPEEDO WINTER JUNIOR CHAMPIONSHIPS EAST: FINALS RECAP
by David Rieder, Taylor Brien, Cathleen Pruden & Brent Rutemiller
The 2016 Speedo Winter Junior Nationals – East took place in Columbus, OH. We bring the finals to you from all four nights.
042 MOVING ON UP: THE NOT-SO-JUNIOR LEVEL SWIMS AT JUNIOR NATIONALS
by David Rieder
While following the two Junior National meets being held concurrently this weekend in Columbus, Ohio, and College Station, Texas, ten different athletes posted times that would have placed in the championship finals at last year's NCAA championships.
044 12 NEW YEAR'S RESOLUTIONS EVERY SWIMMER SHOULD HAVE
by Maddie Strasen
With 2017 quickly approaching, it's an ideal time for swimmers to reflect on the past 12 months. Chances are, all have had their share of ups and downs throughout the year…
046 ON HEARTS AND SWIMMING: THE JEROME SMITH STORY
by Zach Breeding
The human heart is a funny and miraculous thing. It is the only organ which can be relied on by most people to work without fail, all day every day. Many take this consistency for granted; in fact, about 1% of people in the world do not have this luxury as they are born with a Congenital Heart Defect…
047 USOC AND NBC UNIVERSAL TO BRING OLYMPIC CHANNEL TO UNITED STATES
In a ground-breaking collaboration to connect fans to the Olympic Movement all year round, the International Olympic Committee, the United States Olympic Committee and NBCUniversal have created a comprehensive Olympic Channel content and distribution partnership in the United States…
048 HOLIDAY GIFT GUIDE