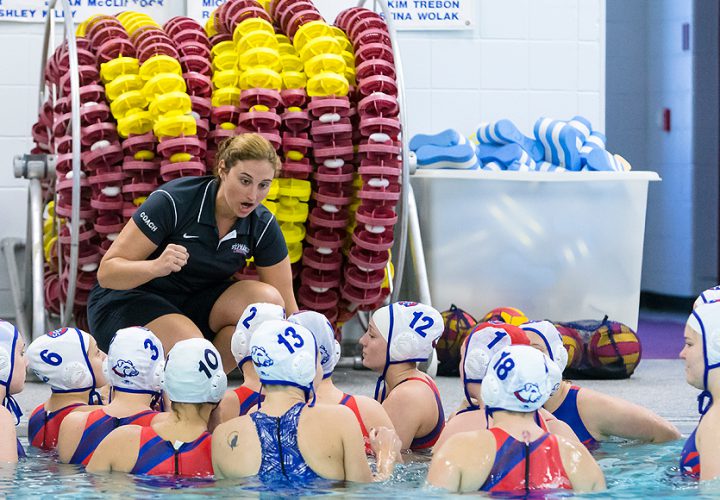 St. Francis Brooklyn's Megan Husak. Photo Courtesy: St. Francis Athletics
By Michael Randazzo, Swimming World Contributor
Editor's Note: this month Swimming World opens its coverage of the 2018 NCAA Women's Varsity Water Polo season. Look for interviews, conference predictions and the best coverage of the sport in America and beyond.
BROOKLYN, NY — After more than a decade of playing and coaching women's water polo in the East, Megan Husak is now a fully qualified expert on polo in this part of the country. Entering her seventh season as head coach of the St. Francis Brooklyn Women's Water Polo team, Husak —a native of Fresno, California — started with the Terriers as a freshman in 2004 and has remained connected to the friendly confines of Brooklyn Heights.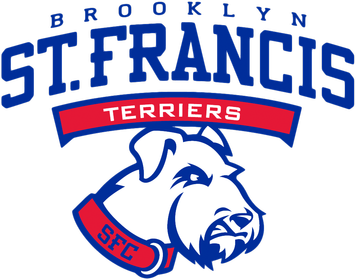 Indoor facilities with shallow/deep pools are just part of the challenge for Husak's team as they look to compete in the Metro Atlantic Athletic Conference (MAAC). Wagner — winner of four-straight MAAC titles — and Marist are likely favorites for the MAAC's automatic berth to the NCAA Women's Water Polo Tournament; Iona, LaSalle, Siena, Villanova and St. Francis will fight to make their conference tournament, April 27 -29 in Poughkeepsie, NY.
As her squad began intensive practices last week in preparation for the Terriers' season-opening matches on February 16-17 at the Mercyhurst Invitational, Husak spoke to Swimming World about life in the MAAC, this year's St. Francis squad and which team might be the surprise of the conference in 2018
 – You've coached in the MAAC the past 7 seasons. What has changed in the conference over that period, and what do you think the future holds for the MAAC in 2018?
Over the past several years, I believe the strength in rosters, strength in schedules, and having a MAAC presence in the NCAA has helped our conference greatly. As all of the MAAC team rosters become less California-dominant and became an outlet for those athletes who excel in the sport coming from other places, we become more desirable for those looking to play water polo in college. Many of the MAAC teams are able to travel to CA, or Michigan and compete against high-level teams, with big pools that improve our play.
I'm hopeful that in 2018 MAAC teams will continue to push ahead and be competitive against teams in the western part of the country.  The CWPA poll just came out and three MAAC schools made the list; that's a great accomplishment and we need to continue to push forward and climb that list!
– There's been a recent cycle of dominance by Wagner. Who do you think has the best chance of unseating the Seahawks? Do you see the Marist Red Foxes swooping in for a title?
It is always an exciting game when the Seahawks and Red Foxes are matched up. They both have teams that are used to being on top, and as an observer of the game, you feel the desire that each team has to win. They play their hearts out during every minute. Both teams have experienced coaches, passionate athletes and the history of being on top, so I expect nothing less than a battle between those two teams.
– Even though you're originally from California, you've been playing water polo and coaching on the East Coast since 2004. How have you adjusted to indoor facilities w/shallow/deep pools?
Indoor pools are the worst! As a Californian, it still seems odd to me to play inside — however it does have its positives. My backstroke improved greatly- since I didn't have to stare up at the sun! And I often see pictures of coaches bundled up on the pool deck in CA in the rain, athletes trying to stay low in the water to stay warm — not a problem we face here in NY.
The shallow/deep pool is a big issue. We're lucky that at St. Francis we have the ability to flood our pool, so it is almost 5.5 feet deep in the shallow end, but there are some pools in our conference which don't have that ability, playing polo in just 3 feet of water is horrible. There are so many assumptions made by referees when playing in the shallow end that it really affects the game. It's also a very difficult transition for a goalie as it changes the timing for them since they can use the bottom.
Another tough transition is the change of height of the goal, goalies become accustomed to their space in the goal and have the ability to know when a shot may or may not be on target just by watching it leave the hands of the shooter. Adding height to the goal to adjust to the shallow end definitely handicaps that sixth sense. In a perfect world, all of our pools would be deep/deep.
– The Terriers this season have a mix of experienced players and some fresh faces—and your players come from all over the country. What do you think will be key this year for your team, and what will it take to make the MAAC tournament (top four teams in the conference)?
Our team has always been a mixed bag of experience levels and styles, this year we are really going to be focused on Defense. One of our issues in the past was allowing several goals to be scored in a short period of time because of a breakdown in our defensive schemes. As we improve our defense — and give ourselves more offensive opportunities — I believe the offensive talents of my team has will come out.
We need to step back and solve the bigger problem first. We are also constantly working to improve our communication and teamwork — it's the foundation that we are trying to build our team up on this year.
– VMI was the surprise of the conference last year, shooting from 3-9 in MAAC play in 2016 to 11-3 in 2017. Who do you think will make an unexpected run to the playoffs this season and why? 
VMI coming out so strong last year was great to see, but no surprise.  I knew they would come out and want to prove their ability, and use their intense military regimented practices to their advantage.  I expect nothing less than that this year.  I am excited to see what Siena brings this year with their new coach [Tamara Perea], as well as what La Salle — now in its second year — brings to the table.