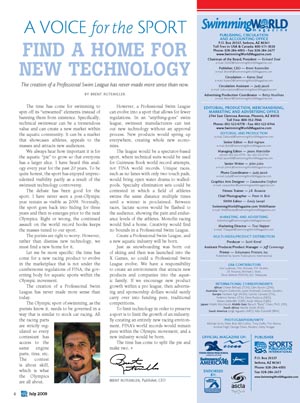 PHOENIX, Arizona, July 2. IN A Voice for the Sport in the July issue of Swimming World Magazine, publisher Brent Rutemiller writes about a potential Professional Swim League.
The time has come for swimming to spin off its "unwanted" elements instead of banning them from existence. Specifically, technical swimwear can be a tremendous value and can create a new market within the aquatic community. It can be a market that showcases athletes, appeals to the masses and attracts new audiences.
We always hear how important it is for the aquatic "pie" to grow so that everyone has a larger slice. I have heard this analogy every year for the past 20 years. To be quite honest, the sport has enjoyed unprecedented visibility partly as a result of the swimsuit technology controversy.
The debate has been good for the sport. I have never seen a post-Olympic year remain as visible as 2009. Normally, the sport goes back into hiding for three years and then re-emerges prior to the next Olympics. Right or wrong, the continued assault on the world record books keeps the masses tuned to our sport.
The purists are right to worry. However, rather than dismiss new technology, we must find a new home for it.
Let me be more specific: the time has come for a new racing product to evolve in the marketplace that is not under the cumbersome regulations of FINA, the governing body for aquatic sports within the Olympic movement.
The creation of a Professional Swim League has never made more sense than today.
The Olympic sport of swimming, as the purists know it, needs to be governed in a way that is similar to stock car racing. All the racing parts are strictly regulated so every contestant has access to the same engine parts, tires, etc. The contest is about skill, which is what the Olympics are all about.
However, a Professional Swim League can evolve into a sport that allows for fewer regulations. In an "anything-goes" swim league, swimsuit manufacturers can test out new technology without an approval process. New products would spring up everywhere, creating whole new economies.
The league would be a spectator-based sport, where technical suits would be used for Guinness Book world record attempts, not FINA world records. Unique races, such as no lanes with only two touch pads, would bring open water drama to walled-pools. Specialty elimination sets could be contested in which a field of athletes swims the same distance multiple times until a winner is proclaimed. Between races, lactate scores would be flashed to the audience, showing the pain and endurance levels of the athletes. Monofin racing would find a home. Creativity would find no bounds in a Professional Swim League.
Create a Professional Swim League, and a new aquatic industry will be born.
Just as snowboarding was born out of skiing and then was launched into the X Games, so could a Professional Swim League evolve. We have a responsibility to create an environment that attracts new products and companies into the aquatic family. If we encourage new product growth within a pro league, then advertising and sponsorship dollars would surely carry over into funding pure, traditional competitions.
To limit technology in order to preserve a sport is to limit the growth of an industry. By creating an entirely new racing environment, FINA's world records would remain pure within the Olympic movement, and a new industry would be born.
The time has come to split the pie and make two.
Click here to get your premium subscription, then visit the Premium Section to download this issue.
Click here for a preview of the other multimedia items available in the July issue.
This issue is truly interactive with nearly 100 links for Premium Subscribers to get the rest of the story, results or even visit the web sites of Swimming World Magazine's advertisers.
Become a Premium Member Today to take advantage of these great digital versions of Swimming World Magazine.
Video Preview of July Issue

July 2009 Issue
Contents of The July issue:


8 THE NEXT LEVEL by John Lohn
Sprinter Nathan Adrian appears ready to take the next step in his career as one of a number of rising stars on the American sprint scene.
10 CELEBRATING 50+ YEARS IN AQUATICS: 1981-84 by Jeff Commings
As we celebrate 50+ years in aquatics, Swimming World Magazine will be taking a trip through history, highlighting some of the top moments of the magazine's existence.
12 THEN AND NOW by Jeff Commings
Both Steve Lundquist and Kosuke Kitajima had competitive rivals in breaststroke, but both emerged as the world's best during their respective reigns 25 years apart.
14 SHOWCASE OF TALENT LIKELY TO GO TO WORLD CHAMPIONSHIPS
Here's a look at some of the swimmers who could very well take center stage at this summer's World Swimming Championships, July 26-Aug. 2, in Rome.
16 MAKING THEIR MARK by Kristen Heiss
With Cal's Teri McKeever leading the way by becoming the first female swimming coach to win the women's NCAA Division I Championships, more and more women
are making coaching breakthroughs across the country.
19 A PROMISING FUTURE by Jason Marsteller
After a successful showing at the Olympics, the future of USA Water Polo continues to look good with an excellent group of high school talent.
22 YOUTH…INTERRUPTED by Eric Velazquez
Three-time Olympian Troy Dumais and 16-year-old Kristian Ipsen—this summer's most compelling synchronized diving team—are looking to score some medals at the World Championships.
DEPARTMENTS:
6 A VOICE for the SPORT
50 FOR THE RECORD
59 CALENDAR
62 PARTING SHOT
In the Swimming Technique portion of the magazine you will find the following:

33 Q&A WITH COACH KEVIN KINEL, CHESTERTON HIGH SCHOOL by Michael J. Stott
35 HOW THEY TRAIN: Kyle Whitaker by Michael J. Stott
36 BREASTSTROKE START, TURN AND PULLOUT demonstrated by Alia Atkinson, Texas A&M
38 DIGITIZING THE SWIMMING STROKE: Butterfly by Genadijus Sokolovas
41 HOW TO PUT TOGETHER A GREAT CLUB CHAMPIONSHIPS
by Wayne Goldsmith and Helen Morris
Here are 50 ideas for a positively, powerfully perfect program.
44 GOT OXYGEN? by Michael J. Stott
Is altitude training right for everyone? The jury is still out.
In the SWIM portion of the magazine you will find the following:


27 THE POOL'S EDGE: Dealing with Disappointment by Karlyn Pipes-Neilsen
Here are six suggestions that may help you deal with disappointment after a subpar meet or swim.
28 NO HOLDING BACK! by Jason Marsteller
It doesn't matter what age they are: Masters swimmers just keep getting faster, breaking record upon record at the USMS Short Course Nationals.
30 THE WORKOUT CARD: Training with Kona Aquatics by Steve Borowski
32 LANE LEADERS: Gail Roper by Emily Sampl
In the Junior Swimmer portion of the magazine you will find the following:
47 NATIONAL AGE GROUP RECORD SETTERS: Jack Conger
48 SPEEDO AMERICAN RELAY by Judy Jacob
49 TYR AGE GROUP SWIMMER OF THE MONTH: Ingrid Shu
Free Shipping in the USA