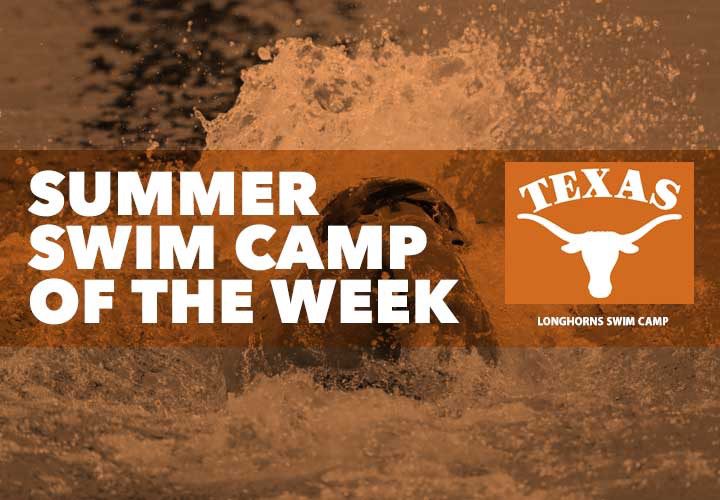 Longhorns Swim Camp registration fills up quickly, and all summer camp sessions are SOLD OUT! The November clinic remains open, and registration begins on September 1st!
---
LONGHORNS SWIM CAMP OVERVIEW: MARK YOUR CALENDARS FOR SUMMER 2019
Training at the Longhorns Swim Camp focuses upon intensive long-course conditioning and thorough stroke instruction and analysis. Camp is divided into four challenging ability groups based on age and 100-yard freestyle times. One-hour daily sessions focus on swim-specific dryland and strength training exercises. Long course training varies from one to two hours daily depending on ability level. Two 90-minute daily sessions focus specifically on technique work. Stroke drills, as well as start and turn mechanics are included along with classroom sessions and underwater video analysis of each swimmer. A typical daily schedule may be downloaded from the Registration page and is included in the pre-registration packet.
Join the summer camp wait-list by registering HERE!
---
Date/Time                           Ages                                              Availability                                 
May 27 – June 1, 2018       Boys & girls // Ages 8-18          SOLD OUT! (4/9/18)
June 3 – 8, 2018                 Boys & girls // Ages 8-18          SOLD OUT! (12/29/17)
June 10 – 15, 2018             Boys & girls // Ages 8-18          SOLD OUT! (2/11/18)
June 17 – 22, 2018             Boys & girls // Ages 8-18          SOLD OUT! (3/29/18)
June 24 – 29, 2018             Boys & girls // Ages 8-18          SOLD OUT! (1/12/18)
---
November Clinic Option
This exceptional one day technique clinic (10am-4pm) is conducted by UT women's head swimming coach Carol Capitani, assistant coach Roric Fink, and the 2017-18 Lady Longhorns. This clinic has completely SOLD OUT for the past five years, so don't wait to register on September 1st.
After Monday, November 13, please contact the clinic director to check availability.  It is HIGHLY recommended that you FAX your forms after this date.  If you are submitting required medical forms on or after Monday, November 13, please fax them to 512-232-1273.
1)  Register ONLINE!
If you have an online account from attending the Longhorns Swim Camp, you may log in using your camp account with Active.com.  If this is your first time attending a camp/clinic, please follow the prompts to register.

2) Register BY MAIL:  Download, print, and complete the registration form // November Clinic Brochure and Registration Form

Mail in the completed registration form to:
The University of Texas
Longhorns Swim Camp
UT Athletics
P.O. Box 7399
Austin, TX  78713-7399 
3) Online registrants will have a confirmation e-mail including information and medical form packets sent immediately upon completion of registration.  Mailed registration forms and clinic fees will have an information packet E-MAILED upon receipt. This will contain important information about the clinic, as well as medical forms required for participation.  PLEASE PROVIDE A FREQUENTLY CHECKED E-MAIL ADDRESS.
WHO CAN REGISTER

Male and female swimmers (ages 8-up) of any ability level are welcome. It is highly recommended, but not required, that swimmers have competitive experience prior to attending. Clinic space is limited to 100 swimmers and available on a first come – first serve basis.  On-site registration permitted on space available basis.
Per NCAA rules, sport camps and clinics conducted by The University of Texas are open to all entrants. Enrollment is limited only by age, grade level, gender, and capacity restrictions as specified by each camp.
CLINIC FEES
Clinic fee is $175 and includes coaching, facility use, t-shirt, swim cap, and lunch. Fees payable by check, money order, or credit card ONLY. NO cash payments are accepted.  A $50 cancellation fee will be charged for clinic withdrawals after Friday, October 20, 2017.  NO REFUNDS will be issued for cancellations after Wednesday, November 1, 2017.
MEDICAL FORMS
A physical is required for each participant and must be conducted within 14 months of November 19, 2017.  Copies of school sports physicals are acceptable in placeof the camp form. Required camp forms are included in the pre-registration packet.
SCHEDULE
9 a.m.: Check in and registration at pool begins
10 a.m. – Noon: Pool session #1
Noon – 1 p.m.: Lunch; Q&A with UT Swimmers
1 – 3 p.m.: Pool session #2
3 – 3:15 p.m.: Break/snack
3:15 – 3:45 p.m.: Starts
3:45 – 4 p.m.: Clinic closes
COACHING STAFF
UT Women's Swimming Head Coach Carol Capitani
UT Women's Swimming Associate Head Coach Roric Fink
The University of Texas women's swimming team
FACILITIES
The clinic will be held at the Lee and Joe Jamail Texas Swimming Center on The University of Texas campus. Ranked by Sports Illustrated as the second fastest pool in the United States, it is home to 22 NCAA national team champions and is the site for the 2019 NCAA Men's and Women's Swimming & Diving Championships. Visit their website at www.tsc.utexas.edu!
CHECK IN
Check-in begins at 9 a.m. on Sunday, November 19, at the Jamail Texas Swimming Center. Clinic ends at 4 p.m. Campers are picked up at the pool.  Please note the deck will not be open for participants until 9:30 a.m.
TRANSPORTATION and PARKING
Attendees are responsible for their own accommodations, transportation to/from the
clinic, and parking. Specific parking information will be included in the information packet.
WHY ATTEND?
• Build new skills!
• Work with our internationally respected coaching staff!
• Refresh your technique!
• Learn better technique with nationally ranked UT women's team members!
---
Contact Information
Camp Director: Jon Alter
Phone: 512-475-8652
Fax: 512-232-1273
E-mail: longhornswimcamp@athletics.utexas.edu
Team Twitter Handles: @TexasMSD and @TexasWSD