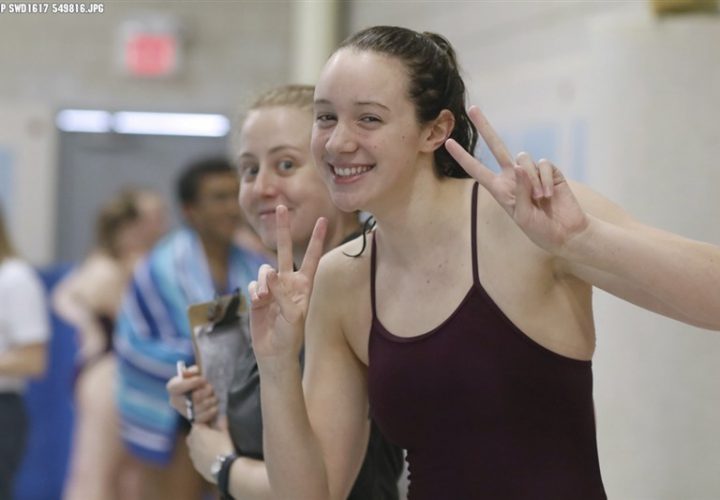 Photo Courtesy: Peter Mahakian
Commentary by Bryan Gu, Swimming World Intern.
She's singing off-key and at the top of her lungs to whatever vapid pop song is on the radio, smiling despite the set her coach writes on the board. This infectious, positive attitude that extends to everything she does has made Erin Earley, a senior at Hopkins School, one of the most motivated and successful swimmers I have had the pleasure of swimming with.
Her coach, Chuck Elrick, puts it best: "Erin has a happy-go-lucky attitude that is contagious and a work ethic that inspires others to do better."
Primarily a backstroker and distance freestyler, Earley holds multiple New England and Connecticut Age Group records, was a member of the 2015 Junior Worlds National Team, and recently garnered fame as Hopkins's first swimmer to attend Olympic Trials.
Earley started swimming at a young age, beginning with lessons when she was two years old and moving on to the local club team, the Hopkins Mariners, when she was four. Like many swimmers, Earley's early motivation was simple: competition. Having grown up in a large family of athletes, with four sisters and two brothers, the competition was fierce.
"We all started with swimming," she recalls, "and when we were young it was all about racing. I don't remember much, but I remember I just really wanted to win."
As the kids grew older, they each began to branch out into different sports, but Earley kept swimming. One day she looked around and realized that she may not be half bad – "I remember going to my first Age Groups (championships), for 10-and-unders, and I realized I was the only eight-year-old there. That's when I realized I might be pretty good."
Although it was competition that first brought Earley into the sport, travel has quickly grown to be her favorite aspect of it. Swimming has afforded Earley the luxury of adventure, allowing her to visit places she may never have gone to on her own. "I'm so grateful for the chance to be able to go all over the country, even the world, and meet so many different people. I love the chance for new experiences."
One of Earley's favorite memories is of her first national meet, where at the age of 13, she met her first Olympian, Elizabeth Beisel. She recalls her coach giving her some strong encouragement to get a photo taken with Beisel, much to her own chagrin. "It was awkward," Earley recalls, but it was a good picture and she still looks back on the memory fondly.
Last summer, Earley took on the largest adventure of her life: Olympic Trials. Everything had been building up to the summer, this was the first step towards her dreams of making the Olympic team. A first time qualifier, Earley happily summarized her experience for me in one word – sucky.
"I was injured most of the time, so I ended up spending more time at the hospital than I did in the pool." Following the 400 IM, Earley was plagued with recurring tendonitis, and was forced to go the hospital to get it examined. Although she didn't miss any events, her subsequent 200 backstroke and 100 backstroke were sub-par, leaving her disappointed.
Despite the injury and the poor showing at her first Olympic Trials, Earley was eager to get back in the pool. It had been a long year, excluding trials, that had been riddled with injuries and largely devoid of best times.
"She always has that way about her," a teammate explained. "No matter how bad the day or how bad the set, she always finds some way to do it with a smile on her face." I tried to ask her about this perpetually positive attitude, and although she admitted it was due in part to her determination to one day make the Olympic Team, she claimed it was largely thanks to the wonderful therapy dogs at the clinics in Omaha.
Next year, Earley will be attending the University of Virginia, where her backstroke and distance freestyle prowess will be an immediate addition to a team that appears to lack much depth in its backstroke group, especially with the departure of Kaitlyn Jones. Earley's times will have an immediate impact towards helping the team reclaim their ACC title.
With a strong class that includes fellow Connecticut backstroker Marcie Maguire, Earley can't wait to get started with her new team. "I just have so much fun with the girls, and I know that I'm going to work great with the coaches, so I'm really excited."
When asked about her goals, Earley said her first priority was to qualify for the NCAA Championships. "As a freshman" she made sure to emphasize. Knowing her, she'll make it, laughing the whole way.
All commentaries are the opinion of the author and do not necessarily reflect the views of Swimming World Magazine nor its staff