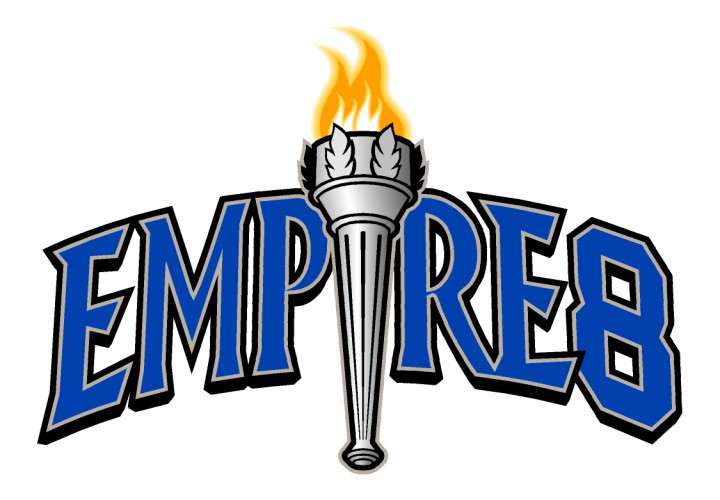 By James Sica, Swimming World College Intern
CAMBRIDGE – Although we are only a little more than one month into official practices for Empire 8 swimming, we have already seen some impressive swims from the conference. Comprised of five schools across New York (Ithaca College, Hartwick College, Utica College, Alfred University, and Nazareth College) and one in New Jersey (Steven Institute of Technology), this looks to be a year where the Empire 8 continues to develop into one of the more competitive conferences in Division III.
Women
Ithaca College
Ithaca has dominated this conference, winning every Empire title but one since 2000 (they placed second at the 2013 championships to Stevens). With a strong senior class led by Kylie Bangs and Megan Buisman, the Bombers will look to continue to capitalize on their versatility and large group of talented sophomore class with includes conference champion Lake Duffy (50 free) and All-American Grace Ayer (200 IM). In their two opening wins against non-conference opponents, several Bombers posted conference leading times, including Grace Ayer in 100 backstroke (59.67), 200 IM (2:12.83) and 200 backstroke (2:11.11), and Lake Duffy in the 50 free (25.11), with several others appearing in the top 10 of every event. With a roster of over 40 athletes, including six divers, Ithaca seems to have both the depth and top end talent to continue their winning tradition.
Steven's Institute of Technology
Although Ithaca has had a stranglehold on the Empire 8 conference, it is never safe to count out Steven's Institute of Technology, and with the addition of 8 freshmen to their roster the Ducks shopuld show up big time at the conference championship at the end of the year. In their first competition against St. Peter's University, returning sophomore Danielle Caruso was named Empire 8 Swimming & Diving Athlete of the Week for her performances in the 1000 (10:32.16), 200 (1:57.14), and 500 freestyles (5:13.18). Expect Brittany Geyer to attempt to rebound from a disappointing NCAA's last season and lead the conference in the breaststrokes, and also lead several talented upperclassmen (backstroker Sharon Rooker, butterflier Marie McClure, and distance ace Elizabeth Heinbach) to challenge Ithaca's top spot. Although Steven's will continue to be hurt by their lack of a diving program, they are likely the only team capable of challenging Ithaca throughout the year.
Hartwick College
Hartwick has a strong returning class, including senior Gwen Mathias, junior Imma Rutigliano, and sophomore Kelsey Elliot. Hartwick came out with a win over Utica College (208-56) at their Quad meet, and showed the value of those upperclassmen as they brought Hartwick individual wins in the 1,000 (Mathias – 11:21.31), 200 free (Rutigliano – 2:00.02), 50 free (Elliot – 25.70), 100 freestle (Elliot – 55.33), and 200 IM (Rutigliano – 2:16.09). Hartwick and Nazareth will likely be competing with Nazareth over that third position in the conference, and with neither team pulling in a huge recruiting class (Hartwick only brought in 5 freshmen) it seems that consistency and leadership from returning athletes will be the key looking forward.
Nazareth College
Last year Nazareth finished in fourth only 7 points behind Hartwick, so look for the Golden Flyers to attempt to track them down this year. In their first meet of the season, Nazareth finished ahead of Alfred University (136-87) in a dominant performance. Naz won 10 of the 16 contested events, including impressive performances from returner Cameron Hess in the distance events, including a win in the 1,000 (11:12.99) and runner-up in the 500 (5:32.65). Nazareth has had many stars throughout their years in their Empire 8, including All-Americans in IM and backstroke specialist Emily Lesher and breaststroker Carrisa Risucci, so don't be surprised to see Nazareth continue to challenge for a top 3 finish at the end of the year.
Alfred University
Alfred University added only 5 freshmen to an already small roster for a total of 15 swimmers. Returner senior Chrissy Behr took home wins in the sprint events (25.19, 56.22) in Alfred's opening loss to Nazareth, and should be expected to challenge for a top eight position in the conference at the end of the year. With the increasing depth in the Empire 8, the Saxons will need to continue to add bodies to its roster to move up in a competitive conference.
Utica College
Utica College did well in adding 7 women to their roster, but they still have work to do if they have hopes of moving up in the conference. Those freshman recorded some of Utica's top times in their opening loss at the Hartwick quad meet, including Mikey Maxwell in the 50 freestyle (26.96), Aly Baribault in the 100 breaststroke (1:13.70), and Pheobe King in the 100 backstroke (1:07.88).
MEN
Steven's Institute of Technology
Defending Empire 8 champions Stevens Institute of Technology are returning several of their top performers from last year, including a strong junior class that is already leading the Empire 8 in several events. In Steven's opening meet freshmen Ethan Gehenio (47.67 – 100 free), James Bentz (4:53.96 – 500 free) and Connor Harrigan (4:54.06 – 500 free) showed the immediate impact they will have in the Empire 8 and continue Steven's strong tradition of success in the freestyle events. Notably, in that same meet, junior Ravi Sun has already posted an NCAA B cut time in the 200 back, clocking a 1:52.12 at Steven's opening duel meet against St. Peter's University. Their roster will be bolstered by the addition of 12 new freshmen, including several who have already showed the impact they will have on the conference at the end of the year.
Ithaca College
It would not be wise to forget about the runner-up from last years Empire Championship, Ithaca College, who actually only lost the title by only 8 points (the closest in conference history). The Bombers have already showed a lot in their first two meets of the season, including times in the relays that sit just behind Steven's (1:36.44 – 200 Medley, 3:12.53 400 free relay) as well as impressive performances from returners Adam Zelehowsky (1:44.77 – 200 free), Lucas Zelehowsky (51.96 – 100 fly, 1:58.24 – 200 Fly), and Logan Metzger (21.35 – 50 free). It is interesting to note that the Ithaca roster is significantly smaller than last year. Losing several top point scorers and NCAA qualifiers to graduation (including 5 of their 9 qualifiers from last year) and only bringing 4 freshmen, Ithaca is carrying a small roster of 21 athletes this year. However, with senior Matt Morrison returning on both boards expect Ithaca to challenge Stevens for the top position in the conference, or at least continue their presence in both the relays and individual events at the national level.
Hartwick College
Hartwick fans are definitely celebrating the return of Miles Blaney, a senior (and recently named Empire 8 Swimming & Diving Athlete of the Week) who is back on Hartwick's roster after taking last year off. Blaney should be expected to have an immediate impact on all of Hartwick's relays and the freestyle events, as he has already posted top times in the 100 (47.63) and 200 (1:45.34) freestyles. However, having only added 4 freshmen to an already limited roster, Hartwick will continue to rely on upperclassmen Ben Detar (IM/Butterfly), Luis Santiesteban (IM/Free), and Brendan Day (Breaststroke). Lacking the depth of Ithaca and Stevens, the Hawks will have a tough time moving up from their third spot in the conference.
Alfred University
Alfred University will continue to grow under the leadership of senior David Luke, an individual qualifier for NCAA's last year who also was a key component of Alfred's free relays and the individual champion in the 50 freestyle at last years conference meet. In the opening win against Nazareth, fellow returning senior David Combes recorded top finishes in the 100 and 200 freestyles, and in the following week improved to record some top times both events (48.10, 1:46.33) despite Alfred falling to RIT. The Saxons added 13 freshmen to their roster, which along with strong returners Coombes, Luke, and senior Zac Toth (IM/Butterfly) will help move them challenge Hartwick in their quest back to the top of the conference.
Nazareth College
Nazareth will have a lot of their plate to try and continue to move up in the conference, but with the additions of 9 freshmen to an already young team there may be room to make an impact. Returning backstroker Daniel Burke will continue to be a strong contributor for the Golden Flyers in the backstroke and IM events, and posted some impressive short course meter times during Nazareth's win over Brockport, including wins in the 100 back (59.63), 200 back (2:10.43), and 200 IM (2:16.53). That performance led him to be named Empire 8 Swimming & Diving Athlete of the Week for the week of November 1st.
Utica College
Utica will add 3 men for a total of 9 men on their roster. An opening 22-140 loss to Hartwick at their quad shows the long way Utica has to go to move up in their conference, but should be looking for returner Raphael Warnon to lead the team in the backstroke and butterfly events after his performances in the 100 back (57.85) and 100 fly (57.71).
James Sica is a volunteer assistant coach with the Harvard women's swimming and diving program.  Previously, he coached and swam at Ithaca College in the Empire 8.