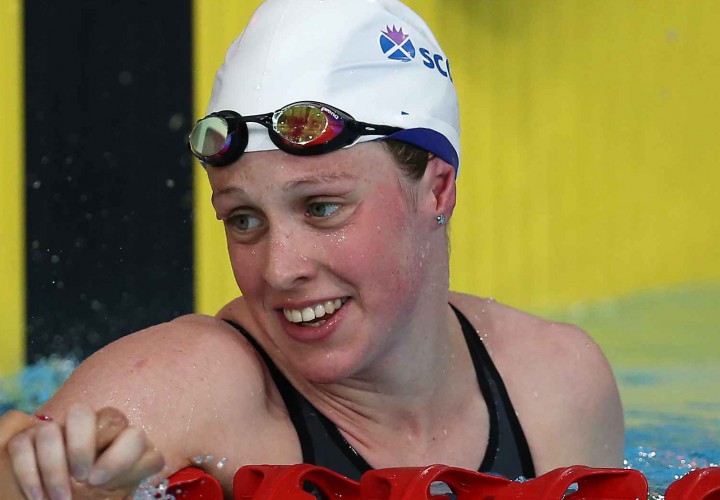 Photo Courtesy: Ian MacNicol/Scottish Swimming
Editorial content for the Commonwealth Games coverage is sponsored by TritonWear. Visit TritonWear.com for more information on our sponsor. For full Swimming World coverage, check event coverage page.
With under 200 days to go until the Gold Coast 2018 Commonwealth Games, the first athletes to represent Team Scotland have been named in Swimming and Lawn Bowls.
A total of 21 athletes have been confirmed following nominations from Scottish Swimming and subsequent ratification by Commonwealth Games Scotland.
Swimming was one of the major contributors to Team Scotland's record medal haul at Glasgow 2014 and among those selected are six defending Commonwealth Games champions, as well as Olympic, World and European medalists, while nine athletes will make their Games debut in Gold Coast.
The Swimming team contains a mix of youth and experience with 13 of the 21 swimmers having competed for Team Scotland at Glasgow 2014, complemented by a number of young talents making the team for the first time. Ross Murdoch and Dan Wallace will defend their Commonwealth Games titles down under, with Hannah Miley aiming to make it three 400m Individual Medley titles in a row, which would be a record for any sport.
Just 17 when he took silver as part of the 4 x 200m Freestyle Relay team three years ago in Glasgow, Duncan Scott will be looking to step up in Gold Coast on the back of medal success in the relays at both the 2016 Rio Olympic Games and 2017 World Championships. Scott was not the only athlete on the World Championship podium this summer and fellow gold medallist in the 4x200m Freestyle Relay, Stephen Milne will also be one to watch.
Kathleen Dawson has also made huge advances since Glasgow 2014. The 20 year old backstroke specialist took bronze in the 100m event at the 2016 European Championships, adding gold in the Medley Relay, and was a finalist in both events at this year's World Championships in Budapest.
Team Scotland's most successful Youth Games athlete in history, with five medals at Bahamas 2017 just over two months ago, 18-year-old Scott McLay makes an immediate step up into the senior team. He is joined by 2015 Youth Games silver medallist Craig McLean and bronze medallist at the recent World Junior Championships, Keanna MacInnes.
Scotland will be sending 21 total swimmers to compete in the Gold Coast starting Thursday, April 5.
Full Team Roster:
Craig Benson
Mark Campbell
Sean Campsie
Euan Inglis
Kieran McGuckin
Scott McLay
Craig McLean
Craig McNally
Stephen Milne
Ross Murdoch
Duncan Scott
Mark Szaranek
Calum Tait
Jack Thorpe
Dan Wallace
Kathleen Dawson
Lucy Hope
Keanna MacInnes
Hannah Miley
Corrie Scott
Cassie Wild
The above press release courtesy of Team Scotland