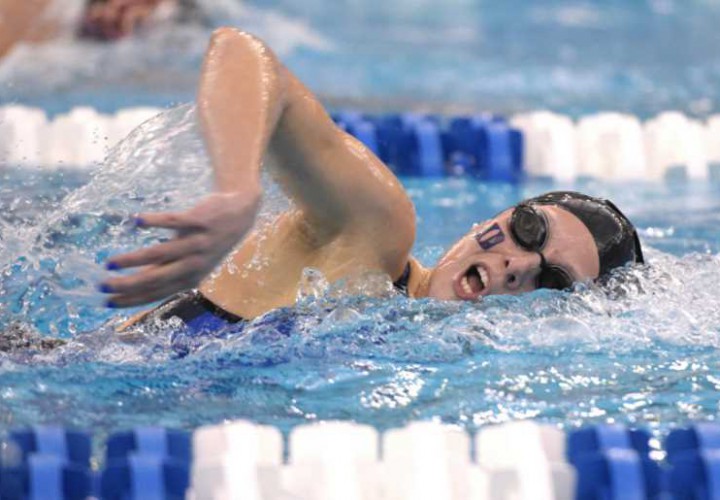 Photo Courtesy: Duke Athletics
NCAA DI editorial coverage is proudly sponsored by Adidas. Visit All-American Swim for more information on our sponsor. For all the latest coverage, check out our event coverage page.

Duke was the happy recipient of some good fortune with Arizona's Sara Borendame scratching from the 2016 NCAA Division I Women's Championships.
Borendame, who was seeded 33rd in the 100 breast and 44th in the 200 breast, pulled out the meet.  That meant first alternate Duke's Verity Abel moved into the meet.
Duke, who previously only had three swimmers qualified, gained the all-important fourth swimmer so that it could also add its two NCAA B cut relays to the meet.  Additionally, Duke can now bring relay alternates at its own expense if the squad wants to let more swimmers gain some NCAA environment experience.
The new first alternate is now UCLA's Arlyn Upshaw.
Duke Press Release:
Sophomore Verity Abel will join teammates Leah Goldman, Isabella Paez and Maddie Rusch at the 2016 NCAA Championships after receiving an official invitation from the NCAA Friday.
Abel, who was listed as the first alternate on the initial NCAA release, is entered to compete in the 200-yard freestyle, 500 freestyle and the 1,650 freestyle with 'B' cuts in all three events. She was 16th in the 500 freestyle at last month's ACC Championship after surpassing the NCAA provisional standard during preliminaries with a 4:45.40 clocking. The Westport, Conn., native was unable to swim in the mile at ACCs due to illness but recorded a time of 16:17.89 at the Bulldog Last Chance Meet last week.
In addition to ranking second in program history in the 500 and 1,650 freestyle, Abel broke the school record in the 200 freestyle with a 1:47.90 split on the Blue Devils' 800 freestyle relay at the ACC meet.
With four representatives now headed to the Women's NCAA Championship in Atlanta, Duke will also be able to send its two relays that earned 'B' cuts during the course of the season. The 200 freestyle relay of freshman Maddie Hess , Rusch, Goldman and junior Jessie Sutherland surpassed the provisional standard and the previous program record with a mark of 1:29.75 at the Nike Cup Invitational. The same meet also saw the Blue Devils' 400 freestyle relay of Hess, Rusch, senior Chelsea Ye and Goldman collect a 'B' cut and a school record at 3:16.37.
Before beginning competition at the NCAA Championship March 16, the Duke women will look to qualify divers through the NCAA Zone B Diving Championships, which get underway Monday in Atlanta.