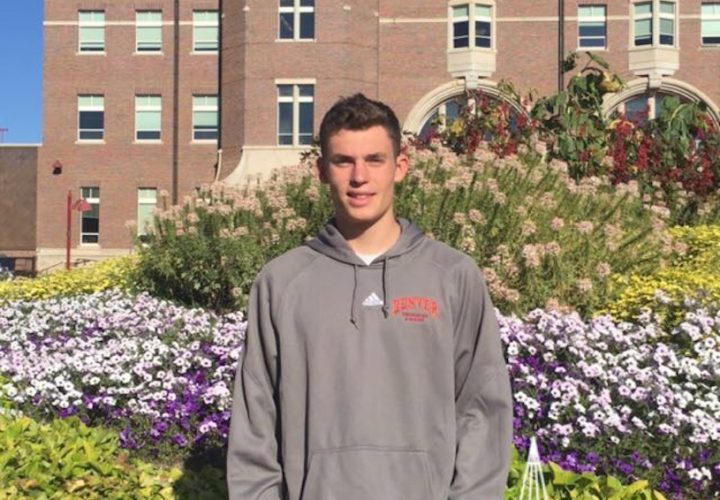 Photo Courtesy: Jenny Jessen
Agon is the proud sponsor of all high school coverage (recruiting, results, state championships, etc.) on SwimmingWorld.com. For more information about Agon, visit their website AgonSwim.com.
To report a college commitment, email HS@swimmingworld.com. Join Swimming World's Watch List
NEW COMMIT: Blayze Jessen has verbally committed to swim for the University of Denver. Jessen should feel right at home when he moves into a dorm next fall. The JK Mullen High School senior is from Denver, Colorado, and swims for the club team University of Denver Hilltoppers.
Jessen told Swimming World,
"I'm excited to announce my verbal commitment to swim for the University of Denver. I couldn't ask for a better school academically & DU's swim team is on the rise and I'm grateful to be a part of it. I want to thank Coach Schrader & Coach Maguire for this opportunity and to my family and friends who have helped me on this journey. LET'S GO PIOS!!!"
A USA Swimming Scholastic All-American, Jessen is fairly versatile, excelling in breaststroke, distance free, and IM. His best times include:
200 Breast 2:04.68
200 IM 1:52.49
400 IM 3:58.31
1650 Free 15:58.72
Jessen has made great strides throughout high school. Since 2015 he's taken 11 seconds off his 200 breaststroke time and another 11 from his 400 IM. He's also knocked four seconds off his 200 IM in that same time.
At the 2017 Colorado 4A High School state championships Jessen finished third in the 200 IM (1:53.87). He was also fourth in the 100 breaststroke.