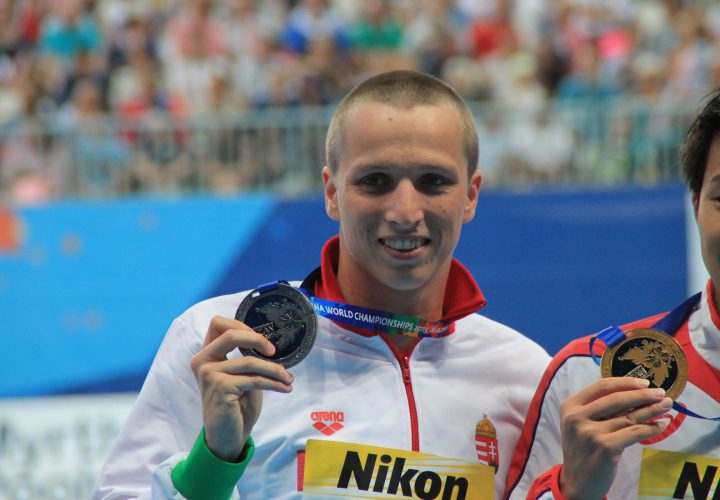 Photo Courtesy: Maria Dobysheva
The second day of finals at the Sette Colli International meet in Rome featured impressive efforts by Olympic gold medalists Gregorio Paltrinieri and Adam Peaty, but the highlight of the night came in the men's 400 IM, when David Verraszto and Daiya Seto both moved into the top-ten all-time while annihilating the top time in the world this year.
Read below for full event-by-event coverage.
Men's 1500 Free
Italy's Gregorio Paltrinieri dominated his signature free, posting a top time of 14:49.09. He already owns the top time in the world this year — by far — at 14:37.08.
The Czech Republic's Jan Micka took second in the race in Rome in 15:01.42, just ahead of Great Britain's Tom Derbyshire (15:02.12). Both snuck into the top ten in the world for 2017.
Women's 100 Fly
Italy's Ilaria Bianchi took first in the women's 100 fly in 57.89, good for tenth in the world this year, while countrywoman Elena De Liddo was second in 58.05. Hungary's Liliana Szilagyi was third in 58.48.
Men's 200 Fly
Hungary's Tamas Kenderesi and South Africa's Chad Le Clos finished third and fourth, respectively in the men's 200 fly at the Olympics last year. It looked like Le Clos was going to have the upper hand in their Roman rematch, but Kenderesi closed in a blazing 29.37 to go by Le Clos and take the win in 1:54.33.
Kenderesi's time broke the meet record of 1:54.69 set by Laszlo Cseh last year and moved Kenderesi to third in the world rankings for 2017.
Le Clos faded to second in 1:54.87, good for fourth in the world, and Japan's Daiya Seto was third in 1:56.05.
Women's 100 Back
The Czech Republic's Simona Baumrtova came out on top of a tight race with Australia's Madison Wilson and the Netherlands' Kira Toussaint to win the two-lap dorsal race. Baumrtova got her hand on the wall first in 1:00.21.
Wilson ended up taking second in 1:00.34, and Toussaint was third in 1:00.57. Great Britain's Georgia Davies was not far away either, finishing in 1:00.67.
Men's 100 Back
It was a blanket finish in this race with the top seven finishers separated by less than a half-second. Germany's Christian Diener ended up coming out on top with his time of 54.54, but he was only five hundredths ahead of runner-up Gabor Balog.
Hungary's Balog claimed second in 54.59, just one hundredth ahead of Italy's Matteo Milli (54.60). Great Britain's Christopher Walker-Hebborn (54.66) and Ireland's Shane Ryan (54.79) were not far away.
Women's 400 IM
Great Britain's Hannah Miley led for almost the entire race, and the advantage was more than a second with 50 meters to go. But Canada's Mary-Sophie Harvey finished strong and came up only two tenths short of the Brit ten years her senior.
Miley won the race in 4:36.28, followed by Harvey in 4:36.48. Miley currently ranks third in the world at 4:34.12, while Harvey's time puts her as the No. 6 woman in this year's world rankings.
Great Britain actually claimed three of the top four spots in this race as Rosie Rudin finished third in 4:40.99 and Abbie Wood fourth in 4:41.27.
Men's 400 IM
Hungary's David Verraszto won a duel with Japan's Daiya Seto in the men's 400 IM, and the two produced by far the top two times in the world this year. Verraszto, who finished second behind Seto in the event at the 2015 World Championships, held the lead for the final 300 meters and touched first in 4:07.47, while Seto came in at 4:07.99.
Both of those times crushed the previous world leading time, Chase Kalisz' 4:09.43 from last month, and the times are much faster than the 4:08.50 Seto swam to win the 2015 World title. In fact, they are lifetime bests for both men, as Verraszto moves to seventh all-time in the event and Seto to eighth.
Finishing well back in third was Brazil's Brandon Almeida, who posted a mark of 4:15.30.
Women's 100 Free
The Netherlands' Ranomi Kromowidjojo blasted a 53.07 to win the women's 100 free as the 2012 Olympic gold medalist in the event became the fourth-fastest performer in the world this year.
Denmark's Pernille Blume, the Olympic gold medalist last year in the 50 free, touched second in 53.59, just ahead of Sweden's Michelle Coleman (53.64).
Men's 200 Free
South Korea's Park Tae Hwan dominated the field in the men's 200 free. An Olympic silver medalist in this event in both 2008 and 2012, Park put up a time of 1:46.89, just missing his season-best mark of 1:46.71 that ranks sixth in the world.
Park was followed by a trio of British men: Nicholas Grainger took second in 1:48.30, followed by Duncan Scott (1:48.47) and Stephen Milne (1:48.56).
Women's 50 Breast
Great Britain's Sarah Vasey touched out countrywoman Imogen Clark in the sprint breaststroke race, 30.73 to 30.78. The two have both been much quicker this year, however, with Clark ranked third in the world (30.21) and Vasey fourth (30.30).
Italy's Ilaria Scarcella finished third in 31.31.
Men's 50 Breast
Great Britain's Adam Peaty continued his reign over the sprint breaststroke events, winning the 50 in 26.61. That ties for the fifth-fastest performance of all-time, and it's faster than any other man has ever swum. But it's not the top time in the world this year, as Peaty posted a 26.48 back in April.
Brazil's Joao Gomes finished second in 26.95, just off his No. 2-ranked time of 26.83, and Italy's Niccolo Martinenghi took third in 27.03. Martinenghi finished just six hundredths off his own Italian and World Junior records of 26.97 set in April.
Women's 800 Free
Hungary's Boglarka Kapas finished first in the day's final event, posting an 800 free time of 8:23.71 that moves her past Yuhan Zhang into fifth in the world this year.
Italy's Simona Quadarella also got under 8:30 as she finished second in 8:29.53, and Australia's Jessica Ashwood finished third in 8:31.40.