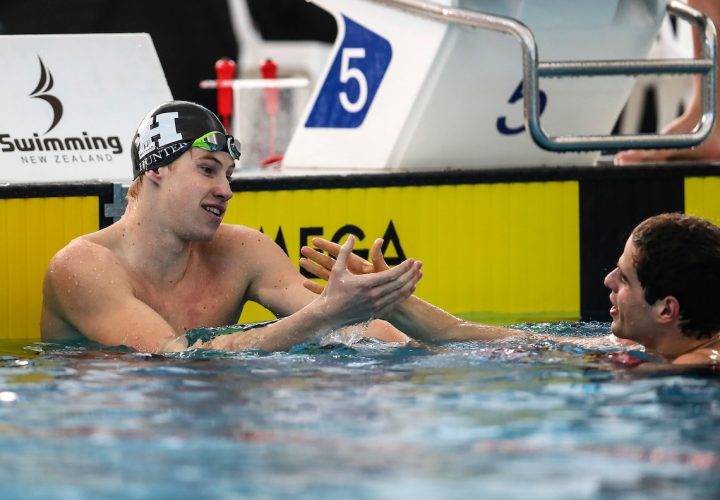 Photo Courtesy: Simon Watts, BW Media
By Swimming World Contributor Dave Crampton.
Daniel Hunter picked up another New Zealand freestyle record and a third FINA World Short Course qualifying time on the final day of the Swimming New Zealand Short Course Championships in Auckland.
He clocked 47.52s in his favoured 100m event, well inside the world championships qualifying criteria, and 0.09s inside his own national record.
"It was a tough one tonight, getting to the end of a long week. I had to push the first 50 and I knew the second 50 was going to hurt," Hunter said.
 "I am stoked with the results. It is a really good set up for this next block of training and I couldn't be happier."
Hunter is competing at the upcoming FINA World Cup meets in Singapore, Tokyo and Hong Kong, before heading to Canada for the world champs.  
"I am excited about the world championships," he said. I am going to target the 50m and 100m freestyle there and see what I can put out there on a full taper."
Michael Mincham was the only other New Zealander to qualify for the world champs this week, taking out the 1500m freestyle in 14:55.94s, 12 seconds under the qualifying time.
"I built in to it. It was a really good swim and I am so happy with that," Mincham said.
"I have worked so hard and put in so many hours and it has all come together in the end.  Bettering that time I just swum here, at worlds, is going to be the goal."
There was a dead heat in the women's 100m freestyle final, with  Helena Gasson and  Gabrielle Fa'amausili, 16,  both clocking 55.56s, giving the latter another NAG record. Finn Kennard-Campbell, 16, also picked up a NAG record in the 50m backstroke, clocking 24.95.
Gasson and Fa'amausili were just splits off qualifying for Canada in other events.
Wilrich Coetzee was the meet's most successful in terms of open titles, with six victories, his final one coming in the 200m butterfly in 1:56.46, half a second off the world championship qualifying mark. Talented 13-year-old Brearna Crawford won eight age-grade titles.
Australia's Emily Washer was the only female to dip under the world mark for Canada, clocking 2:07.02 in the 200m butterfly, with the national title going to Yeonsu Lee in 2:12.69.
 Hunter and Mincham will be joined in the team for the world championships by backstroker Corey Main, who attends the University of Florida. He qualified at Rio.
Results:
Men 100m freestyle: Daniel Hunter (Howick Pakuranga) 47.52, 1 (NZ Record, World Champs qualifier); Julian Weir (Aquabladz) 48.18, 2; Michael Finlay (Orca) 49.54, 3.
Women 100m freestyle: Helena Gasson (North Shore) and Gabrielle Fa'amausili (United) 55.56, equal 1; Paige Flynn (St Peters) 55.60, 3.
Men 200m butterfly: Wilrich Coetzee (North Shore) 1:56.46, 1; Liam Albery (Capital) 1:59.37, 2; Isaac Foote (Masterton) 1:59.57, 3.
Women 200m butterfly: Emily Washer (Australia) 2:07.02, 1; Yeonsu Lee (North Shore) 2:12.69, 2; Paige Schendelaar-Kemp (Howick Pakuranga) 2:15.93, 3.
Men 50m backstroke: Corneille Coetzee (North Shore) 24.95, 1; Andrew Trembath (Neptune) 24.96, 2; Finn Kennard-Campbell (North Shore) 25.22, 3.
Men 1500m freestyle: Michael Mincham (United) 14:55.94, 1; Zac Reid (AquaBladz New Plymouth) 15:22.65, 2; Hamish Trlin (Capital) 15:27.22, 3.
Para-Swimming Results:
Men 100m Freestyle: Christopher Arbuthnott (Ice Breaker) 57.82, 1; Tama Solouota (Howick Pakuranga) 1:03.09, 2; David Beck (Mt Albert Grammar) 1:04.02, 3.
Women 100m Freestyle: Tupou Neiufi (Howick Pakuranga) 1:08.18, 1; Olivia Upston (Parnell) 1:16.68, 2; Jane Fox (Orca, Southland) 1:14.58, 3.
Men 50m Backstroke: Celyn Edwards (Selwyn) 36.46, 1; Tama Solouota (Howick Pakuranga) 33.84, 2; George Adam (North Canterbury) 38.52, 3.
Women 50m Backstroke: Jane Fox (Orca) 41.27, 1; Olivia Upston (Parnell) 43.84, 2; Hannah van Wijk (Dannevirke) 44.51, 3.