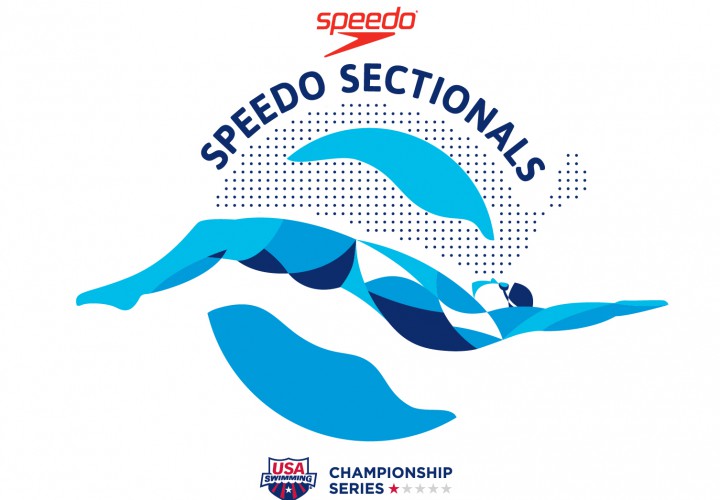 Photo Courtesy: USA Swimming
Finals on day four of the 2015 Speedo Western Section Championship at the Mt. Hood Community College Aquatic Center in Gresham, Oregon saw many new Olympic Trials qualifiers, including Daniel Carr's follow up to his qualifying morning swim. In the men's 100 backstroke Carr and Aaron Young battled in a race that was too close to call, with Carr eventually following up his sizzling fast morning swim to take the gold by one one-hundredth of a second. Carr posted a 56.00 to Young's 56.01. Both men qualified for Olympic Trials, along with the third place finisher Kyle Robrock who hit the wall in 57.14.
Earlier, in the first event of the night, the women's 100 backstroke heat featured an exciting race when Samantha Wicks came from behind and won, grabbing her Olympic Trial cut when she hit the wall in 1:02.79. Hannah Leach followed for second with her second Olympic Trial cut of the weekend, coming in at 1:03.18. The bronze went to Rhyan White who swam a 1:03.50.
Amanda Richey ran away the win in the women's 400 freestyle, throwing a surge at about the mid-point in the race and running away with the title. She posted a 4:19.72, which was followed by Eryn Eddy's effort of 4:22.04 which gave her the second place title. Shae Nicolaisen was third with a time of 4:22.41.
The men's 400 freestyle was dominated by Dylan Bunch who achieved his Olympic Trials qualifying time with a finish of 3:56.88. He was followed by Jacob Ores who was second in a time of 3:59.40, while Scott Bergstrom was third in 4:01.43. 
The women's 100 breastroke title went to Keaton Blovad who swam a 1:11.67. Second went to Jenna Beaury who was 1:13.13. Blaise Wittenauer-Lee followed in a close third for a final time of 1:13.21. 
The men's 100 breastroke saw a close race between Gabriel Rooker and Timothy Cottam, with Rooker ultimately hitting the wall first in a time of 1:04.06. Cottam followed in a time of 1:04.78. Daniel Carr followed up his backstroke title earlier in the night with a bronze in the breastroke with a time of 1:05.83.
In the final individual event of the night, Brittany Aoyama dominated the women's 100 butterfly with an Olympic Trials qualifying time of 1:01.05. Michelle Cefal was close behind with a second place time of 1:01.25. The bronze went to Summer Harrison who posted a time of 1:01.34.
The men's heat of the 100 butterfly was the loudest event of the night, with Aaron Young and Ryan McCoy battling the entire race. Young eventually pulled ahead for first, posting a time of 54.48, while McCoy was 54.70. Both men were under the Olympic Trials Cut, to the cheers of the crowd. Kyle Robrock followed for the third place finish in a time of 55.12.
The women's 400 freestyle relay was a close race, that was eventually won by the Scottsdale Aquatic Club, with the team of Victoria Toris (58.76) Samantha Fazio (58.83) Shae Nicolaisen (59.15) and Taylor Ruck (56.61) claiming another relay victory to combine for a winning time of 3:53.35. They were followed closely by the Tualatin Hills Swim Club's team of Prudence Rooker (59.12) Keaton Blovad (57.85) Emily Cook (59.29) and Sara Metzsch (57.46) combining for a second place time of 3:53.72. The bronze went to the Dolphins team of Alayna Connor (58.13) Jordan Ashmore (59.72) Lindsay Swail (1:00.18) and Sierra Sexton (56.98) for a time of 3:55.01.
In the men's heat, the 400 freestyle relay was a race between the University of Denver Hilltoppers and Phoenix Swim Club. On the last leg, the Phoenix Swim Club pulled ahead and the team of Ryan McCoy (52.19) Grady Ottomeyer (52.52) Luke Williams (51.86) and Angus Hannan (51.82) came together for a time of 3:28.39. The University of Denver Hilltoppers were a close second with the team of Kyle Robrock (51.09) Lane Bretschneider (53.08) Dylan Bunch (52.97) and Timothy Cottam (53.43) combining for a final time of 3:30.57. The Tualatin Hills Swim Club were third with a final time of 3:33.42.