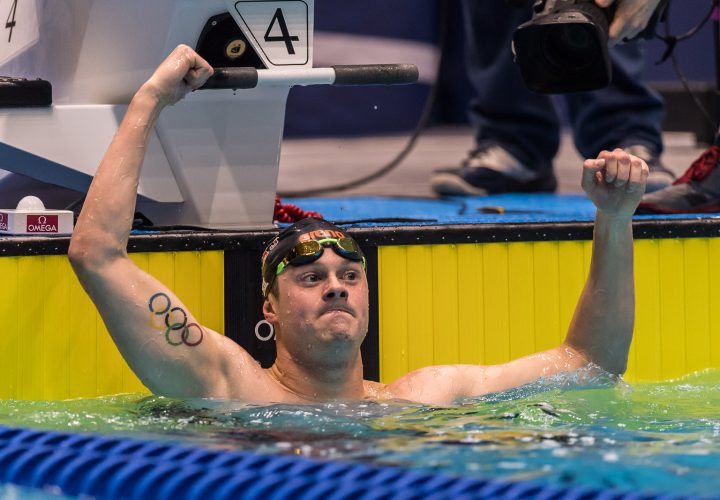 Photo Courtesy: Peter H. Bick
By Jason Tillotson. 
After a solid weekend from all participating teams, the 2017 Texas Hall of Fame Invitational came to a close tonight with Joseph Schooling and Jack Conger facing off once again.
The final session began with the fastest seeded heat of the men's and women's 1650 freestyle. The women's race was won by 500 free champion from day two of the meet, Joanna Evans in a time of 15:51.74. Evans was the only swimmer to break 16:00 and earn a NCAA 'A' cut. Second place went to Arizona's Hannah Cox in a time of 16:04.28 while her teammate, Kirsten Jacobse, was third in time of 16:07.28.
The men's race was taken by the Stanford duo of Grant Shoults and True Sweetser who posted times of 14:39.59 and 14:41.48, respectively. UNLV's Brad Gonzales earned a third place finish with his 14:46.31.
Wisconsin's Beata Nelson gave the Badgers a win in the women's 200 backstroke in a time of 1:51.21. Longhorn veteran Quinn Carrozza turned in a 1:53.24 for second place while third place was awarded to Cameron McHugh out of Arizona who swam a 1:54.28.
After taking third in last night's 100 backstroke, Texas freshman Austin Katz swam a 1:38.49 on his way to victory in the 200 distance. USC's Patrick Mulcare went a 1:39.18 to take second over Longhorn Ryan Harty who turned in a 1:39.23.
The women's 100 freestyle was owned by Trojan Swim Club's Anika Apostalon in a time of 47.49 with Claire Adams out of Texas touching right behind in 47.81. The fastest of the 48-second swimmers was fellow Longhorn Rebecca Millard, who put together a 48.14, for third place.
USC's Santo Condorelli showed he's in stellar shape after struggling to perform earlier in the meet. The Trojan sprint star swam a 42.10 to take the win over Brett Ringgold's 42.13. A few hundredths behind was Matt Grevers in 42.19.
Coming off victories in the 200 and 400 IM from earlier in the meet, Longhorn Madisyn Cox took the win in the 200 breaststroke with a swift 2:06.17, well ahead of her closest competitor, Maggie Aroesty, who swam a 2:07.31. Aroesty's teammate, Riley Scott, touched in 2:08.22 for third.
The men's race featured Texas grad Will Licon posting a 1:51.99 in the men's 200 breaststroke. Licon was able to get ahead of the battle for second and third which featured ASU's Christian Lorenzo and Emory grad Andrew Wilson who each turned in times of 1:53.54 and 1:53.73, respectively.
Louise Hansson out of USC continued her successful weekend with an easy win in the women's 200 backstroke. Hansson's 1:52.66 was well ahead of her teammate, Madison Wright's time of 1:54.05 which was good enough for second place. Texas butterfly specialist, Remedy Rule, stepped out of her comfort zone and into third place in the event with a 1:55.25.
After winning the 100 distance last night, Joseph Schooling ended up getting defeated by not only Jack Conger, but also by Arizona's Justin Wright in the 200 butterfly tonight. Conger won the event in the only sub-1:40 time, with a 1:39.56. Wright was right behind in 1:40.57 while Schooling narrowly trailed in 1:40.72.
Three teams swam under the NCAA 'A' cut in the women's 4×100 freestyle relay. Amongst those three teams were Texas and Wisconsin who also took 1-2 in the event by putting together times of 3:12.84 and 3:15.38, respectively. Third place was nabbed by USC who also earned an 'A' cut with their production of a 3:15.40.
Wrapping up the final night of action in Austin was the men's 4×100 freestyle relay which saw the host team win the event in a time of 2:49.80. USC was right behind in 2:50.64 while Stanford trailed the Trojans in a 2:51.00, for third place.
For full results, click here.