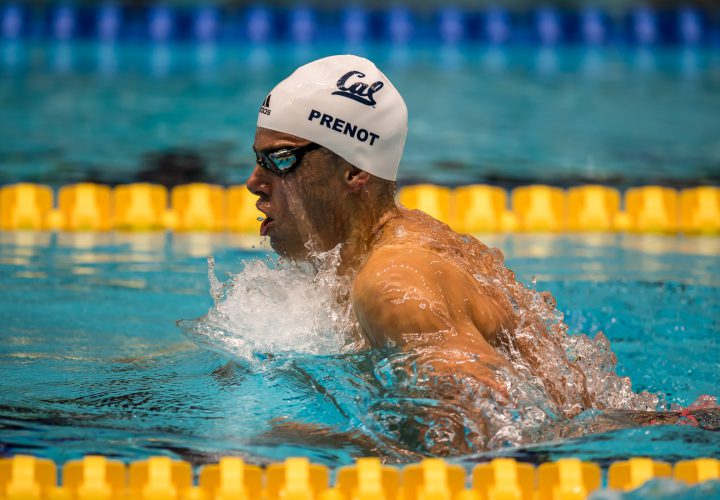 Photo Courtesy: Peter H. Bick

Welcome to Swimming World's Set of the Week sponsored by Commit Swimming.com! This week's set is designed for building breaststroke endurance. A successful breaststroke depends on efficiency and tempo, and when those fall apart the results are usually painful (ask anyone who has done a 200 breast long course).
This set mixes in drill, fins, and descend work to help learn how to best approach a 200 breast and prevent the stroke from falling apart in the second half. While it does mix in some over distance breaststroke (cough — 300's breast — cough), the set progresses in a way to also keep the focusing on ending each swim fast and with an up tempo stroke.
Check out the set below and try it with your breaststroke group!
4 x 75 as 25 windshield wiper scull/25 separation drill/25 DPS breaststroke

300 breaststroke desc by 50's 1-3, 4-6

1:00 rest, put on fins

8 x 25 odd: body dolphin with fins, even: breaststroke w/ flutter kick

300 breaststroke 3-2-1 pull downs by 50 w/ fins (1st 150 dolphin kick, 2nd 150 flutter)

1:00 rest, take off fins

4 x 50 as 25 freestyle build into open turn/25 strong breaststroke

300 breaststroke race!

LEARN MORE ABOUT WORKOUTS FROM COMMITSWIMMING.COM
Commit Swimming's Mission
Commit Swimming builds innovative software for our sport, bringing 21st-century tech to swimming.
Every dang day Commit strives to improve technology in swimming, pushing the boundaries of what has been done before. For far too long swimming software has lacked creativity and simplicity. It is our goal to change that by delivering products that dazzle you with their simplicity and elegance.

All swimming and dryland training and instruction should be performed under the supervision of a qualified coach or instructor, and in circumstances that ensure the safety of participants.