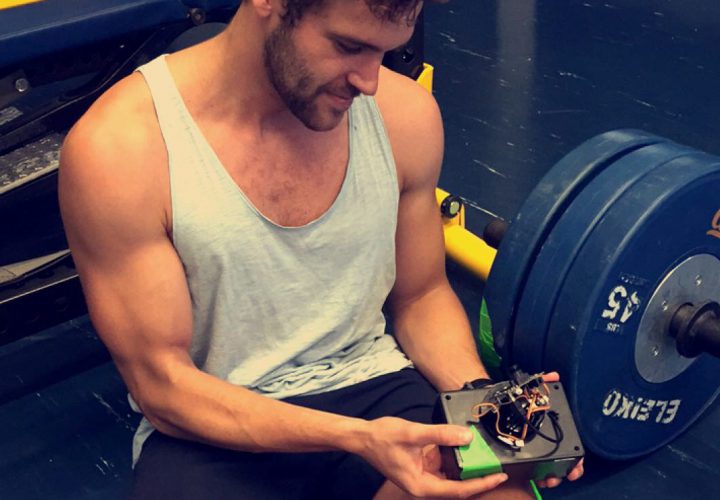 Photo Courtesy: Chuck Katis
By Annie Grevers, Swimming World Staff Writer
Chuck Katis has always been a man on a mission…or rather, a man on many missions. His number one goal: better the world. Number two: better himself. But pretty much all of Katis's endeavors involve self refinement along with world refinement.
Katis began his collegiate swimming career at Harvard before transferring in January 2014 to Cal Berkeley. He finished out his career with a stunning 2015 NCAA Championships. The 6-foot-3 Cal Bear powered to a 50.89 100-yard breaststroke (3rd fastest all-time) and a 1:50.54 200-yard breaststroke. Katis recorded a 22.64 in the breaststroke leg of Cal's 200 medley relay– the fastest 50 breast split in history.
He was positioned well rolling into the Olympic year. He was prepared to be a contender in the 100 breast at the U.S. Olympic Olympic Trials, but Trials did not go as planned. After years of streamlining his heart and soul into making the U.S. Olympic team, his dreams were vanquished with an abrupt and disappointing finish to his season.
"I had a lot of energy after Trials," Katis recalled. It was energy he had planned on funneling into Olympic training camp and then into his race in Rio— energy that needed a new direction.
Cal training partner Sean Mahoney practically busted down the door to Katis's Berkeley apartment one day. He demanded Katis get out of his hole and come work out with him the next morning. "He straight up saved me," Katis said. Mahoney has become Katis's coach in the last couple of months.
Soon thereafter, the post-Trials energy began to snowball into an idea. Katis started constructing a robot— a workout buddy robot.
"Some people thought I was going off the deep end— I was obsessed," Katis said. "I couldn't stop reading about the various components…I realized all of my other ideas were to help prepare me for this one."
And Katis's "other ideas" have not been flops.
One of Katis's earliest passions was magic. He was first entranced by a street magician in London while on a family vacation. Most kids' fascinations with magic fizzle out after a couple days of tinkering with the magic kit, but Katis's interest only compounded. He put on shows for his family and friends, but when he entered high school he felt a tug to do something more with magic.
"I wanted to take the magic and apply it in a way that was useful. I started to perform for young cancer patients…for some reason or another I was called to do that."
The Magic of Miracles was born in 2009, when Katis was just 16. Through the organization, Katis brings magic into the lives of those in the most dire situations— kids with cancer. The sick spectators can escape their struggle for a few minutes as they are sucked into the astonishment of a card trick or a jaw-dropping illusion. The big-hearted magician also performs at homeless shelters in the Bay Area (and recently performed with legend David Blaine).
This summer Katis created a unique way to support your favorite candidate by selling coffee sporting playful Trump and Hillary labels. Five percent of profits from each item sold via his site Caffeine2016 is given to respective presidential campaigns.
Katis also has an education technology startup 'Mentagrate' ("mental aggregate"), a Q&A marketplace to help students answer questions. Yes, the 23-year-old has an active, ambitious mind.
His newest project — the robot — is what the magician/entrepreneur/swimmer is most excited about. The robot system is called "the Bodbox" and it was designed, assembled and coded by Katis. The inventor continually refers to the team behind the fitness-guru robot as "we".
So who exactly comprises the team behind Bodbox? Katis laughs. "It's me and the robot. 'We' are the team."
Bodbox comes to the gym with you and tracks movements. Right now Katis is tracking one specific movement — the squat — and recording results for the Cal men's swim team.
Katis has placed fluorescent green on the hex bars and a different brightly colored tag on each weight placed on the bar for the Bodbox to track. There are hundreds of colors that can be coded and tracked by Katis's creation.
"The robot is watching their squats by tracking color codes," Katis said. "The guys get emails each week, letting them know their squats increased by X percent, along with analytics on velocity and acceleration."
Eventually the robot will aggregate a 3D graph of the athlete's lifting over time and be able to engineer future training sessions to help the athlete continue to make headway. Katis admits to getting ahead of himself, but wants the Bodbox to eventually act as a stand-in coach— an instrument that can feed you workouts, nutrition plans and progress reports. Katis thinks there may even come a day Bodbox comes with the voice of respected athletes like Marshawn Lynch, motivating you to push through that last rep.
Perhaps the world will thank Katis for not making the Olympic team this go 'round. Bodbox, the robo-coach, may be the "trainer" that helps place swimmers on the 2020 and 2024 Olympic squads. 
Katis has one prototype built, but plans on making 50 more to sell on Kickstarter. 
"No one will ever see or understand what went into this over that month," Katis says with ever-present enthusiasm. "I'm going to make it successful– maybe that's the swimmer in me."
The confidence and charisma in Katis's voice is enough to sell anyone on almost any of his ideas. With a straightforward mission of bettering the world, there aren't many Katis causes worth passing up.