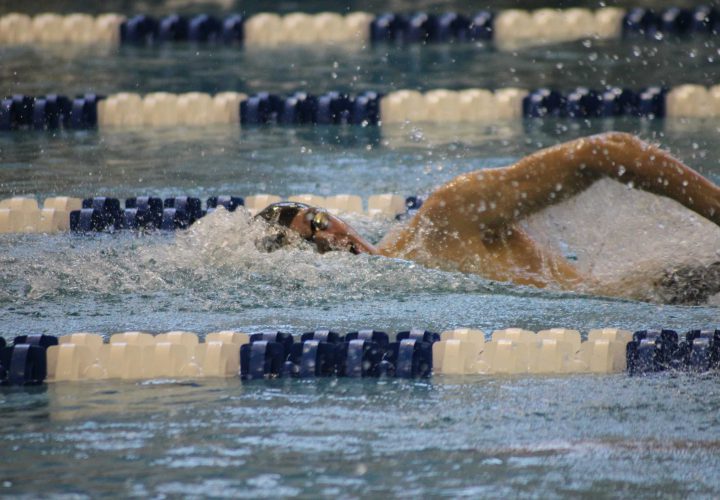 Photo Courtesy: Andy Ringgold
NCAA DI editorial coverage is proudly sponsored by Adidas. Visit adidasswimming.com for more information on our sponsor. For all the latest coverage, check out our event coverage page.
CLICK HERE FOR LIVE RESULTS
It had stood for 11 years, but someone finally broke through to get Peter Vanderkaay's NCAA and American Record in the 500 free. That someone was Texas senior Clark Smith, who had been knocking on the door in that race for the last two years. Smith regains his title he last won in 2015 with a 4:08.42, breaking Vanderkaay's American Record from 2008 at 4:08.54. The swim also eclipses Vanderkaay's NCAA record from 2006 that was a 4:08.60.
Watch Swimming World's post-race video interview with Smith:
Texas got huge points in that race with sophomore Townley Haas grabbing second at 4:08.92, just out-touching Michigan freshman Felix Aubock at 4:08.95. Smith had lead the race the whole way, holding off a late charge from Haas and Aubock. Grant Shoults, Fynn Minuth, Akram Mahmoud, Marwan El Kamash and Anton Ipsen also swam in the A-final in the fastest 500 heat ever with 8th place finishing at 4:11.73.
Texas has now won three straight titles in the 500 free with Smith (2015) and Haas (2016) being the only winners of the event in school history. The Longhorns now have a 111-83 lead over NC State in 2nd. Florida (63) and Stanford (62) round out the top four.
Event 3  Men 500 Yard Freestyle
=========================================================================
         NCAA: N 4:08.60  3/23/2006 Peter Vanderkaay, Michigan
 Championship: C 4:08.60  3/23/2006 Peter Vanderkaay, Michigan
     American: A 4:08.54  2/9/2008  Peter Vanderkaay, Club Wolverine
   U. S. Open: O 4:08.54  2/9/2008  Peter Vanderkaay, Club Wolverine
         Pool: P 4:08.75            Tom Dolan, Michigan
    Name                 Year School            Prelims     Finals Points 
=========================================================================
                       === Championship Final ===                        
 
  1 Smith, Clark           SR Texas             4:10.53    4:08.42A  20  
    r:+0.67  22.68        47.34 (24.66)
        1:12.37 (25.03)     1:37.47 (25.10)
        2:02.43 (24.96)     2:27.44 (25.01)
        2:52.86 (25.42)     3:18.30 (25.44)
        3:43.93 (25.63)     4:08.42 (24.49)
  2 Haas, Townley          SO Texas             4:11.33    4:08.92   17  
    r:+0.76  22.98        47.91 (24.93)
        1:12.88 (24.97)     1:38.08 (25.20)
        2:03.35 (25.27)     2:28.92 (25.57)
        2:54.38 (25.46)     3:20.04 (25.66)
        3:45.19 (25.15)     4:08.92 (23.73)
  3 Auboeck, Felix         FR Michigan          4:09.93    4:08.95   16  
    r:+0.79  23.11        47.99 (24.88)
        1:13.12 (25.13)     1:38.35 (25.23)
        2:03.66 (25.31)     2:28.97 (25.31)
        2:54.41 (25.44)     3:19.98 (25.57)
        3:45.06 (25.08)     4:08.95 (23.89)
  4 Shoults, Grant         FR Stanford          4:12.14    4:10.23   15  
    r:+0.62  22.96        48.39 (25.43)
        1:14.04 (25.65)     1:39.56 (25.52)
        2:05.05 (25.49)     2:29.97 (24.92)
        2:55.12 (25.15)     3:20.57 (25.45)
        3:45.79 (25.22)     4:10.23 (24.44)
  5 Minuth, Fynn           SO South Carolina    4:09.55    4:10.57   14  
    r:+0.67  22.91        47.88 (24.97)
        1:13.13 (25.25)     1:38.45 (25.32)
        2:03.92 (25.47)     2:29.33 (25.41)
        2:54.83 (25.50)     3:20.35 (25.52)
        3:45.50 (25.15)     4:10.57 (25.07)
  6 Mahmoud, Akaram        JR South Carolina    4:09.73    4:10.83   13  
    r:+0.72  23.19        48.21 (25.02)
        1:13.65 (25.44)     1:39.25 (25.60)
        2:04.81 (25.56)     2:30.24 (25.43)
        2:55.64 (25.40)     3:21.20 (25.56)
        3:46.52 (25.32)     4:10.83 (24.31)
  7 El Kamash, Marwan      SR Indiana           4:11.84    4:10.87   12  
    r:+0.68  22.87        48.11 (25.24)
        1:13.38 (25.27)     1:38.61 (25.23)
        2:04.41 (25.80)     2:30.24 (25.83)
        2:55.84 (25.60)     3:21.21 (25.37)
        3:46.33 (25.12)     4:10.87 (24.54)
  8 Ipsen, Anton Oerskov   JR NC State          4:12.18    4:11.73   11  
    r:+0.70  23.21        48.34 (25.13)
        1:13.73 (25.39)     1:39.12 (25.39)
        2:04.69 (25.57)     2:30.13 (25.44)
        2:55.89 (25.76)     3:21.76 (25.87)
        3:47.02 (25.26)     4:11.73 (24.71)

Men - Team Rankings - Through Event 3                  
 
  1. Texas                             111   2. NC State                           83
  3. Florida                            69   4. Stanford                           63
  5. California                         62   6. Indiana                            53
  7. South Carolina                     40   8. Auburn                             36
  9. Louisville                         29  10. Michigan                           28
 10. Southern Cali                      28  10. Alabama                            28
 13. Univ of Georgia                    26  14. Missouri                           25
 15. Arizona State                      22  16. Wisconsin                          21
 17. Notre Dame                         12  18. Texas A&M                          10
 19. Florida State                       7  20. UNC                                 6
 20. Harvard                             6  22. Tennessee                           4
 22. Northwestern                        4  24. Arizona                             2