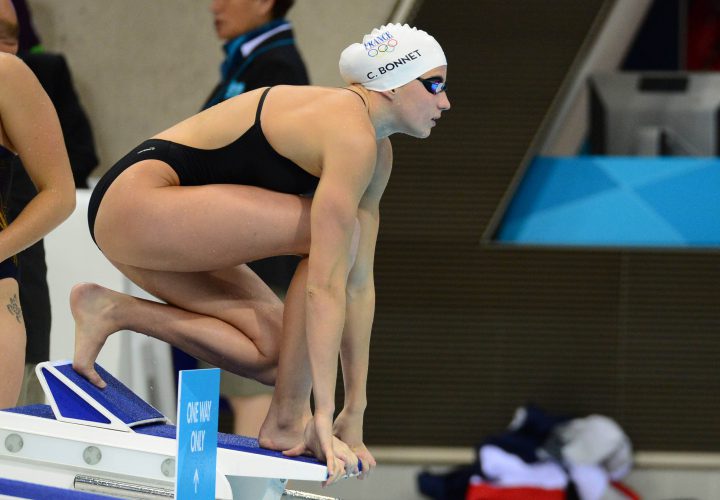 Photo Courtesy: Kyle Terada-USA TODAY Sports
Charlotte Bonnet swam the third fastest 200 freestyle of 2017 on the third night of swimming at the 2017 French Swimming Championships.
Bonnet swam a 1:55.80 to sit only behind Sweden's Michelle Coleman (1:55.64) and Australia's Emma McKeon (1:55.68) in the world rankings. Bonnet was 8th at the Olympics last summer with a 1:56.29 in the 200 free and was slightly off Camille Muffat's French Record of 1:54.66 from 2012. Bonnet finished ahead of Margaux Fabre (1:58.70) and Alizee Morel (1:59.93).
The night got started off with a close race in the men's 800 free with four swimmers duking it out the whole way. Marc-Antoine Olivier won the race with a 7:55.61 thanks to a stellar last 100 where he pulled away from Joris Bouchaut (7:56.90) and David Aubry (7:57.67). The early leader in the race was Damien Joly who placed fourth in the race at 7:58.96.
Solene Gallego won the 50 breast final with a 31.74 to just out-touch Fanny Deberghes (31.80). Nolwenn Herve was third at 32.49. Deberghes swam in Rio last summer as a member of the 4×100 medley relay team for France. Gallego was within a half second of Sophie de Ronchi's national record of 30.96.
Paul Lemaire over swam Jordan Coelho on the last 50 of the 200 butterfly to out-touch the Olympian at 1:58.05 to Coelho's 1:58.07. Matthias Marsau was third at 1:59.17.
In the women's 200 IM, Fantine Lesaffre used a stellar breaststroke leg to win the event at 2:13.58. Lesaffre had the fastest breaststroke leg and was the only swimmer under 40 seconds, along with Camille Dauba, who had an identical split to Lesaffre (38.62). Dauba was third in the race (2:17.08) behind Cyrielle Duhamel (2:14.82).
The men's 100 backstroke went the way of veteran Benjamin Stasiulis. The 30-year-old won the final at 54.79 ahead of Thomas Avetand (55.20) and Paul-Gabriel Bedel (55.41). The final was missing French record holder Camille Lacourt who did not enter the race. Lacourt recently decided to retire after the 2017 World Championships, and will only compete in the 50 in Budapest. Lacourt is leaving big shoes to be filled by Stasiulis or someone else to be the go-to sprint backstroker in France.