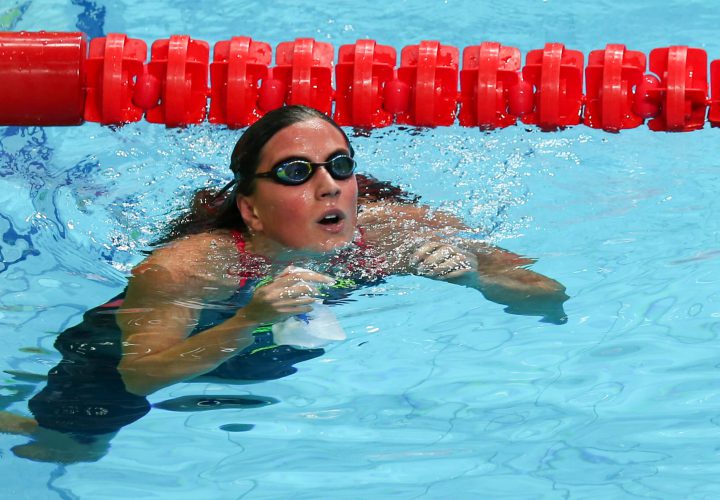 Charlotte Bonnet highlighted the fifth day of the 2018 French National Championships, lowering the French National Record for the women's 100 free to a 52.74. In turn, she qualified for her third event for the 2018 European Championships. Multiple people added additional events to their rosters, while Geoffroy Mathieu qualified for his first event in the 200 back.
This meet is serving as a qualification for the European Championships in Glasgow in August. In order to qualify, the swimmers will have to go under the qualifying standard in the heats and finish in the top four in finals.
Here is a list of who is qualified already for European Championships for the French team:
Men:
Jonathan Atsu, 200 free
David Aubry, 400 free, 1500
Paul-Gabriel Bedel, 100 back, 200 back
Theo Bussiere, 100 breast
Roman Fuchs, 400 free, 200 free
Stanislas Huille, 100 back
Damien Joly, 1500
Geoffroy Mathieu, 200 back
Mehdy Metella, 100 free
Maxence Orange, 100 back, 200 back
Jordan Pothain, 200 free
Nans Roch, 200 fly
Jeremy Stravius, 50 back, 100 free
Women:
Charlotte Bonnet, 50 free, 100 free, 200 free
Mathilde Cini, 50 back, 100 back
Fanny Deberghes, 100 breast, 200 breast
Cyrielle Duhamel, 400 IM
Margaux Fabre, 100 free, 200 free
Beryl Gastaldello, 50 back
Lara Grangeon, 400 IM
Fantine Lesaffre, 200 breast, 200 IM
Anouchka Martin, 50 free
Marie Wattel, 100 fly, 100 free, 200 free
Women's 1500 Free
Qualifying standard: 16:28.00
Sharon van Rouwendaal, NED, 16:29.98
Lara Grangeon, 16:35.91
Julie Berthier, 16:41.15
Lisa Pou, 16:50.01
Dutch Olympian Sharon van Rouwendaal topped the podium in finals of the women's 1500 free, clocking a time of 16:29.98, improving upon her prelims time of 16:43.24 by 13.26 seconds. France's Lara Grangeon and Julie Berthier rounded out the podium with times of 16:35.91 and 16:41.15 respectively.
Men's 50 Breast
Qualifying standard: 27.64
Theo Bussiere, 27.80
Thomas Oswald, 28.38
Thibaut Capitaine, 28.52
Matthias Loth, 28.66
Theo Bussiere led the men's 50 breast through both prelims and finals, finishing first overall with a time of 27.80. Unfortunately, Bussiere was a 27.94 in prelims, just shy of the qualifying standard of 27.64. Fellow countrymen Thomas Oswald and Thibaut Capitaine were second and third overall with times of 28.38 and 28.52.
Women's 200 IM
Qualifying standard: 2:14.99
Fantine Lesaffre, 2:12.26 (2:14.20, h)
Cyrielle Duhamel, 2:12.68 (2:15.52, h)
Camille Dauba, 2:18.25
Claire Bourse, 2:20.04
Fantine Lesaffre added a second event to her schedule for the European Championships, qualifying first in prelims with a 2:14.20 and then winning gold with a 2:12.26.
Cyrielle Duhamel delivered a strong second-place finish with a time of 2:12.68, but missed a spot on France's roster for the European Championships as she was a 2:15.52 in prelims, just over the qualifying standard of 2:14.99.
Men's 200 Back
Qualifying standard: 2:00.42
Geoffroy Mathieu, 1:58.84 (1:59.17, h)
Maxence Orange, 1:58.96 (1:58.76, h)
Paul-Gabriel Bedel, 1:59.53 (1:59.53, h)
Christophe Brun, 2:00.88
Three men qualified for Team France in the men's 200 back, led by Geoffroy Mathieu with a time of 1:58.84. Maxence Orange and Paul-Gabriel Bedel joined him beneath the two-minute mark with times of 1:58.96 and 1:59.53 respectively. All three men were also under the qualifying standard of 2:00.42 in prelims, earning them each a spot on the European Championships roster.
Bedel and Orange each qualified for the 100 back as well on previous days.
Women's 100 Free
Qualifying standard: 54.91
Charlotte Bonnet, 52.74 (53.67, h)
Marie Wattel, 53.53 (53.76, h)
Margaux Fabre, 54.48 (54.60, h)
Beryl Gastaldello, 54.67
Sprint sensation Charlotte Bonnet dominated the women's 100 freestyle competition by downing the French National Record. Bonnet first neared the previous record of 53.36, which she set last month in April, with a 53.37 in prelims, before dipping lower to a 52.74 in finals. Her time qualified her for the European Championships and escalated her to third in the 2018 world rankings behind Bronte (52.27) and Cate Campbell (52.37).
Marie Wattel and Margaux Fabre also qualified for Team France in the 100 free, posting times of 53.53 and 54.48 respectively. All three have qualified for other events prior to today's 100 free.
Beryl Gastaldello clocked a 54.67 in finals, under the qualifying standard of 54.91, but was a 55.06 in prelims, therefore not qualifying for the European Championships.