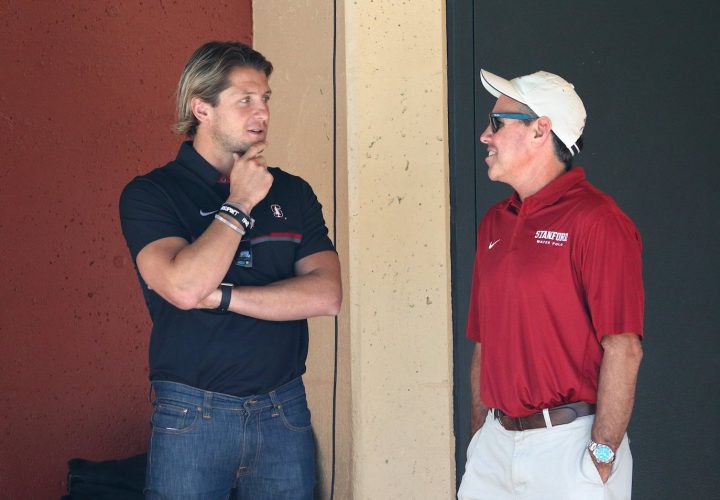 Tony Azevedo & John Vargas at Azevedo's farewell tournament last June. Photo Courtesy: Stanford Athletics
By Michael Randazzo, Swimming World Contributor
In American intercollegiate athletics, there is perhaps no better brand than Stanford University. One of the world's most prestigious institutions of higher learning, the Cardinal—along with Pac-12 rival UCLA—boast the most titles (113) in the history of NCAA competition. But Stanford, affectionately known as "The Farm," is also the country's most selective school for academics, making it exceptionally hard to recruit top athletic talent.
Men's water polo coach John Vargas, now in his 16th season at Stanford (306-97), must constantly strike a balance between athletic success and academic rigor. Despite a graduation rate of 100% and admission standards that eliminate all but the highest achieving students—and often preclude top international players—Vargas's teams have consistently finished among the nation's best.
Last season the Cardinal were a pedestrian 13-8 and finished fourth behind Mountain Pacific Sports Federation members Cal, UCLA and USC. Perhaps most galling was that arch-rival Cal captured a record 14th NCAA men's title while Stanford was left out of tournament play for the second year in a row
2017 promises to be an entirely different season. With five players who redshirted last season—including Olympian Ben Hallock and national team members Drew Holland and Jackson Kimbell, Vargas's squad, #3 in the current CWPA Men's Varsity Poll, is primed not only to qualify for NCAAs but to capture its first national title since 2002.
On the pool deck at last weekend's Bruno Classic, the Stanford coach spoke with Swimming World about an early season showdown against MPSF rival USC, incorporating a group of talented redshirts into his current line-up, the incomparable Tony Azevedo, who Vargas coached to the 2002 NCAA title, the state of U.S. men's water polo and his relationship with his predecessor Dante Dettamanti, who coached at Stanford for a quarter century.
Your schedule includes an unusually early match-up with MPSF rival USC, September 8 at the Uytengsu Aquatics Center in Los Angeles.
It's exciting. If you look at football, we had Alabama vs. Florida State last night. Right off the bat they're playing big games and it brings great excitement to college football. It's the same thing with college water polo.
We usually play on football weekends. Stanford and USC are playing next Saturday, so we ended up having the game changed to Friday because of Pac 12 Network TV.
As always, there's a lot of expectations on your team going into the season.
It's great. We're a deep team, we're an older team so we have great depth in all positions. We're really excited for the season.
The first thing that we're always going to focus on is our fitness level. We want to play at a level that allows us to be successful—that's always primary—and then be fundamentally sound. Once you have that base of fundamentals and fitness, it comes down to scouting these other teams. Each team has a slightly different look, they have different players and we scout and prepare for that.
You have an Olympian on your roster as well as other players who were not around last year. How will Ben Hallock fit in with the 2017 Cardinal?
He's been with us for a year because we redshirted Ben as well. It just kind of made sense after all the hoopla of the Olympics to come and knowing that you're redshirting some of our seniors.
Drew Holland and Jackson Kimbell took time off last year to train for the Olympics, so that's one of the reasons why it made sense to redshirt them too. It seemed like everything made sense to redshirt those guys, so they're better prepared for the fall.
The addition of Ben at center changes our scheme and it's going to change how teams are going to have to play us. That's one of the bigger adjustments, understanding that other teams are going to throw different defenses at us purely to stop Ben.
The expectations at Stanford, no matter if it's an up year down year player wise, redshirting or not redshirting, they want us to win. If you look at all the other athletic programs at Stanford, that has always been the expectation.
At Stanford, more than any other school in the country, you have to balance academic excellence with athletic success.
These are scholar athletes and it can be challenging at times. School is going to start and we know what's coming up–we talk about it. What are midterms going to look like? How are you mentally going to prepare for water polo while you're focusing on school?
Summer is one of the hardest times at Stanford because we are training. Almost all the players are doing internships, taking classes, doing research for professors—they're busy throughout the entire day. I honestly wouldn't have it any other way. These are very bright kids who have interesting lives—they're hardworking and they love water polo.
And sometimes they stick with polo and end up playing for the U.S. National Team for five Olympics. Talk about your relationship with Tony Azevedo.
A five-time Olympian; what are there in the sport of water polo? Maybe 11 or 12 in the world for polo that that's happen. There's only one six-time Olympian, Manuel Estiarte. I winked at Tony [and said]: "you might have six in you! If anyone does it would be you."
Tony's arguably the best water polo player that we've ever had coming out of the United States. He won at all levels, from 7th and 8th grade Speedo Cup, all through high school. He led Stanford to a championship final all four years. I thought when we weren't medaling at the Olympics, the guy that's going to help us is Tony. And that was 2008.
Tony's special—he loves the sport. First Olympics at 18; way back then it was towards the end of Manuel Estiarte's career. We're seeing Tony and we're thinking: "Gosh, Tony could be the next Estiarte as far as going to numerous Olympics."  And that was always the thought; how did he keep himself physically fit and constantly improving.
He was fun to coach because he's great but hard to coach because he had mastered 90 – 95% of the game. We were looking for that last 5 – 10% to constantly challenge him to get better.
Tony made a commitment to represent his country—as have two of your current players, Hallock and Holland. You've played for the U.S. as well as coached at the U.S. Men's National Team at the Olympics; what does that commitment entail?
We knew that Tony's path was multiple Olympics. Drew and Ben may take a slightly different path. Ben could go to two more Olympics, there's no question, and perhaps three. It's going to be completely up to him. He's a serious student, he's always looking into the future to see what he wants do after school. It will be interesting to see if he actually will go to two more Olympics. That's just me not talking to Ben about this.
It's the same with Drew; he has the potential for two more Olympics. We'll see; they have other choices and that's always one of the tougher things for kids to deal with. They have these other, amazing choices outside of the pool.
Peter Varelles really had it amazing. He graduated from Stanford, played in the Olympics, then played professionally in Italy for three years. He had an internship at a big-time consulting firm; actually had a job offer from them [but] told them he was going to play professionally. Came back [from Italy], got into Stanford Business School and is now at that firm that he had turned down before, but now with an MBA.
What you are seeing from an Olympian in any sport is the teamwork, the sacrifice, the effort—of course you want those people working for you.
You share facilities with arguably one of the best teams in the world on the women's side—the Stanford women's team. How does that impact your players?
They have an amazing team and it's great to watch them play. It's great to have them on the deck—just as amazing as it is to have Katie Ledecky and Simone Manuel there. To watch what they do is impressive.
To see Katie on the deck daily… what an amazing student athlete she is. That's what we're surrounded by at Stanford.
How are you able to draw incredible athletic talent from all over the country to The Farm?
Because of the institution, and because of what you can do there academically—I think that's the biggest draw. This is one of the top universities in the world—why wouldn't people want to come there? That's are biggest sell; academics and athletics—you can have it all at Stanford. But it's going to take hard work.
What we're looking for are people who are engaged academically and are driven athletically. If you're one or the other, quite honestly it's not going to work. If you're not engaged academically you're not going to get into Stanford University.
The admit rate is 4.5%—I might be slightly off on that but it's under 5%. Sometimes when I'm recruiting kids I have to tell them: "Here's the flip side; 95% of the people [who apply] are not getting admitted." It takes a lot to get admitted.
The other part is: are you a high-level athlete? Because we want to play for championships.
Stanford is part of the so-called "Big Four" which includes Cal, UCLA and USC. Do you agree that—based upon their success over the last five years—it's now a "Big Five" including the University of Pacific?
That sounds about right. I wouldn't want to offend Pepperdine because they won the GCC [Golden Coast Conference] last year—so they're more than qualified to do well along with UCI [University of California at Irvine]. It looks like they are set up to have a great year.
If you go back the year before—when all those teams were all still in the MPSF—you might looks to see what the final standings were.
It's just really competitive in both conferences. From Cal, UCLA us and USC to U of P, Santa Barbara, UCI… it's great for water polo.
How much has the arrival of the Golden Coast Conference altered the landscape for MPSF men's water polo?
The purpose of bringing in Penn State was to keep our AQ [automatic qualifier for the NCAAs]. If we don't have that we lose our AQ. The downside of the split is that there's the potential to not have the best teams in the country at NCAAs. This is my opinion: at a bare minimum you need three Pac 12 schools there to have a true national championship.
If you don't, then it's a shame for water polo. We're not then having a true national championship.
On the other hand, I do believe the split off was good for college water polo. I understand exactly what those schools did. It's an easier path to get into NCAAs. What would be nice is if we had bracket expansion at the NCAA level so we do have it as a true national championship that ensures that three of the Pac-12 schools are there.
Based on history; if you look, it's been the Pac-12 schools that are consistently the best. So you want them there.
So you agree that change is good for men's water polo?
When you have something like that you have to try something different as a coach, take a different approach. We're not getting the international players that other universities are getting. There are some excellent international players out there that so far we haven't seen them meet our standards. And it's not that I'm not recruiting them; I'm constantly looking. We have to recruit worldwide.
When you're not getting that influx, doing something different, redshirting… you have to change to make sure you have a legitimate shot at [a title].
When you look at the current state of the national team, what hopes do you have for our men's program going into 2020?
With the U.S. and how we're doing, we're in such a different position than a lot of the European teams. We know that the national team players are young and they need so much more experience. They need big game time experience.
We are at a disadvantage geographically and the only way to do the best that we can is we have to somehow move our team over there. These kids have to play a lot more games.
We always want the national team to do well and succeed—because I'm training [their players] as are other college coaches. What's challenging is for a Stanford student athlete to take time away to train with the national team. Our graduation rate's 100%, these guys are finishing in four years.
The only reason they're not graduating in four years is if they took time off to do national team stuff.
Your predecessor, Dante Dettamanti, has a lot to say about the current state of U.S. water polo. What is your relationship like with the one and only "Coach D"?
It's a good relationship. I'm in contact with Dante a lot. He's talking about the national team and how things are done there; I was the national team coach and I think Dante has some interesting ideas. You always want to listen to other people's ideas and to see whether or not it works. You always have to be open to different ideas and changes.
On the other hand, I wouldn't be able to make a comment about the national team because I'm not out there daily to see exactly what going on.