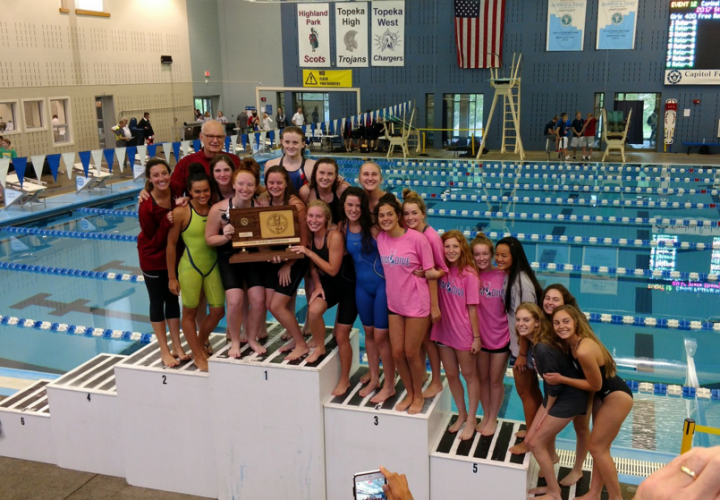 Photo Courtesy: Bishop Miege Twitter (@BishopMiegeHS)
Agon is the proud sponsor of all high school coverage (recruiting, results, state championships, etc.) on SwimmingWorld.com. For more information about Agon, visit their website AgonSwim.com.
Bishop Miege scored 289 points to capture the Kansas Girls 5-1A state swimming and diving championship title on Saturday. In second place was Aquinas with 234 points and Blue Valley Southwest totaled 210 points for third place.
Bishop Miege started the meet in dominating fashion as Ava Ford, Franceska Hernandez-Nietling, Cailey Grunhard, and Cassie Grunhard combined for a 1:47.16 in the 200 medley relay.
Wichita-Heights' Katelyn Blattner won the 200 freestyle by an impressive margin with her 1:51.66. Also under two minutes was Cassie Grunhard (1:56.42) and Topeka-Seaman's McKynley Larson (1:57.61). Blattner was even more dominant in the 500 freestyle, winning the event by nearly 25 seconds with her 4:55.52.
Trinity Academy's Taylor Kostboth led three swimmers under 25 in the 50 freestyle with her 24.31. Great Bend's Camryn Dunekack (24.48) and Shawnee Heights' Madison Stessman (24.98) were second and third. Kostboth also won the 100 freestyle (53.28) just ahead of Cassie Grunhard (53.40).
Senior Cailey Grunhard dominated the 100 butterfly with a 54.12. Bishop Carroll's Sydney Schmidt was also under a minute in 59.74. Grunhard also won by a large margin in the 100 backstroke with her 55.72. Topeka-Seaman's Larson was runner up (59.25).
B V-Southwest's Logan Johnsen topped the 200 IM (2:12.33). The senior also took home gold in the 100 breaststroke with a 1:06.23.
Saint Thomas Aquinas' Jesse Paxton, Maddie Kopp, Skylar Bird ,and Allie Micklavzina won the 200 freestyle relay with a 1:42.86. Mill Valley was on their heels in 1:43.29 with the team of Kayle Teasley, Cadee Morris, Calia Kistner, and Allison Godfrey.
Bishop Miege ended the meet with another significant relay victory. Grunhard, Elle Platt, Ford, and Grunhard touched in 3:40.66 in the 400 freestyle relay.
Results available here.