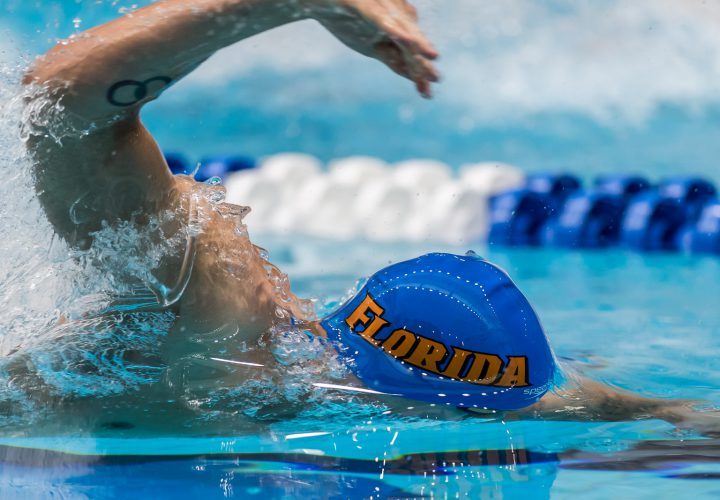 Photo Courtesy: Peter H. Bick
Caeleb Dressel competed for the first time since the FINA World Championships Friday at the All-Florida Invitational in Gainesville. Unsurprisingly, he was the class of the field in the men's 50 free.
Dressel is beginning his senior season at Florida, and he dropped a time of 19.21 to win the event by almost a second ahead of Florida State's Chad Mylin (20.07). Mylin's teammate Kanoa Kaleoaloha was third in 20.39.
Dressel was actually even faster leading off Florida's 200 free relay, blasting a 19.10 before leading teammates Jan Switkowski, Enzo Martinez Scarpe and Mark Szaranek to a win in 1:19.26. Florida State finished a half-second back in 1:19.79.
Dressel finished off his evening with a 47.79 fly split on Florida's 400 medley relay, which was victorious in 3:17.13. Teammates Clark Beach, Chandler Bray and Switkowski filled out the squad.
Dressel, who also swam the 200 IM in prelims and put up a time of 1:52.50, won seven gold medals at the World Championships and will be going for his fourth-straight 50 free NCAA title this year — and possibly the first-ever sub-18 second performance.
Florida sophomore Savanna Faulconer led a Gator sweep in the women's 500 free, finishing in 4:52.34 to edge out teammates Kelly Fertel (4:54.11) and Hannah Burns (4:54.30).
Switkowski won the men's 500 free in 4:25.04, while the Gators actually swept the top four spots in this one, as he was followed by Khader Baqlah (4:30.59), Szaranek (4:33.69) and Taylor Delk (4:34.91).
Fertel and Faulconer raced again in the women's 200 IM, and Fertel got the win by one hundredth, 2:02.42 to 2:02.43, while Sherridon Dressel (younger sister of Caeleb) was third for Florida in 2:04.64.
Switkowski won his second event of the day in the men's 200 IM, touching in 1:48.93 to beat out defending NCAA co-champion Szaranek (1:49.34). Florida's Alex Lebed was third in 1:51.28.
Florida State's Lexi Smith was the top female sprinter of the day, winning the women's 50 free in 23.03. Sherridon Dressel (23.41) and Florida's Amelia Maughan (23.75) took second and third, respectively.
Florida State's team of Nika Blank, Leila Johnston, Elise Olsen and Smith touched out the Florida women to win the 200 free relay, 1:32.71 to 1:32.84.
The Seminoles also won a tight one in the women's 400 medley relay, finishing ahead of the Gators 3:42.32 to 3:42.69. Natalie Pierce split 1:01.37 on the breaststroke leg, and she was joined on the relay by Madeline Cohen, Johnston and Smith.
In diving, Florida State's Ayla Bonniwell won the women's one-meter with a score of 299.33. Florida's Brooke Madden (296.03) and FSU's Molly Carlson (291.90) were second and third, respectively.
The men's three-meter competition saw a Florida State sweep, with Tyler Roberge finishing with 351.30 points, ahead of teammates Joshua Davidson (337.05) and Aidan Faminoff (327.23).