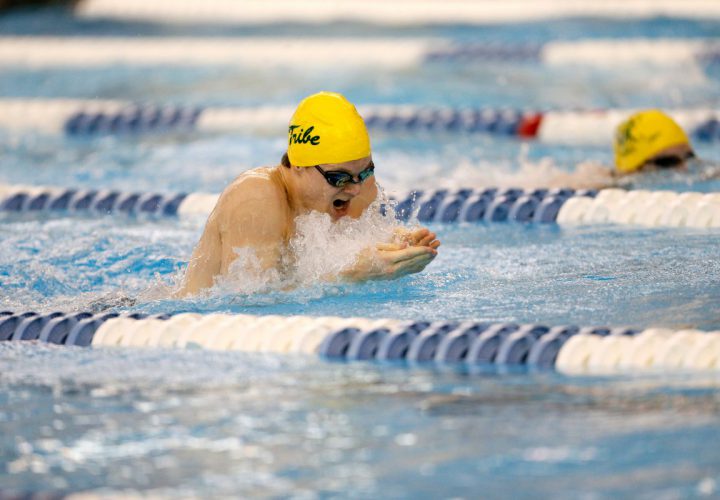 Photo Courtesy: Jim Agnew, College of William&Mary
Leap Year Offer $44.44 For Four Years of Swimming World Total Access. That's only $11.11 per year! Click Learn More And Order Now - Offer expires at 11:59 pm, February 29th.
By Cathleen Pruden, Swimming World College Intern
Women's Meet
James Madison's Quinn MacMillan dropped nearly three seconds from her morning swim to claim the first conference title of the night. The sophomore stopped the clock at 4:48.75 to claim the 500 freestyle. A tight race followed for second through fourth, as Delaware's Dominique Montoya grabbed runner up honors in 4:50.97. Hannah Snyder of Towson earned third in 4:51.57.
James Madison put two swimmers on the podium in the 200 IM. Katie Parker touched first in 2:00.26, while teammate Shannon Harper earned third in 2:02.85. Charlotte Holz of Towson finished second (2:00.97). Parker and Holz finished under the NCAA B cut.
William and Mary garnered first place points in the 50 freestyle. Jaimie Miller won the event in 22.54. Delaware's Morgan Whyte finished second in 22.66. Both swimmers cleared the NCAA B cut. Camilla Czulada of James Madison placed third (23.03).
The Tribe was also victorious in the 200 freestyle relay. The team of Annie Miller, Jess Crowley, Noelle Klockner, and Jaimie Miller touched in 1:31.22. James Madison's Kristen Zielinski, Carli Molano, MacMillan, and Czulada finished second (1:32.28). The team of Montoya, Alyssa Sanders, Jordan Sawyer, and Whyte rounded out the top three (1:33.19) for Delaware.
Team scores through event 16
William and Mary 266.5
James Madison 260
Towson 218.5
Delaware 200
Northeastern 190
UNC Wilmington 118
Drexel 114
Men's Meet
In a close 500 freestyle, William and Mary's Eric Grimes edged Delaware's Cory Camp 4:25.35 to 4:25.80. Conrad Zamparello finished third for the Tribe in 4:28.08.
William and Mary's Jeremiah O'Donnell was a second off his own CAA record in the 200 IM, but was fast enough to defend his title. The senior finished in 1:47.28, and lead a William and Mary sweep of the podium. Will Manion touched in 1:47.51 for second. Their junior teammate Alex Montes de Oca finished in 1:48.57 for third. All three hit the NCAA B cut.
Drexel's Joel Berryman stopped the clock at 20.02 to claim the 50 freestyle title. He achieved the NCAA B cut with that swim. William and Mary's Evan Baker also slid under the B cut by one hundredth, with his time of 20.18. His teammate Joseph Eiden finished third (20.45).
The Tribe team of Baker, Eiden, Kyle Neri, and Justin Barden were dominant in the 200 freestyle relay. The men touched in 1:19.40, over two seconds ahead of second. Drexel's Berryman, Liam Kelly, Sean Swartz, and Kyle Lukens (1:21.64) edged Delaware's Alexander Hillsley, Tomas Elder, Andrew Woerth, and Nicholas Badsky (1:21.70) for second.
Team scores through event 16
William and Mary 309
Drexel 283
Delaware 230
Towson 191.5
UNC Wilmington 166.5
Full results here: 2016 CAA Championships: Day 2 – Results