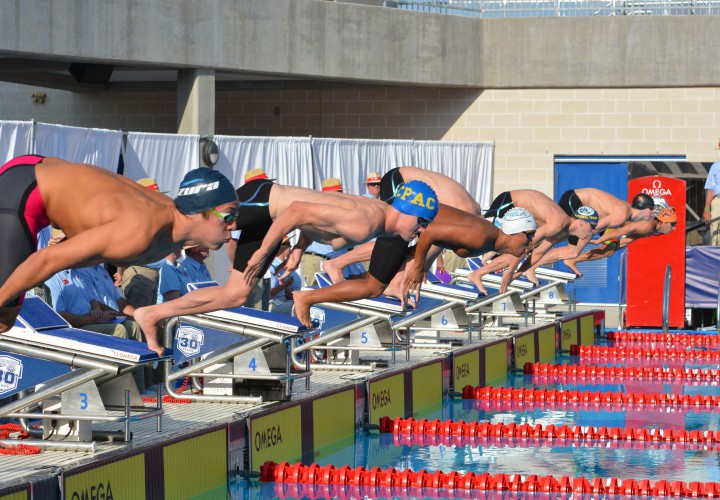 Photo Courtesy: Donna Nelson
By Cathleen Pruden, Swimming World College Intern
Fast swimming continued in Buffalo Friday night. While a number of swimmers came up just short of Olympic Trials cuts, three had celebratory swims, all while swimming in the same heat!
The top three finishers in the men's 100 butterfly earned their Olympic Trials cuts. Chelsea Piers' John Montesi touched first in 54.03. Second place finisher Michael Dugan of Buffalo Area and third place Drew Modrov of Swimmin just slid under the 54.79 standard, as the two finished in 54.73 and 54.76.
Victor Swim Club's Makayla Sargent and Scarlet's Matea Samardzic had a close race in the women's 200 freestyle, finishing 2:03.53 to 2:03.74. Buffalo Area's Claire O'Mara was third in 2:04.46.
Sargent destroyed the 400 IM at the end of the meet, winning the event in a 4:46.53, a two second drop, and well under the 4:54.99 Trials standard. SOLO's Bryanna Cameron finished second in 4:56.57. Kelly Montesi of Chelsea Piers was third with a 5:03.44.
Cape Cod's Jarrett Jones was first to the wall in the men's 200 freestyle, touching in 1:53.75. Kieran Smith of Ridgefield finished second in 1:54.12. Victor's Jared Ritz was third with a time of 1:56.29.
Smith later won the 400 IM in 4:26.04. Scarlet's Jonathan Gomez finished second in 4:26.92 and Jones was third in 4:27.04. The top three swimmers were under the Trials cut, though they each had previously met the standard.
Aspault Green's Sophia Zhang came up just short of the Trials cut in the 100 breaststroke. The 14 year old finished in 1:11.53, just off the 1:11.49 standard. A pair of 15 year olds, Mary Christensen of Chelsea Piers' and Olivia Jack of Clifton Park-Halfmoon completed the podium with times of 1:11.63 and 1:12.80.
There was another close call in the men's 100 breaststroke, as the top three swimmers were within three tenths of the 1:03.69 Trials cut. Garrett Clarke was the closest, finishing in 1:03.70. Luke Otto of Star Swimming touched in 1:03.78 while Noah Stevens of Victor Swim Club finished in 1:03.96.
Fairport Area Swim Team's Amelia Bullock won the women's 100 butterfly with a time of 1:01.26. Central Jersey's Helen Grossman touched second in 1:02.14. Lauryn Johnson of Long Island rounded out the podium with a time of 1:02.48.
Asphalt Green took a close women's 800 freestyle relay with the team of Isabel Gormley, Nicole Aarts, Mary-Mckenzie Grier, and Tiffany Lara touching in 8:30.26, just ahead of Berkeley Aquatic Club's 8:30.60. O'Mara, Cristina Barrett, Natalie Ward, and Erica Wirth swam that relay. Third went to Victor Swim Club's Alyssa Helak, Erin Ritz, Taryn Wisner, and Sargent in 8:34.26.
Scarlet Aquatics took the men's 800 freestyle relay in 7:57.84 with the team of Eric Wong, Austin Lee, Siwoo Park, and Jonathan Gomez. Second went to Asphault Green's Devon French, Dylan Porges, Morgan Wolfe, and Glas in an 8:02.53. Cougar Aquatic Team was just behind in 8:02.57 with the team of Evan Custance, Joseph Scerbo, Zachary Valenzuela, and Chris Balbo.
Full results available on Meet Mobile.