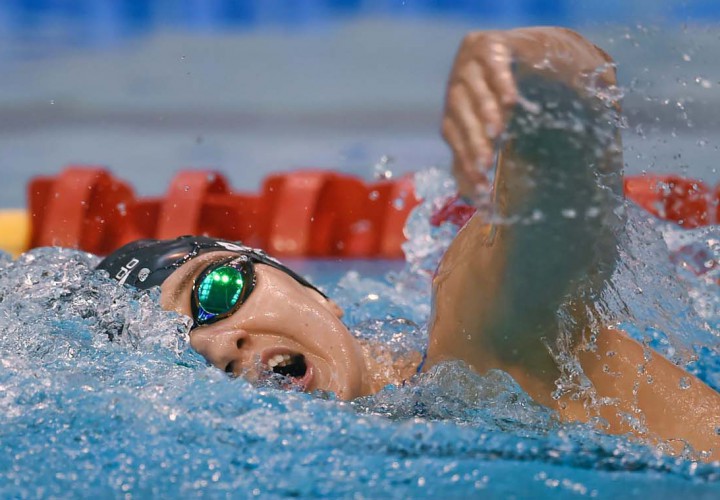 Photo Courtesy: Stephen McCarthy / SPORTSFILE
By Allison Pierce, Swimming World College Intern
The first night of competition at the Speedo Sectionals in Brown Deer kicked off with the 100 freestyle. Junior National Team member Katie Drabot from Ozaukee Aquatics led the pack with a time of 55.55. Unattached Kristin Malone finished second in 56.22, followed by Wisconsin Aquatic's Marissa Berg with a 56.60.
Wisconsin Aquatics dominated the men's event, with Brett Pinfold taking first in 49.94 and his teammate Sean Maloney in second with a 50.59. Bowen Becker of the University of Minnesota took third with a time of 51.53.
Next up was the 200 breaststroke. Maria Carlson of Wisconsin Aquatics won with a 2:31.19, followed by University of Minnesota's Kaela Marcus in 2:33.95. Noella Peplowski of Bloomington/Normal YMCA finished third with a 2:36.21.
Wisconsin Aquatics also won the 200 breaststroke on the men's side, with Chris Wills clocking a time of 2:20.79. Brenner Hohenstein of Minnetonka Swim Club came in second in 2:22.07, while Elmbrook Swim Club's Benjamin Attenberger finished with a 2:24.69. 
Following the 200 breaststroke was the 200 butterfly. Future Mizzou swimmer Azra Avdic dominated the field, winning by five seconds in a time of 2:13.92. Fourteen year old Emma Lasecki of Green Bay Swim Club took second with a 2:19.02. Katherine Rentz of Academy Bullets followed Lasecki, clocking a 2:19.93.
In the men's 200 fly, Maverick Swim Club's Alexander Dillmann dropped four seconds from his prelim swim, finishing with a 2:02.76. Harrison Tran of Wisconsin Aquatics placed second in a 2:03.56. Dillman's teammate Scott Piper took third in a 2:03.70.
The final event of the night was the 800 freestyle. Future Indiana University distance swimmer Cassandra Jernberg lead the pack with a time of 8:50.98, followed by Northwestern's Ella Tierney in 8:58.14. Rachel Powers of Madison Aquatic Club claimed third, earning her first Summer Junior Nationals cut.
Unattached Nicholas Plachinkski finished first in an 8:29.12, while Mitchell Gavars clocked an 8:32.51 to take second. Matthew Hedman of Edina finished third in an 8:36.94.
All results can be found on Meet Mobile.