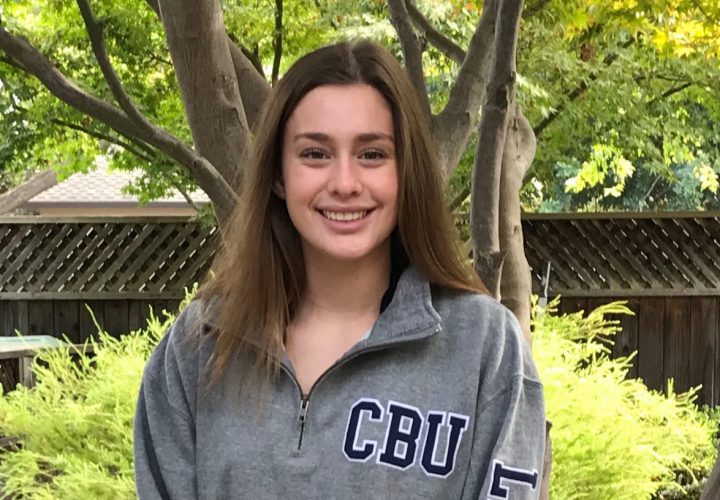 Photo Courtesy: Pete Lindquist
Agon is the proud sponsor of all high school coverage (recruiting, results, state championships, etc.) on SwimmingWorld.com. For more information about Agon, visit their website AgonSwim.com.
To report a college commitment, email HS@swimmingworld.com. Join Swimming World's Watch List
NEW COMMIT: Emma Lindquist, of Tiger Aquatics, has verbally committed to swim for California Baptist University beginning next fall. Lindquist swims for Coach Peter Richardson. She's a senior at Stockton's Lincoln High School.
Lindquist is primarily a breaststroker. Her best times are:
100 Breast 1:06.72
200 Breast 2:24.46
200 Back 2:12.70
200 IM 2:15.67
She told Swimming World,
"CBU offers the opportunities, not only in the water, but classroom as well for me to advance. On my visit I fell in love with the campus, swim program, coach and my future teammates! Thanks to all the coaches along the way that have dedicated so much time, energy and support!"
The Lancers are the defending RMAC Champions. At last year's Championships Lindquist would have been a B finalist in the 100 breast. Cal Baptist had a senior and two juniors in the A final. Those were the only Lancers in the event last year. Lindquist will likely be a leader of a young breaststroke group when she arrives in Riverside. In 2017 Lindquist also would have been a 200 breast A finalist. The Lancers had the same upperclass group racing that event.
Lindquist's Tiger Aquatics teammate Miranda Padilla has also given a verbal commitment.