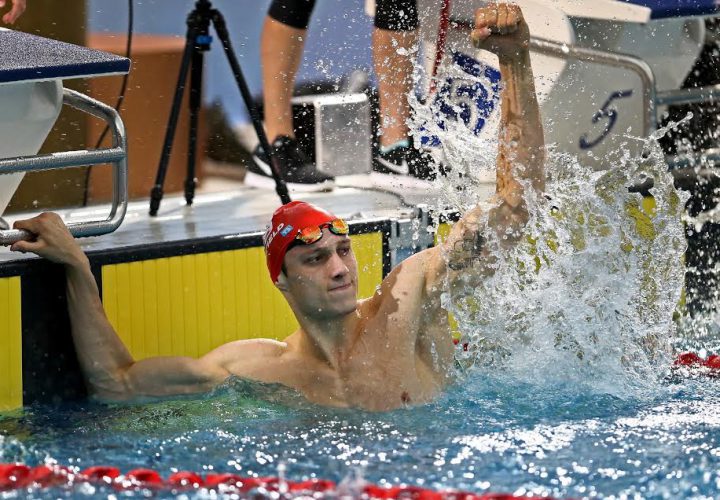 Five further qualifying swims for the world championships and two New Zealand records sparked an outstanding third night of finals at the New Zealand Open Championships in Auckland.
It brought the tally to eight swimmers in nine events to qualify for July's FINA World Championships in Budapest in the championships that double as the trials for the worlds, the Youth Commonwealth Games and the World University Games.
Today saw Waikato's Sam Perry and Howick Pakuranga's Daniel Hunter both qualify in the 50m freestyle, believed to be a first for New Zealand swimmers in the same event at a world championship.
Gabrielle Fa'amausili qualified in the heats of the 50m freestyle and won the final, while Rio Olympians Bradlee Ashby and Helena Gasson both qualified in winning their respective finals of the 200m individual medley.
The highlight was a New Zealand record to the 21 year old Ashby in the 200m individual medley after finishing half a second outside the qualifying time for Budapest in the morning heats, where he felt he had gone out too fast.
Tonight he hit the markers throughout, zooming home in 1:59.54, to not only go under the world championship time but also break his own national record by 0.2s in the process, finishing clear of Lewis Clareburt (Capital) and Jonathan Rutter (Roskill).
"The feel from the first 100 going into the breaststroke felt so much better than this morning. Something I have been working on with my coach Jerry (Olszewski) is that back end freestyle with the kick coming in on the way home and the way I controlled it set me up well for it," said Ashby.
"Yesterday was a big day with a 200m free and a big PB in the 400 medley after several years of not swimming it. So to back-up tonight is incredible. It feels amazing personally to come here and do a PB and to swim fast is very encouraging especially under Jerry's coaching."
It was matched by fellow Swimming New Zealand high performance squad member Gasson, who won the women's 200m individual medley in 2:13.14, pushing home strongly in the freestyle to go under the qualifying time for Budapest by 0.3s. She finished well clear of teenagers Gina McCarthy (Hillcrest) and Mary Tate (United).
"I just gave it everything I had. I didn't want to leave anything behind. I am so happy to do a qualifying time in an Olympic event," Gasson said.
"I knew I had to nail the freestyle part of the leg and luckily I managed to hit it how we planned to. It gives me a lot of confidence. I have such a range of events that I can contest in now so I am definitely excited for my future in this sport."
One of the highlights was the final of the men's 50m freestyle after Perry from the St Peters club in Cambridge equalled the qualifying time of 22.47 in the morning heats with Hunter just 1/100ths of a second behind.
The lanky Howick Pakuranga swimmer missed out on qualifying for the Rio Olympics by just 4/100ths of a second last year, something that weighed on his mind.
"It is indescribable really," said Hunter. "I've been feeling sick all day as last year was going through my mind constantly. To knock it off and tick the box is awesome. It wasn't my best time but I think this swim here was about qualifying."
Hunter won the final in 22.39 to be 8/100ths of a second inside the qualifying time, edging out Perry (22.69) and Julian Weir (Aquabladz) 23.16.
"I was relieved to make the time this morning but gutted for Dan and so I was really pleased he got the job done tonight," said Perry who has only just returned from competing in the for Stanford University at the NCAA Championships, run over the short course in yards.
"It is always challenging going from the bathtub to the big pool. I am really happy to have been able to hold it together and happy to get another chance to do it at the world champs and hopefully we will both be in even better form there."
Cantabrian Matthew Hutchins, who is based on scholarship at the University of Wisconsin, took out the men's 800m freestyle in 7:56.93 which broke the New Zealand record set by Nathan Capp by 0.7s but he was two seconds outside the qualifying time for the world championships.
In other swims, Emma Robinson, who qualified in the 800m freestyle on the opening night, added the 400m freestyle title in 4:12:61 ahead of impressive 17-year-old Hayley McIntosh (Northwave) and US-based Georgia Marris (United).
It proved a busy night for 17 year old Fa'amausili (United), who won the 50m freestyle in 25.26, after clocking 25.02 in the morning heat which was not only under the world championship mark but only 1/100th of a second off the national record. She returned to renew her clash with fellow teenage star Bobbi Gichard (United) in the 100m backstroke, with both swimmers claiming medals in world junior events.
They turned together but Gichard finished the stronger to win in 1:01.45 with Fa'amausili 0.4s behind in second, both outside the qualifying mark of 1:00.61.
In Para-Swimming action multi- World and Olympic champion Sophie Pascoe continued on her impressive form after just returning to the pool last month to win the 50m freestyle in 28.35.
Manawatu's Chris Arbuthnott (Icebreaker) has been a standout this week, tonight winning the men's 50m freestyle in 27.63 as well as the 200m individual medley in 2:30.07.
Paralympic gold medallist Nikita Howarth was best in the 200m individual medley in 3:02.62, the event that she won in Rio.
The finals start from 7pm with competition continuing until Friday. All heats sessions (from 10am) will be streamed live on Swimming New Zealand's website with finals live on SKY TV.
Press Release courtesy of Swimming New Zealand.