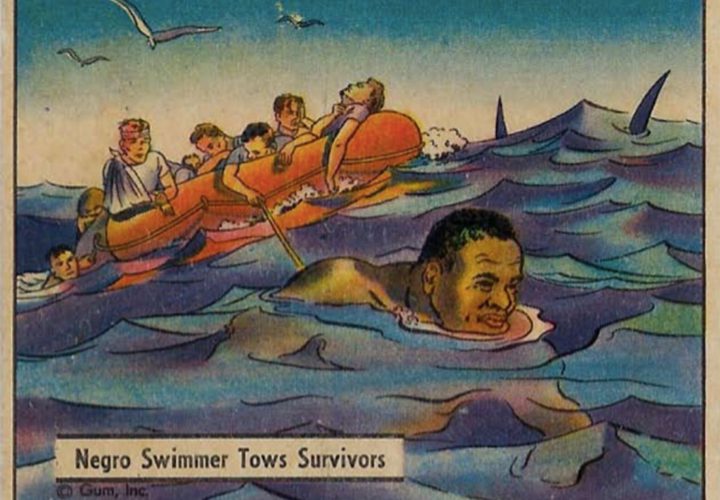 CHARLES JACKSON FRENCH
War Gum #129
By Bruce Wigo.
The participation of Americans of African descent in the U.S. military has a long and distinguished history-dating to the Revolutionary War.  During World War II, over one million African Americans served in the armed forces of the United States, but there was only one to appear on the hundreds of trading cards that depicted various war events, generals, and heroes, between 1941 and 1945.  That person was a swimmer by the name of Charles Jackson French. What's most surprising about this card is that this was an era in American history when nearly every swimming pool and public beach denied African Americans their right to swim.
When national headlines first appeared proclaiming, "Negro swimmer Saves Raft Load of Wounded: Tows Craft Six Hours in Shark-Infested Waters," the full name of this African American hero was unknown.  He was known to those he rescued only as a "Messmate named French."
Upon reading the headline and the story of the rescue when it broke, Dorothy Peterson, one of the leaders of the Harlem Renaissance of the 1930s & '40s, urged that once known, the name of this "powerful negro swimmer" should be preserved "for posterity!" When Charles Jackson French was later identified, he became a national hero. In addition to the War Gum trading card, his story was told in syndicated comic strips, on calendars and he made public appearances across the country to promoting the sale of War Bonds.
Unfortunately, while Dorrie Miller, a hero of Pearl Harbor, the Tuskegee Airmen and other African-American war heroes have been memorialized with stamps, in books and films, the memory of Charles Jackson French has been lost to history almost everywhere, except within the International Swimming Hall of Fame.
To Learn more about this great American war hero of swimming, click here.