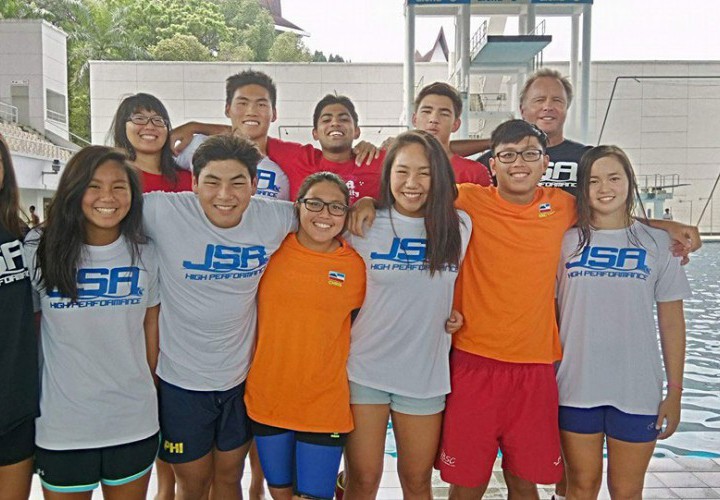 The swimmers in the British International School, Phuket BISP JSA Swim Academy won a total of 29 medals at the recently concluded Malaysian National Age Group Championships: 7 gold , 9 silver, and 12 Bronze.
Led by Performance Coach Colin Braund, as Head Coach Simon Jones was with other members of the academy at the Thailand National Championships in Bangkok, the squad also racked up 14 personal best times, and two BISP JSA Swim Academy records: Hendrik Faber in the 400m Free with a 4.08.61 and Wong Fu Kang in the 100 Free in a 52.70.
Coach Braund says, "It has been a tough couple of weeks for some of the swimmers, who only recently returned from the Singapore National Age Group Championships with some sterling performances, so to continue to improve is a very positive sign.
"We'll be looking to build on our success, and turn some of those 4th places into medals, on our return for the Malaysia Open Championships next month."
Head Coach Simon Jones adds, "Off the back of some good performances in Singapore two weeks ago it was important to see that we were able to hold the taper through to the Malaysian Age champs and continue in personal best and record breaking form.
"That said, there is still work to do to hit the kind of form that we are aiming for by the start of the summer."
Click here to read more Swimming World stories about British International School, Phuket.
For more information about the BISP JSA Swim Academy, visit bisphuket.ac.th/swimming, follow the team's Facebook page at facebook.com/swimphuket, or contact Head Coach Simon Jones: aquatics@bisphuket.ac.th
BISP JSA Swim Academy Medals:
Gold
Fu Kang Wong – 50, 100 & 200 Breast, 200 IM
Chris Tan – 200 Free, 200 Back
Eric Tan – 100 Fly
Silver
Eric Tan – 50 & 200 Fly
Chris Tan– 100 Free, 50 & 100 Back
Coleen Limsui – 400 Free
Raine Gavino – 200 Breast
Yap Siew Hui – 50 Fly
Courtney Gray– 200 Back, 200 & 400 IM
Bronze
Fukang Wong – 100 Fly
Eric Tan – 50 Back
Hendrik Faber – 400IM & 200 Fly
Siew Hui Yap – 100 Fly & 400 Free
Courtney Gray– 50 Fly, 50 & 100 Back, 200 Free
Chris Tan – 50 Free
British International School, Phuket's BISP JSA Swim Academy is now accepting candidates for 2016/2017 Sports Scholarships. For more information, email aquatics@bisphuket.ac.th or apply online at: www.bisphuket.ac.th/sports-scholarships
The above press release was submitted to Swimming World by our partner BISP. For press releases and advertising inquiries please contact advertising@swimmingworld.com.