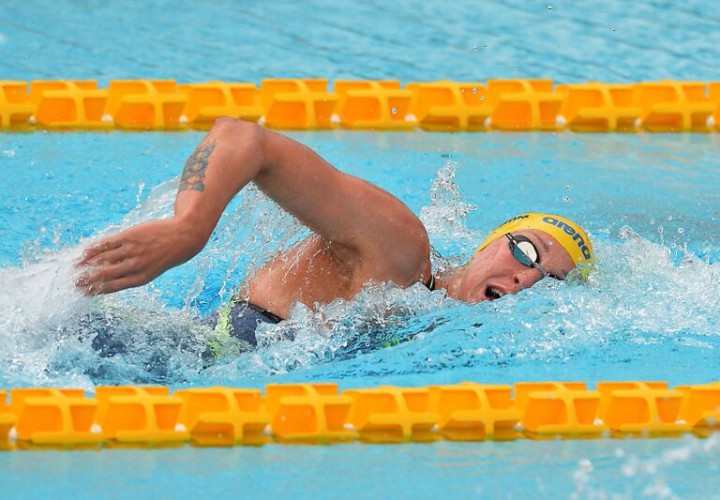 The first day of the Bergen Swim Festival in Bergen, Norway, featured several fast swims, particularly in the women's competition, but no single effort was more impressive than Sarah Sjostrom's dominant win in the women's 100 free over some quality competition.
Sjostrom posted a 52.86 to win that event, just a little off her 52.54 from the Stockholm Cup that ranks first in the world by far. But the Swede's time was plenty good enough to beat out the 2012 Olympic gold medalist in the event, the Netherlands' Ranomi Kromowidjojo.
Kromowidjojo finished second in 53.72, moving her up to ninth in the world, and fellow Dutchwoman Femke Heemskerk took third in 54.00, good for 14th in the world.
Hungary's Katinka Hosszu won three events on the first day in Bergen. First, she won the 400 IM in 4:36.24, just off her own fourth-ranked time of 4:35.46. The Netherlands' Marjolein Delno took second in 4:56.99, and Astrid Julie Halvorsen had the third-best time overall, winning the junior division in 5:04.35.
Hosszu then won the 50 back in 28.37, taking down Denmark's Mie Nielsen (28.57). Lisa Graf took third in 29.82. Hosszu also won the 200 fly in 2:15.98, beating out Emily Nyenget Lovberg (2:19.62), but the top time of the day came from Katrine Bukh Villesen in the junior ranks. She clocked 2:13.11.
Iceland's Hrafnhildur Lúthersdóttir won the women's 100 breast in 1:07.44, just missing the world top-20, but she was well ahead of Hosszu (1:10.29) and Ingalill Urrang Naustvik (1:10.73). Hannah Brunzell won the junior division in 1:10.37.
On the men's side, the top swim of the day came from Denmark's Viktor Bromer, who won the 200 fly in 1:57.16. Alexander Kunert took second in 2:00.06, and Tomas Havranek was third in 2:01.89.
Arno Kamminga took down Erik Persson to win the men's 100 breast, 1:00.78 to 1:01.16. Johannes Skagius took third in 1:02.56. Dutch swimmers swept the top three spots in the men's 100 free, with Ben Schwietert winning in 49.55 ahead of Jesse Puts (49.70) and Kyle Stolk (50.30).
Sweden's Simon Sjodin easily won the 50 back in 25.94. The Netherlands 'Mathys Goosen took second in 27.20, and third went to Timo Zwiesigk (28.10). The men's 400 IM win went to Daniel Dudas in 4:31.36, with Maarten Brzoskowski (4:32.12) and Filip Bjorkholm (4:35.95) rounding out the top three.