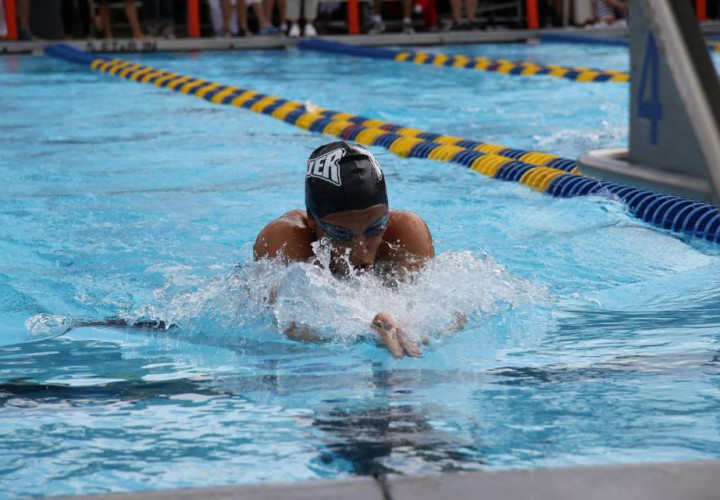 Photo Courtesy: IRSC Athletics
BUFFALO – IRSC's Barbara Caraballo lowered an NJCAA record during the second night of action at the NJCAA Championships.
Indian River is  well on its way to winning a 41st men's title and 33rd women's title.
The men have 580 points with Monroe being the closest competition with 364 points.
The women have 575 points with Monroe second with 436 points.
Women's Meet
IRSC's Barbara Caraballo, Tayla Lovemore, Leah Sims and Sarah Neeley topped the 200-yard free relay in 1:33.50.  Splits were unavailable.
Iowa Lakes took second as Adele Rova (23.93), Aunyx Ashby (23.93), Hannah White (24.10) and Cheyenne Rova (23.45) posted a 1:35.41.
South Georgia's Carolyn Ives (24.41), Megan Harding (25.49), Leeanne Bagaoisan (25.61) and Bonnie Brown (24.65) claimed third in 1:40.16.
Indian River went 1-2 in the women's one-meter diving competition with Ashley Wright (490.75) and Hunter Taff (407.60) taking the top two spots. Monroe's Kathleen Lowry was third with 315.80 points.
IRSC's Barbara Caraballo lowered the NJCAA record in the 200-yard IM with a 2:01.05. That swim clipped the 2:01.20 set by IRSC's Tryshia Centeno back in 2012.
IRSC's Christina Loh (2:06.57) and Kaitlyn Yearout (2:09.84) finished second and third to complete the podium sweep.
IRSC's Tayla Lovemore topped the women's 50-yard free in 23.21, while Iowa Lakes' Cheyenne Rova finished second in 23.79.  IRSC's Leah Sims wound up third in 24.36.
Monroe's Tamara Miler won the women's 500-yard free in 4:58.65, while IRSC's Olivia Jacobi (5:08.48) and Hannah Lynch (5:10.62) placed second and third.
Men's Meet
IRSC's Stefan Stojmenovic (20.36), Danny Hartley (20.28), Bryce Timonera (19.74) and Adam Wise (20.05) won the 200-yard free relay in 1:20.43.
Monroe's Michael Klugo (22.14), Tyler Webster (21.11), Gustavo Ramos Dos Santos (22.04) and Gregory Conklin (20.94) took second in 1:25.23.
Iowa Lakes' Will Clark (21.05), Giordan Harris (21.33), Eric Work (21.42) and Paul Eliasa (21.44) touched third in 1:25.24.
IRSC's Matt Nielsen topped the men's 500-yard free in 4:33.90 with College of Idaho's Wyatt Engler taking second in 4:39.48.  IRSC's Ronald Santos placed third in 4:40.91.
IRSC's Shota Nakano turned in a 1:49.53 to win the men's 200-yard IM. Teammate Serginni Marten took second in 1:54.14 with Darton's David Diaz finishing third in 1:55.07.
IRSC's Danny Hartley closed the night with a 20.30 to win the men's 50-yard free.  Teammates Craig Emslie (20.39) and Adam Wise (20.69) rounded out the top three.