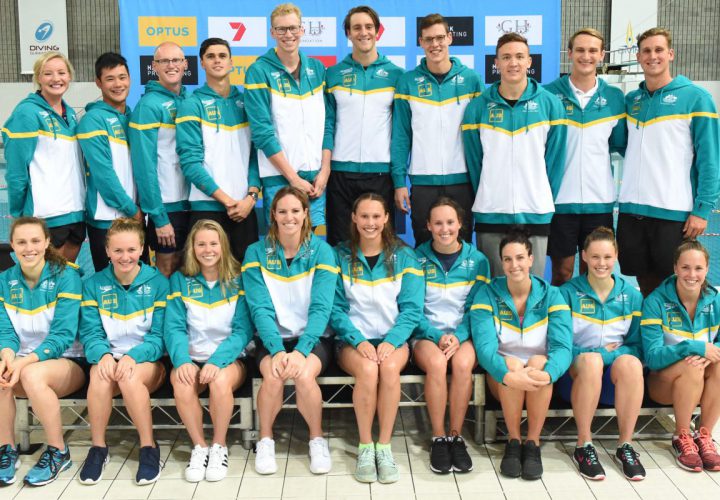 Photo Courtesy: Swimming Australia
Six members of Australia's Rio Olympic swim team will spearhead a 20-strong Dolphins team for next month's Fina World Short Course Championships in Windsor, Canada which includes 12 new faces.
Rio medallists Mitch Larkin, Emily Seebohm, David Morgan, Brittany Elmslie and Jessica Ashwood will be joined by Daniel Smith along with the return of London Olympian Tommaso D'Orsogna.
Four other Rio medallists Kyle Chalmers, Cam McEvoy, Maddi Wilson and Maddie Groves were all unavailable for selection.
The team, 75 percent from Queensland, sees the return of 2012 World Short Course champion Bobby Hurley (Warringah Aquatic, NSW) at 28 who upset world champion Mitch Larkin to swim his way back onto the team tonight, despite suffering from an infected nerve in his neck which forced him out of the recent Fina World Cup series.
Hurley clocked 50.08 to Larkin's 50.42 but based on Larkin's 49.62 swum in the Moscow World Cup he is ranked first in the world while Hurley comes in third with Russian Stanislav Donets second on 50.06.
The meet will also see the introduction of 12 rookies on the team who will make their international debuts – including both 16-year-old Minna Atherton (Brisbane Grammar) and 19-year-old Clyde Lewis (St Peters Western) who clocked individual qualifying times to signal their intentions.
Atherton, the world junior champion and record holder, will join training partner and dual world champion Seebohm in a two pronged backstroke assault.
Lewis, who just missed the team on the 200IM on night two, gate crashed his way onto his first team with a barnstorming win in the 400IM in 4:05.74 on the final night.
"Just missing the team the night before gave me so much drive and I wanted to make it real bad. I knew this was my last chance to get under a qualifying time so I put myself in an international mind space as if I was racing all the big guns," said Lewis, who is coached by Dean Boxall at St Peters Western.
"I really got myself going and I have never hurt that much in my life. I think I need a new body but it is so worth it and I'm so happy. I knew I had to go out very fast and I knew I was going to hurt a lot. I wanted it enough and it paid off."
Hurley's rare injury which has affected the power in his right arm forced him to rest more and in the end the extra rest paid dividends.
"There was a lot of rest since I kicked my way to that bronze medal in the 50m and obviously with a nerve injury it's fatiguing a lot for me so just working the legs, a lot of fast kicking and that's obviously important in short course. It is 60 percent underwater," said Hurley.
"Then just really light, 100 pace tempo work and we haven't been able to do much of that in the last two-to-three weeks.
"I knew I would be right for 75 metres tonight and the last lap I wasn't too sure and I managed to hold it together and a forced taper has paid off and I'm looking forward to World's now with Mitch and I giving Australia a great one-two."
The former short course world champion and world record holder for 50m backstroke had won five gold, two silvers and one bronze medal against some of the best swimmers in the world in the World Cups before being forced home after Singapore and Tokyo with the injury.
Meanwhile there was a Brisbane Grammar trifecta in the 200m individual medley, led by swimmer of the meet Emily Seebohm who won an unprecedented seventh individual National title and her 14th career short course gold.
No other swimmer has ever won seven individual National titles in one meet – let alone in a three-day meet.
Seebohm, who only decided to swim the 200IM this morning, clocked 2:07.04 to street her rivals, Grammar training partners 200m breaststroke winner Aisling Scott (2:09.44) and 400 IM winner Calypso Sheridan (2:10.77).
Seebohm, who had won the 50, 100 and 200m backstroke, the 50m butterfly and freestyle and 100 and 200IM also added an eighth gold with the Brisbane Grammar 4x100m medley relay with Atherton, Aisling Scott and Brittany Elmslie – narrowly missing the National record set last year by St Peters Western's all-Olympic team of Madi Wilson, Georgia Bohl, Maddie Groves and Bronte Barratt.
Champion club TSS Aquatic were led superbly by butterfly star David Morgan who was justly rewarded with his Australian All-Comers record of 49.52 in the 100m butterfly – adding to his previous wins in the 50 and 200m butterfly events.
His TSS teammate Josh Parrish earned his first National title, taking out the 1500m freestyle in 14:45.49 before anchoring the club's 4x100m medley relay in 49.26 – which would be another rare performance.
Meanwhile Bond's Cam McEvoy wrapped up a successful defence of the 50, 100 and 200m freestyle treble and replicating his log course triple when he won the 50m freestyle in 21.04 ahead of Morgan (21.51) and Marion SA's Andrew Abood (21.72).
There was further heartache for Blue Mountains boy Matthew Wilson, who narrowly missed the Rio Olympic team and again missed this team by 0.07 – clocking 2:05.08 in an impressive performance but sees him miss his second team by the narrowest of margins.
Carlile's 20-year-old world short course rookie Emily Washer turned her 100m silver into gold in the 200m butterfly in a time of 2:06.64 ahead of Lara Taylor (TSS Aquatics) 2:07.07 and Gemma Cooney (Brisbane Grammar) 2:08.71.
The Multi-Class 100m breaststroke to Blake Cochrane (USC Spartans) in 1:15.17 with Paralympic gold medallist Tim Diskin (PLC Aquatic) 1:11.07 and Grant Patterson (Central Cairns) 2:20.49 with the women's event going to Madeline Scott (Canberra) in 1:18.98 from Paralympian Prue Watt (Cranbrook) 1:20.71 and Jamie-Lee Getson (Melbourne Torpedoes) 1:22.34.
Australian Dolphins Swim Team, Fina World Short Course Swimming Championships, Windsor, Canada December 6-13
MEN:
Tommaso D'Orsogna (Somerset, QLD)
Jack Gerard (Melbourne Vicentre, VIC)
Alexander Graham (Southport Olympic, QLD)
Bobby Hurley (Warringah, NSW)
Mitch Larkin (Unattached, QLD)
Clyde Lewis (St Peters Western, QLD)
Brayden McCarthy (Bond, QLD)
David Morgan (TSS Aquatics, QLD)
Daniel Smith (St Peters Western, QLD)
Tommy Sucipto (Rockingham, WA)
WOMEN:
Jessica Ashwood (Chandler, QLD)
Minna Atherton (Brisbane Grammar, QLD)
Carla Buchanan (Acacia Bayside, QLD)
Brittany Elmslie (Brisbane Grammar, QLD)
Jessica Hansen (Nunawading, VIC)
Kiah Melverton (TSS Aquatics QLD)
Jemma Schlicht (USC Spartans, QLD)
Emily Seebohm (Brisbane Grammar, QLD)
Ariarne Titmus (St Peters Western, QLD)
Emily Washer (Carlile, NSW)
Head Coach: Jacco Verhaeren
Coaches: Dean Boxall (St Peters Western, QLD), Chris Nesbitt (TSS Aquatic, Southport, QLD), David Lush (Brisbane Grammar, QLD), Will Scott (Rockingham, WA), Shaun Crow (Acacia Bayside, QLD)
Press release courtesy of Swimming Australia.