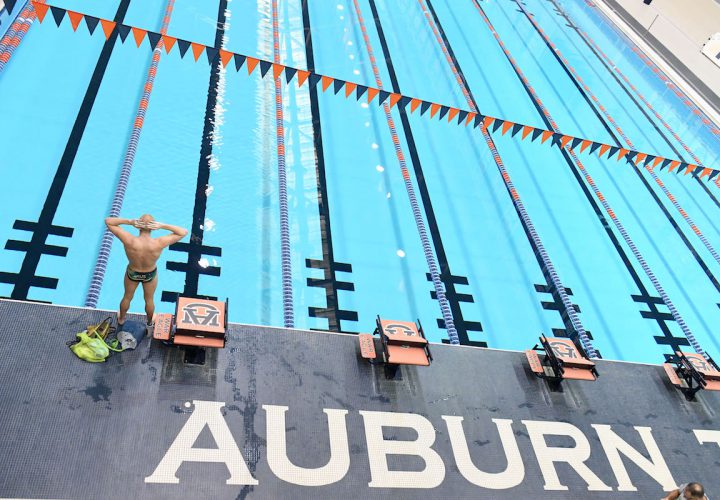 Photo Courtesy: Delly Carr / Swimming Australia Ltd.
Agon is the proud sponsor of all high school coverage (recruiting, results, state championships, etc.) on SwimmingWorld.com. For more information about Agon, visit their website AgonSwim.com.
Fall high school state championship swim meets wrapped up this weekend with the Alabama crowns being handed out on Saturday.
Girls Meet
Westminster Christian Academy took home the 1A-5A state title with just seven more points than St. Paul's Episcopal while Auburn earned the 6A-7A state crown in dominating fashion.
Both teams won their opening medley relays. Auburn went onto sweep the relays while Pjp II Catholic High snuck in to snag the 1A-5A 400 freestyle relay crown.
Auburn went on to win just one event- junior Hadley Dowdle posted a 1:50.35 to capture the 200 freestyle by .01 over Athens' Kobie Melton. Melton later stood atop the podium in the 100 backstroke in 55.99.
Paige Madden of Ums-Wright broke through the 23 second barrier with a 22.91 in the 1A-5A 50 freestyle. In 23.25 Huntsville's Regan Weakley won the 6A-7A event. She also took the 100 free in 50.59. Madden completed the 50-500 double with a dominating 4:46.98, the only swimmer under five minutes.
Northridge's Jewels Harris stunned the 100 butterfly 6A-7A field in 53.69.
Katie Pollard of Madison dominated the 1A-5A 200 IM in 2:07.19. The freshman was also state champ in the 100 breaststroke (1:04.44). Randolph's Sarah Cimino was victorious by a large margin in the 100 butterfly with her 56.14. She followed that up with a gold medal earning 56.43 in the 100 backstroke.
Other winners:
Josie McGuire (Springville): 1A-5A 200 Free- 1:54.95
Anna-Julia Jutsch (Alamont) 1A-5A 100 Free- 51.92
Mallory Underwood (Athens) 6A-7A 500 Free- 5:01.69
Rachel Cunningham (Spain Park) 6A-7A 100 Breast- 1:04.19
Boys Meet
St. Paul's Episcopal School was dominant in the 1A-5A meet, scoring 128 points to runner up Randolph School's 69. Huntsville scored 362.5 points in the 6A-7A meet, just over 100 more than Auburn.
The meet began with relay victories for the ultimate champions who swept the relay titles as well. Huntsville's Austin Smith claimed an individual title with a 1:41.54 200 freestyle. His second gold came in the 500 free (4:43.50).
Scottsboro's Kyle Vosen smoked the 1A-5A 200 IM with a 1:54.11, the only time under two minutes. His 58.69 in the 100 breaststroke was also a winning time. In the 6A-7A meet Huntsville's Robert Overbeek and Wen Zhang of Northview both stopped the clock in 20.56 to share 50 freestyle victory. Overbeek then stood alone atop the podium in the 100 butterfly (50.19). Zhang took home fold in the 100 free (44.78).
Holy Spirit's Zachary Smith posted a 48.21, a nearly six second victory, in the 1A-5A 100 butterfly. Pjp II Catholic's Sam Vasquez edged St. Paul's James Courtney 46.66 to 46.92 for the 1A-5A 100 free title. Courtney stood atop the podium in the 100 backstroke with a 49.95.
Sadler Mckeen of Briarwood Christian was a 1A-5A double winner, in dominant fashion. He took the 200 Free in 1:37.84 and then the 500 free in 4:24.91.
Other winners:
Patrick Dunne (McGill-Toolen Catholic) 6A-7A 200 IM- 1:52.00, 100 Back- 51.30
Dexter Browning (Jackson) 1A-5A 50 Free- 21.75
Joshua Troup (Prattville) 6A-7A 100 Breast- 59.12
Full results are available here.
Team scores available here.