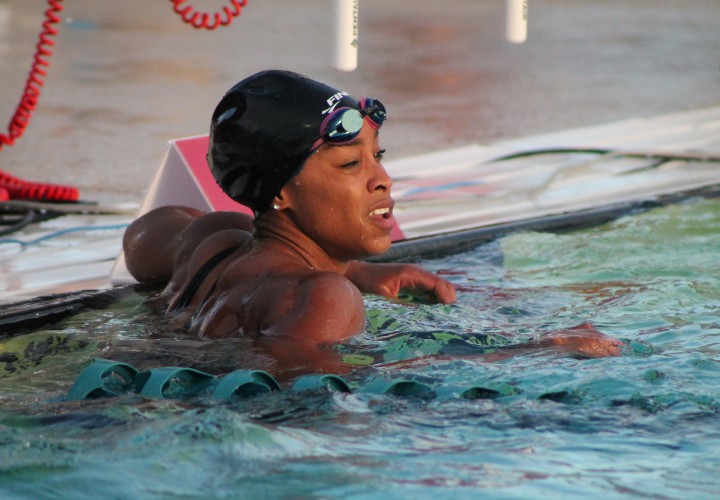 Photo Courtesy: Kara Sekenski
Coverage of the 2015 Pan American Games is sponsored by Triton Wear. Visit Swimming World's event landing page for results and more!
Arianna Vanderpool-Wallace of the Bahamas set the pool on fire with a meet record 24.31 in heat 4 of the 50 free to top qualifiers. The time is four hundredths faster than her previous best of 2015, a 24.35 from the Arena Pro Swim Series in Charlotte in May, and beats her national record of 24.34 from the 2014 Commonwealth Games. Vanderpool-Wallace remains ranked fourth in the world as she led five swimmers under 25-seconds including a pair under the Games record.
Two heats earlier, Brazil's Etiene Medeiros branched out from backstroke to post a 24.75, just missing her national record of 24.74. But, that time was the first ever under 25-seconds in Pan American Games history as she beat Lara Jackson's 2011 record of 25.09.
Vanderpool-Wallace and Medeiros were joined by three more swimmers under 25 seconds in the historic prelim session. American Madison Kennedy put forth a strong 24.75 to tie for second, while Brazil's Graciele Herrmann (24.95) and 100 free winner Chantal Van Landeghem of Canada (24.97) rounded out the top five.
Natalie Coughlin of the USA made the final with a 25.07 for sixth, tying her with Canada's Michelle Williams. Puerto Rico's Vanessa Garcia snuck into eighth position with a 25.37.
Mexico's Iliana Ibanez will take the top spot in the B final tonight after her 25.46 for ninth place overall. She'll be joined by Chinyere Pigot of of Venezuela (25.83), Arlene Semoco of Venezuela (25.83), Isabela Arcila of Colombia (25.89), Karen Torrez of Bolivia (26.01), Aixa Triay of Argentina (26.03), Allyson Ponson of Aruba (26.22) and Ariel Weech of Bahamas (26.32).
SCHEDULED EVENTS
Women's 100 back
Men's 100 back
Women's 400 free
Men's 400 free
Women's 100 breast
Men's 100 breast
Women's 50 free
Men's 50 free