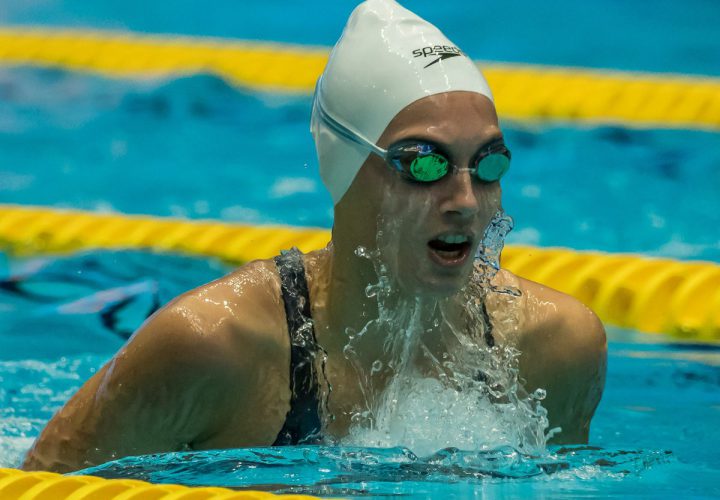 Photo Courtesy: Peter H. Bick
Agon is the proud sponsor of all high school coverage (recruiting, results, state championships, etc.) on SwimmingWorld.com. For more information about Agon, visit their website?AgonSwim.com.?National Records for High School Are Pending Application Verification.? Click Here to Learn More
Agon is the proud sponsor of all high school coverage (recruiting, results, state championships, etc.) on SwimmingWorld.com. For more information about Agon, visit their website AgonSwim.com.
Alex Walsh has done it again. The Harpeth Hall swimmer has set another National Independent School record- this one, an individual mark. Walsh raced to a 58.88 100 yard breaststroke tonight, at the 2018 Tennessee High School swimming and diving state championships.
Walsh's swim destroyed the previous mark, a 1:00.05, set by eventual Stanford swimmer Sarah Haase in 2012. Walsh was also nearly as quick as Emily Weiss, who broke the National Public School record earlier this afternoon, with a 58.40 at the Indiana High School State meet.
Walsh's splits:
27.92
30.96
Walsh won the race by two and a half seconds. Stanford commit and Brentwood Academy senior Allie Raab was second in 1:01.22.
On Friday night Walsh swam on the National record setting 200 medley relay and won the 200 free in 1:45.93.