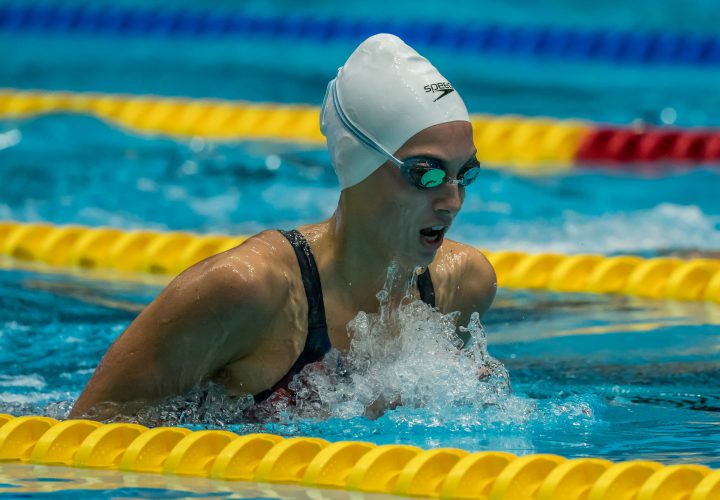 Photo Courtesy: Peter H. Bick
16-year-olds Alex Walsh and Emily Weiss swam the two fastest times ever in the 15-16 age group as Walsh got the upper hand with a 58.19 to break her NAG record that was a 58.80 from last year's Juniors. Weiss was also under the old record in second place with a 58.77.
For reference, Walsh's time would have been third at NCAA's a year ago behind only American Record holder Lilly King (56.30) and national high school record holder Lindsey Horejsi (58.03). And the crazy part is, Walsh is still only a sophomore in high school.
This is the second NAG record for Walsh on the weekend after she beat the 200 IM record last night.
Weiss is still only a junior, but has already committed to swim at Indiana to join King when she is a senior. Weiss is coming off a successful summer where she was the World Junior Champion in the 50 breast where she was also a teammate with Walsh. These two will be names to watch as we move forward to the 2020 Olympic Trials. Weiss's time would have also gotten top eight at NCAA's last year.
Katherine Douglass (1:00.26), Allie Raab (1:00.61), Abigail Arens (1:00.66), Mary Christensen (1:01.61), Claire Donan (1:01.68) and Lillian Higgs (1:01.86) also swam in the championship final.
 Event 19  Women 100 Yard Breaststroke
=========================================================================
  SC Jrs Meet: J 58.80  12/09/16  Alexandra Walsh, Nashville A. C.
    Name            Age Team              Prelims     Finals HyPts Points
=========================================================================
                            === A - Final ===                            
 
  1 Alexandra Walsh  16 Nashville Aquati    59.28      58.19J 1024   20  
             27.56        58.19 (30.63)
  2 Emily Weiss      16 Cardinal Communi    59.89      58.77J 1003   17  
             27.55        58.77 (31.22)
  3 Katherine Dougl  16 Chelsea Piers Aq  1:01.75    1:00.26   949   16  
             28.46      1:00.26 (31.80)
  4 Allison Raab     17 Nashville Aquati  1:01.67    1:00.61   936   15  
             28.80      1:00.61 (31.81)
  5 Abigail Arens    15 Marlins of Ralei  1:01.21    1:00.66   934   14  
             28.66      1:00.66 (32.00)
  6 Mary Christense  17 Chelsea Piers Aq  1:01.43    1:01.61   900   13  
             29.11      1:01.61 (32.50)
  7 Claire Donan     16 Triton Swimming-  1:01.05    1:01.68   898   12  
             29.16      1:01.68 (32.52)
  8 *Lillian Higgs   17 SwimMAC Carolina  1:01.77    1:01.86   891   11  
             29.26      1:01.86 (32.60)