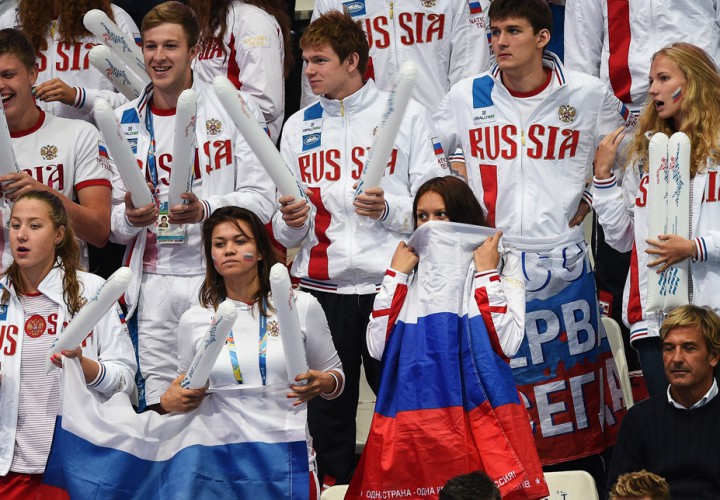 Photo Courtesy: R-Sport / MIA Rossiya Segodnya
Men's 4×200 Freestyle Relay:
The Russian Federation ended the meet with a second gold medal showing, topping the competition in the men's 800 freestyle relay. When anchor leg Aleksandr Krasnykh dove in for the final 200 meters Russia was sitting at fourth, but Krasnykh unleashed a split of 1:40.93 to overcome the USA, Japan, and Australia.
Russia's Mikhail Dovgalyuk (1:44.27), Mikhail Vekovishchev (1:42.86), Artem Lobuzov (1:44.04), and Krasnykh (1:40.93) posted a combined time of 6:52.10 for the gold.
The USA's Blake Pieroni (1:43.14), Jacob Pebley (1:43.38), Pace Clark (1:44.16), and Zane Grothe (1:42.66) battled Japan's Yuki Kobori (1:43.97), Daiya Seto (1:42.54), Tsubasa Amai (1:44.11), and Katsuhiro Matsumoto (1:42.92) to the very finish, touching a shy .20 seconds apart.
At the touch it was the USA picking up silver with a 6:53.34 over Japan's 6:53.54.
Australia finished fourth overall with a time of 6:53.72, while Denmark picked up fifth with a time of 6:54.49.
The Netherlands (6:59.10), China (7:01.57), and Belgium (7:02.36) were sixth through eighth respectively.