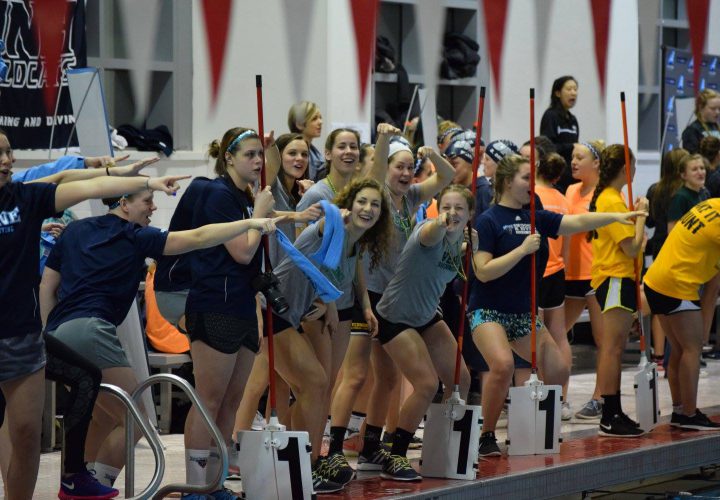 Photo Courtesy: Christa Weaver
By Maddie Strasen, Swimming World College Intern
Senior year of high school is one of the most stressful years for swimmers. Some decide to throw in the towel after their final high school year and call it a career—a very respectable decision. Many find that it's time to lead a "normal" life outside the sport, to focus on their education or work. On the other hand, some decide to look into an athletic career in college. Whether you've made that call, decided on a school or have no idea what the future holds, the unknown can be overwhelming. To the senior swimmer who's stressed out, here's a little advice from someone who was in your shoes not too long ago.
Swimming in college can be scary. It's a big decision. Whether it's for one year or four, the decision shapes your education, friendships, and seemingly every aspect of your life. You're ready for a change but you're not sure what might come with that change. Your performance in the pool may have gone up and down throughout the years, and your love for the sport might depend on the day. There's pressure from club, high school and college coaches—maybe even from parents. And there's pressure from within.
I committed to swim in college on Sept. 20, 2015—11 months before I would leave for school. One of my teammates committed to swim in college on May 1, 2016, three months before she would leave. There is no shame in committing early if you know a school is right for you. However, there's no rule that states you have to choose a school by a certain time. If you want or need the time to think your decision through, weigh your options, and figure out the best financial situation, that's OK, too.
Despite the pressures, there's no better feeling than your hometown supporting you in your decision to continue the sport. The pride you'll radiate will make you excited for your next adventure with the knowledge that you've made the right choice.
Knowing what you're in for is important. The hard work doesn't stop once you've made the decision. With lifting, doubles, dryland, a "for the team" outlook and an "all in" attitude, college swimming steps up in intensity from virtually every aspect you have already experienced. There's no way to be entirely prepared for the transition, but be aware of what the transition entails. You'll probably get homesick and you might want to call your coaches at home for advice sometimes. That's completely normal. Remember that your new teammates and coaches will be there for you, too.
You might not have the freshman season you desire. Everyone reacts differently to new training or college in general. You'll sometimes dread morning practice or lifting. You'll get tired of your teammates (and you'll spend A LOT of time with them). You'll fail while you see others succeeding. You'll have to get back up even when it feels physically impossible. You'll be supportive of your teammates, even if they're your competition. You'll contemplate your decisions. You'll fall in and out of love with the sport.
You have to remember why you're there. You came with a purpose. Treasure your moments of success and reflect on your instances of failure. Evaluate your performances. It's OK to question your training or judge your attitude or even analyze your choice of school. It's all a part of a process you've never experienced before. Keep your expectations high and your priorities in check.
All this information might sound scary, and it's not meant to overwhelm. Swimming in college is a whole new ball game in many different ways, though. Although new and difficult, it can be the most gratifying experience you've ever had. You'll train the events you love to swim. You'll contribute to a supportive and team-based environment. You'll receive endless support from your team and coaches. You'll meet people from all around the country, and possibly the world. You'll see new places, learn more about others and find new aspects of yourself. You'll make the best friends you've ever had.
It sounds cliché, but it truly will be a roller coaster of emotions—ups and downs are inevitable.  Some people pick the wrong school the first time, some people decide they've become tired of the life of an athlete. Every person should follow their heart and do what makes them happy. As long as you come in with the attitude that you're going to work hard, train hard, and make the most of every minute.  You'll never know unless you try.
At the beginning of the year, my great friend and teammate gave me a list of pieces of advice—the one that stuck out most to me states "Enjoy this experience, it's a once in a lifetime opportunity," which rings incredibly true.
Embrace the sport you love and become a part of something bigger than yourself. You might find yourself exactly where you belong.
All commentaries are the opinion of the author and do not necessarily reflect the views of Swimming World Magazine nor its staff.