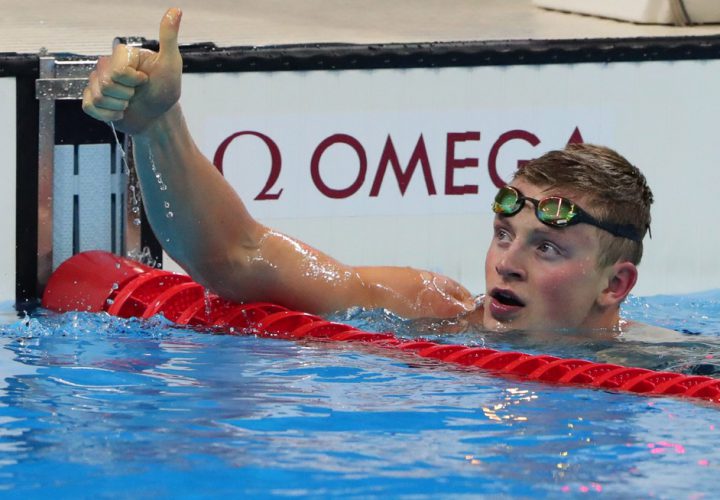 Photo Courtesy: Rob Schumacher- USA TODAY Sports
The first night of the 2017 British Swimming Championships went underway from Sheffield as one British record went down and six other swimmers were inside qualification times for the World Championships. Adam Peaty swam the fastest 100 breaststroke of 2017 with a 57.79 for the win. Peaty will be the clear favorite to defend his world championship title from 2015. James Guy won the 400 free outside of the automatic qualification time with a 3:44.74 ahead of Stephen Milne who swam under the consideration time at 3:46.16. Hannah Miley won another British Championship title in the 400 IM with a 4:34.12 ahead of Aimee Wilmott at 4:36.82. Both of those ladies were under the consideration time but outside the automatic qualifying time. Imogen Clark and Sarah Vasey swam the two fastest 50 breaststrokes in history as Clark broke the record with a 30.21 ahead of Vasey's 30.30.
2017 British Swimming Championships Live Results – Results
Tonight's events:
Men's 50 Backstroke
Women's 50 Breaststroke
Women's 200 Freestyle
Men's 400 Freestyle
Women's 400 IM
Men's 100 Breaststroke
Men's 50 Back
Chris Walker-Hebborn won the 50 back title at 25.19. Walker-Hebborn won't get an automatic berth for the World Championships unless he qualifies in the 100 as the 50 strokes are not automatic qualifiers for Budapest. Joe Elwood was second at 25.70 after he qualified first from prelims. Craig McNally was third at 25.80. Charlie Boldison (25.89), Luke Greenbank (26.01), Nicholas Pyle (26.08), Daniel Cross (26.15) and Henry Chesterman (26.25) also swam in the A-final.
Women's 50 Breast
Imogen Clark broke the British Record in the 50 breaststroke with a 30.21 to beat out Sarah Vasey at 30.30. Those two were under the old record held by Sophie Taylor at 30.56 from 2014. Clark and Vasey are now second and third in the world in the 50 breast behind Russia's Yulia Efimova (29.88). The British have had a little problems with finding a breaststroker for their medley relay and now they have a plethora of talent to choose from with Clark and Vasey. Molly Renshaw and Chloe Tutton also placed in the top eight in the 200 in Rio and look to be improving. The future looks bright for British swimming as they have not medaled internationally in the 400 medley relay in a long time.
Corrie Scott (31.00), Jocelyn Ulyett (31.37), Kara Hanlon (31.62), Beth Aitchison (31.71), Kathryn Johnstone (31.74) and Renshaw (32.19) also swam in the A-final.
Women's 200 Free
Eleanor Faulkner won the 200 free final with a 1:57.88. Faulkner dethroned the two time defending champion Jazz Carlin who was third in the race with a 1:59.59. Carlin was a non-factor in the race as she came on strong over the last 50 to claim third. Kathryn Greenslade was second ahead of Carlin at 1:59.39. Faulkner will not automatically qualify for Budapest as Britain would have considered swimmers under 1:57.21, but alas Faulkner did not get under that time. It is unlikely Britain will send an 800 free relay to Budapest with these swimmers but with the addition of Siobhan O'Connor and possibly a fully rested Carlin, they might consider it. But for now, it is likely they will not enter a relay.
Lucy Hope (1:59.71), Freya Anderson (2:00.41), Camilla Hattersley (2:00.60), Georgia Coates (2:00.78) and Jessica Jackson (2:01.80) also swam in the A-final.
Men's 400 Free
James Guy missed the automatic qualifying time in the 400 free at the British Swimming Championships in Sheffield with a 3:44.74, but he was under the consideration time for Budapest. Also under the consideration time was Stephen Milne, who used a strong last 50 to snag second ahead of Max Litchfield. Milne finished second with a 3:46.16 ahead of Litchfield (3:46.20). Guy is now third in the world behind Italy's Gabriele Detti (3:43.36) and Australia's Mack Horton (3:44.18). Milne is now fifth in the world behind the aforementioned three and Russia's Aleksandr Krasnykh (3:45.79).
Guy won silver in this event at the 2015 World Championships and was sixth at the Olympics last summer. Milne also swam at the Olympics last summer, placing 13th in the 400 and will be making his first appearance at the World Championships in the 400.
Guy beat out a talented domestic field that featured four Olympians. Jay Lelliott (3:47.48), Nicholas Grainger (3:47.86), Tim Shuttleworth (3:48.53), Daniel Jervis (3:49.21) and Samuel Budd (3:50.69) also competed in the A-final.
Women's 400 IM
Hannah Miley won another British title in the 400 IM at the National Championships in Sheffield with a 4:34.12 for the win. Miley missed the automatic consideration time by 0.04 seconds, but she was inside the consideration time as she will most likely make her fifth World Championship team with that swim. Aimee Wilmott was second in the race with a 4:36.82, also under the consideration time. Wilmott will make her third World Championship team if she gets considered. Wilmott was seventh at the 2015 World's and 2016 Olympics. Miley got some pressure early on from Rosie Rudin, who eventually fell to fourth at 4:38.74. Abbie Wood also put up a good fight as she placed third at 4:37.25.
Miley is now second in the world behind Japan's Yui Ohashi (4:31.42). Wilmott moved to sixth in the world behind Ohashi, Miley, Sydney Pickrem (4:35.43), Katinka Hosszu (4:35.46) and Mary-Sophie Harvey (4:36.60).
Constance Dean (4:46.30), Emily Siebrecht (4:47.04), Orla Adams (4:49.99) and Lucy McKenzie (4:50.01) also competed in the championship final.
Men's 100 Breast
All eyes were on how fast Adam Peaty could go in the 100 breast final after he posted the world's leading time in the heats with an easy 58.56. Peaty missed his World Record but he hit the qualifying standard with a 57.79 to lead the world rankings by almost two full seconds. Peaty left the rest of the talented field in his wake that included three other Rio olympians. Peaty is still the only swimmer to break 58 seconds in the event. Second in the world currently is Japan's Yasuhiro Koseki at 59.26.
Second in the event was Ross Murdoch at 1:00.00. He missed the automatic qualifying time but he was under the consideration time as he held off James Wilby (1:00.05) and Craig Benson (1:00.20). If Murdoch gets selected, he will make his third World Championship team as Peaty has officially made his second where he looks to defend his world title. Murdoch was third last time around in Kazan two years ago.
Charlie Attwood (1:00.50), Andrew Willis (1:01.49), David Murphy (1:02.00) and Lawrence Palmer (1:02.18) also swam in the championship final.