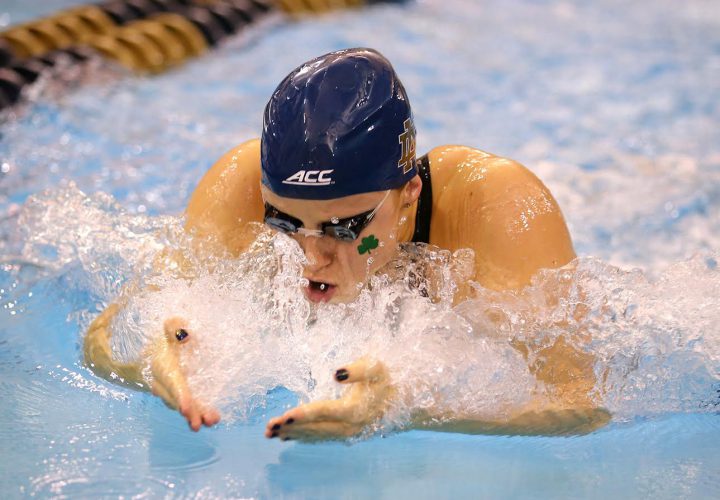 Photo Courtesy: Todd Kirkland
On the second day of ACC action this weekend we saw the Notre Dame tri-meet with Iowa and Illinois end with the Fighting Irish on top of both teams with some impressive swims as well. The University of Virginia Women took the win against Virginia Tech while the Hokie men toppled over the UVA men.
Here's a closer look at the weekend's action:
Notre Dame vs. Iowa and Illinois
Scores
Men: UND 187, Iowa 113
Women: UND 217, Iowa 80 & UND 213, Illinois 84
Notre Dame came right out of the gate to win the women's and men's 200 medley relays. The women touched ahead of Iowa with their 1:41.89, which was about a second ahead of the 1:42.82 that Iowa turned in. The Fighting Irishmen completed a 1-2-3 sweep in their relay with times of 1:29.01, 1:31.00 and 1:32.03 from their A, B and C relays, respectively.
Notre Dame freshman Lindsay Stone won both the 1000 and 500 freestyle with times of 9:59.80 and 4:52.99, respectively.
In the sprint freestyle events the Irish were ahead of both the Hawkeyes and Illinois, with a 1-2-3 sweep in the 50 and 100 free. Sophomores Abigail Dolan and Katie Smith actually tied for first place in the 50 with a pair of 23.20's while fellow underclassmen Kelly Jacob sprinted to a 23.39 for third.
In the 100 distance UND freshman Skylar Fore swam to a victory in 50.25 with sophomore Lauren Heller touched second in 50.86. Freshman Carly Quast took third in 51.35.
The women also won the 400 freestyle relay with a swift production of a 3:22.73, ahead of Illinois who swam a 3:31.54.
On the men's side the Irishmen had a distance freestyle double winner with Zach Yeadon winning the 1000 (9:13.61) and 500 (4:26.19) freestyles. This set up a UND sweep in both events with Richard Manix and Sadler McKeen taking second and third in the 1000 and Manix taking second in the 500.
Yeadon would go on to win the 200 freestyle as well in a sub-1:40 time of 1:38.72 while his teammate Tabahn Afrik touched second in 1:39.84.
Senior Robert Whitacre took both backstroke events with times of 48.82 and 1:45.93.
Up next for the Fighting Irish men is a dual with Northwestern tomorrow while both squads will travel to Tallahassee, FL to face ACC rival FSU.
Virginia vs. Virginia Tech
Scores
Women: UVA 189.5, VT 163.5
Men: VT 218, UVA 133
UVA got off to a rough start by losing both opening relays to the Hokies. The VT women went 1-2 in the 200 medley relay with 1:41.56 and 1:43.45 while the men won their event with a 1:29.44.
The UVA women were able to bounce back with their 1-2-3 sweep of the 200 freestyle with Morgan Hill, Paige Madden and Eryn Eddy. Other UVA victories came from junior Vivian Tafuto who posted a 2:15.91 in the 200 breast ahead of her teammate Mary Claire Tansill who swam a 2:17.05. The women from UVA completed one more sweep in the 50 free with Caitlin Cooper, Hill and Anna Pang while Laine Reed took fourth.
The Virginia Tech men beat UVA rather handily with their superstar Lane Stone winning the 1000 and taking second in the 200 freestyle with times of 9:12.79 and 1:40.19. Stone's teammate Norbert Szabo took the win in the 200 free with a 1:38.78.
Hokie sprint specialists Jan Ho and David Herbert helped kickstart the Virginia Tech advantage by taking 1-2 in the 50 freestyle with times of 20.22 and 20.53, respectively.
UVA did fight back by taking the final event, the 400 freestyle relay, in a time of 2:59.55, ahead of VT's 3:01.87 which was good enough for second.
Up next for UVA is a dual with N.C. State next weekend while VT will travel to Cincinnati for a tri-meet with the host team and Xavier.
For complete results, click here.